Qingdao Youth Football Stadium
| | |
| --- | --- |
| Capacity | 50 000 |
| Country | People's Republic of China |
| City | Qingdao |
| Clubs | ? |
| Category | Design implemented |
| Cost | CNY 3.4 mld / bln |
| Construction | 31/07/2020 - 11/11/2022 |
| Design | China Southwest Architecture Design and Research Institute |
| Contractor | China Construction Eighth Engineering Bureau |
Qingdao Youth Football Stadium – design description
The stadium is being built in the central part of the Chengyang district, which is part of the Qingdao port city. Qingdao is located in the eastern part of China on the Shantung Peninsula and has a population of 4 million. The facility is to be one of the Asian Cup arenas scheduled for 2023.
Qingdao Youth Football Stadium, when completed, will seat 50,000 spectators and will be part of the Park Sports Complex. The stands will have two tiers (lower one as continuous ring and upper one with four independent sections) and be fully roofed. The entrance to the stadium for VIPs, sportsmen, officials and media representatives is to be located on the ground floor on the west side of the venue.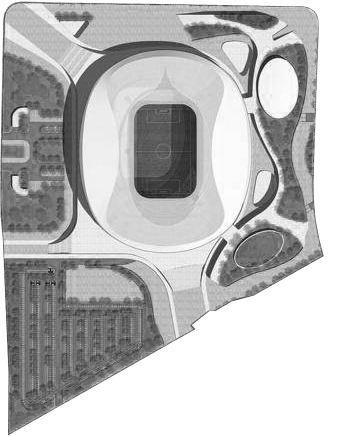 The area of the plot on which the stadium will be erected is 163,000 square metres, and the total area of the construction site is 194,000 square metres. The height of the stadium building will be 52 metres, while the top row will just slightly exceed 30 m. The roof span in the north-south direction will be about 234 metres and in the east-west direction about 197 metres. The largest pylon is to be 57 metres, and the expected steel consumption is about 16,000 tons. The distance between the stands and the pitch is to be no more than 8.5 metres.
The design of the stadium draws from the sea scenery, characteristic of Qingdao. In addition, it is to emphasize the vitality, openness and modernity of both the city and its inhabitants. The appearance of the facade of the facility is a reference to the "jumping" sea waves, rhythmically moving up and down.
The architects were inspired by the sea breeze which gently lifts the waves, slightly foaming the water. That is why the exterior colours of the building are dominated by blue and white with a slight hint of gray. The whole has a streamlined, harmonious shape. Part of the facade will be opaque, while some areas are to get only a veil. Interestingly, giant screens are to be part of the corner facades, by day not visible.
In addition to the stadium, a multifunctional training hall, a swimming training hall, two grass pitches, a commercial space and accompanying infrastructure are being built. Commercial premises are to be located in the basement of the building, as well as 2,000 parking spaces for fans. It is also known that a museum will be built in the stadium, and the facility itself will be integrated with the railway station.
Related news
2021