Euro 2020 stadiums (Euro for Europe)
Description
2020 European Championship in a unique format
---
After an extremely narrow loss to France over Euro 2016, Turkey was widely considered the favourite to host its own Euros in 2020, with over 20 modern stadiums being planned or delivered at the time. However, in mid-2012 UEFA president Michel Platini suggested a completely new event layout is being considered, with "12 to 13" cities across the continent.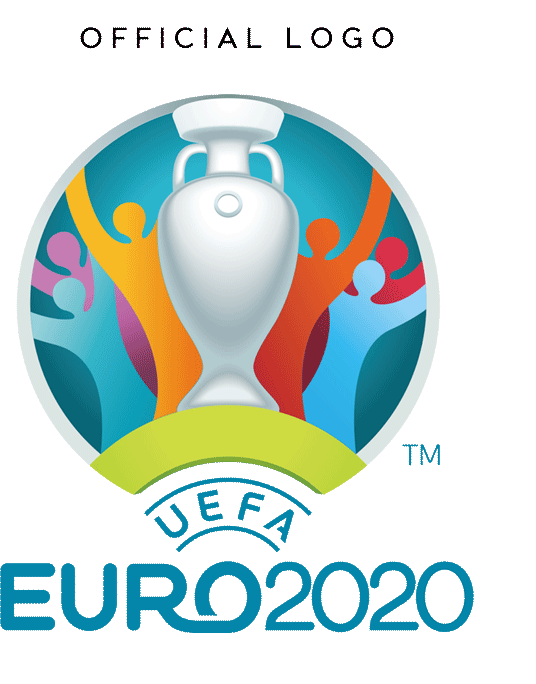 By December the decision was official and "Euro for Europe" was announced as a way to commemorate the 60th anniversary of the very first European Championships. Because there were up to 13 hosts expected, the rule about hosts' automatic qualification was abolished. However, in the end almost all host nations (with Azerbaijan and Romania being the exceptions) did qualify, even if for Hungary and Scotland it meant going through play-offs.
What are the stadiums of Euro 2020?
---
The new formula meant that each national football federation was able to select a candidate city and stadium. Aside from the stadia being modern, there was one major criterion: capacity. For major countries it was set at 50,000+, however a few spots were reserved for smaller federations, with stadiums of 30,000+.
In total, 13 match packages were prepared by UEFA, including 12 regular ones (3 group games + 1 knock-out game), while the 13th package was limited to the three most important fixtures: both semifinals and final.
There were over 30 countries expressing interest in hosting, however eventually only 19 decided to bid for hosting rights. Worth noting, France (hosts of the last edition) and Turkey (hopeful of winning a solo bid for Euro 2024, eventually losing to Germany) didn't launch official bids. Along with Ukraine and Poland they were the largest UEFA associations not to compete.
Also, only two bids for the Euro 2020 final and semifinals were launched, by England's FA (with Wembley) and Germany's DFB (with Allianz Arena). London snapped the games, Munich had to settle with a regular match package.
Official selection of the host cities was announced in September of 2014. UEFA opted for the favourites, giving Western Europe and existing stadiums bulk of the 51 planned games. The winning bids include, in alphabetical order: Allianz Arena (Munich), Arena Națională (Bucharest), Aviva Stadium (Dublin), Bakı Olimpiya Stadionu (Baku), Eurostadium (Brussels), Hampden Park (Glasgow), Johan Cruijff ArenA (Amsterdam), Parken Stadium (Copenhagen), Puskás Aréna (Budapest), San Mames (Bilbao), Stadio Olimpico (Rome), Stadion St. Petersburg (St. Petersburg) and the aforementioned Wembley National Stadium (London).
The list means Western Europe received nine spots (of which three are within the British Isles), while Central and Eastern Europe only got four. Four is also the number of stadiums that didn't exist at the time of selection. These were either under construction already (Baku Olympic Stadium and St. Petersburg Stadium) or planned to see groundbreaking within a couple of years (Eurostadium and Puskás Aréna).
An update of the list happened in December of 2017, when growing deadlock around the Belgian national stadium prompted UEFA to drop Brussels entirely. By that time delivery for mid-2020 was already unfeasible. Despite appeals to include one of the unlucky losers (like Cardiff or Stockholm), UEFA decided to award Belgium's games to Wembley.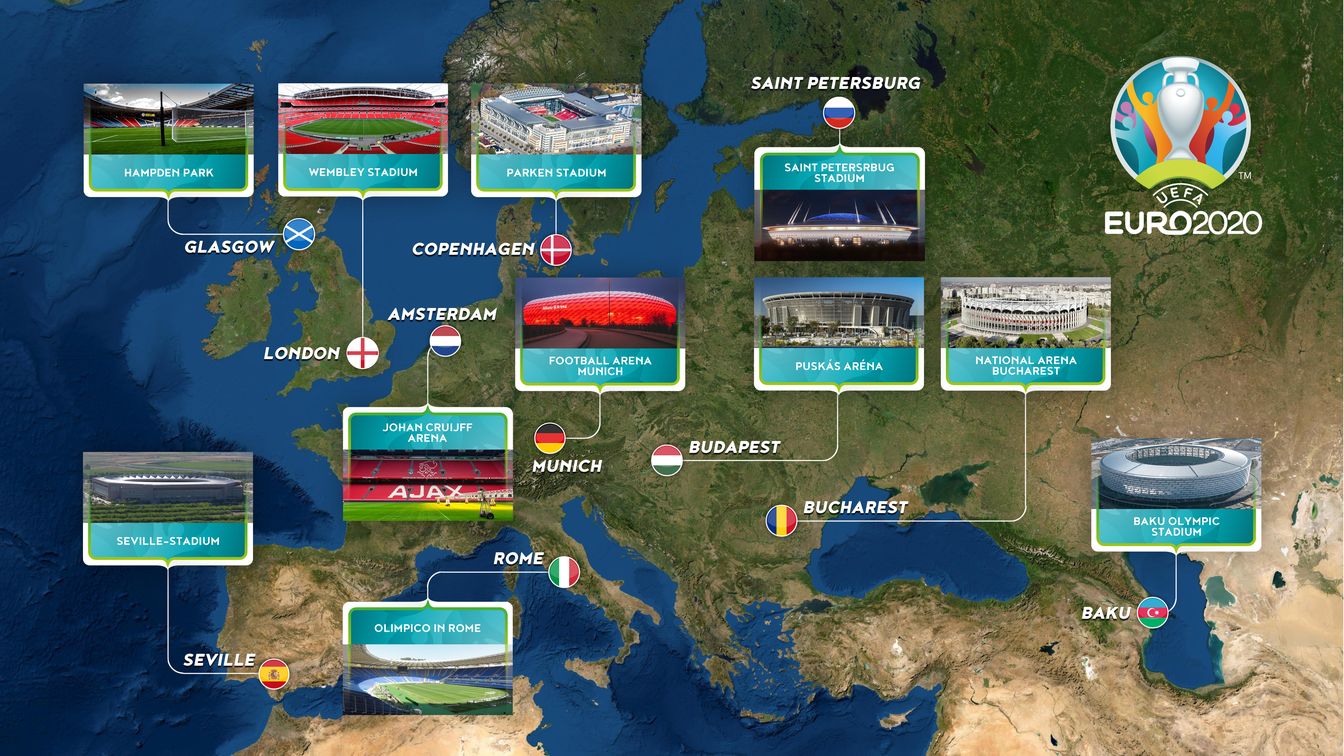 COVID-19 impact on Euro 2020
---
Because of the sudden outbreak of the coronavirus pandemic across Europe in early March of 2020, after just several days UEFA decided to postpone the tournament until 2021. It was to retain its 2020 branding despite the rescheduling. Also, the June-July calendar was retained (June 11 to July 11, to be precise), as well as the list of selected hosts.
Because of the pandemic being handled differently across Europe, the governing body asked all hosts to prepare for varying scenarios, from empty stands, through partial opening to sell-out crowds in the best case.
Eventually, in early spring of 2021, UEFA required each host to offer guarantees of being able to accept at least a portion of fans inside their stadium. The goal was to avoid empty stadiums as Europe was reopening.
Ireland and Spain were unable to present even such partial guarantees for the tournament, which prompted UEFA's decision on April 23 to drop Dublin and Bilbao. While there was no replacement stadium in Ireland (Dublin's games were distributed between Saint Petersburg and London), Spain offered Sevilla's Estadio Olimpico, which was already well prepared to deal with events during the pandemic.
Tournament schedule
---
Group A
Group B
Group C
Group D
Group E
Group F
Round of 16
Quarterfinals
Semifinals
| Stadium | Fixture | Attendance | Date |
| --- | --- | --- | --- |
| Wembley Stadium | Italy 1–1 (4-2p) Spain | 57,811 | 06/07/2021 21:00 |
| Wembley Stadium | England 2–1 Denmark | 64,950 | 07/07/2021 21:00 |
Final
| Stadium | Fixture | Attendance | Date |
| --- | --- | --- | --- |
| Wembley Stadium | Italy 1–1 (3-2p) England | 67,173 | 11/07/2021 21:00 |
Attendance
Total: 1,099,278

Average: 21,554

Related news
2023
2021
2020