Wembley Stadium
| | |
| --- | --- |
| Capacity | 60 000 |
| Nominal capacity | 90,000 |
| Country | England |
| City | London |
| Clubs | - |
| Inauguration | 19/05/2007 (FA Cup final) |
| Design | HOK Sport, Foster&Partners |
| Construction | Multiplex Constructions (UK) Ltd. |
| Cost | £ 757 million |
| Address | Wembley National Stadium Ltd., 11th Floor York House, Empire Way, Wembley, HA9 0WS |
Wembley Stadium – tournament stadium description
Wembley's Euro 2020 games
---
| Game | Attendance | Time (CET) | Stage |
| --- | --- | --- | --- |
| England 1–0 Croatia | 18,497 | 13/06/2021 15:00 | Group D |
| England 0–0 Scotland | 20,306 | 18/06/2021 21:00 | Group D |
| Czechia 0–1 England | 19,104 | 22/06/2021 21:00 | Group D |
| Italy 2-1 Austria | 18,910 | 26/06/2021 21:00 | Round of 16 |
| England 2-0 Germany | 41,973 | 29/06/2021 18:00 | Round of 16 |
| Italy 1–1 (4-2p) Spain | 57,811 | 06/07/2021 21:00 | Semifinal |
| England 2–1 Denmark | 64,950 | 07/07/2021 21:00 | Semifinal |
| Italy 1–1 (3-2p) England | 67,173 | 11/07/2021 21:00 | Final |
Average attendance: 38,591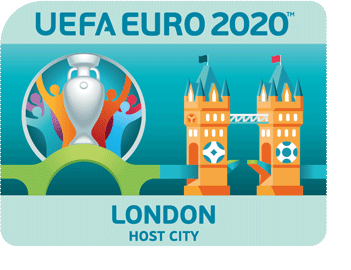 Location
---
The temple of English football is located in the principal town of the borough of Brent in north west London. The stadium is serviced by two subway lines (Metropolitan and Jubilee) with the Wembley Park Station located under 700 metres to the north. There's also a light rail station around 300 metres to the south, serviced by Chiltern Railways.
History of the stadium
---
The facility was erected on the site of the former Wembley Stadium, which was demolished in 2002-2003. Construction was carried out in 2003-2007 and works were accompanied by numerous scandals: the opening was delayed more than 4 years in relation to the initial plans and the cost more than doubled during implementation.
The seating is divided into 3 tiers, middle one of which is dedicated solely to business clients on long-term contracts. This scheme helped finance the venue itself and now strongly contributes to the profits, but has also earned some criticism from media and fans. This kind of layout divides regular fans and separates them, making it hard to produce a proper atmosphere.
Architecture
---
Most characteristic feature of the ground is the 133-metre steel arch, which is to an icon of the ground, just like it was with the two towers of its predecessor. At night the arch is lighted up and can be seen from many kilometres. Stadium's roof is partially retractable.
Other events
---
The arena hosts the most important matches of the England team, the semi-finals and the FA Cup final, as well as play-offs for participation in the highest divisions. The venue hosted the 2011 and 2013 Champions League finals. In 2012, the final of the football tournament of the Olympic Games took place at the facility. Tottenham played home games at Wembley between 2017 and 2019 as they waited for their stadium to be finished. American football matches, boxing fights and numerous music events were also organized.
Euro 2020 upgrades
---
Because Wembley is a relatively new and certainly very advanced stadium, it didn't require any major alterations. Especially with both LED lighting and extensive mobile technology upgrades implemented as recently as 2014.
Euro 2020 capacity
---
In the wake of the coronavirus pandemic, Wembley Stadium started Euro 2020 with a very limited capacity of 22,500, roughly 25% of its nominal capacity. However, it was included in the UK's pilot programme, which saw the size increase to 45,000 for Round of 16. Fot the final three games, the cap was set even higher, beyond 60,000.
Related news
2023
2021
2020
2017
2014
2013