Hampden Park
| | |
| --- | --- |
| Capacity | 12 000 |
| Nominal capacity | 51,866 |
| Country | Scotland |
| City | Glasgow |
| Clubs | Queens Park FC |
| Inauguration | 31/10/1903 (Queens Park - Glasgow Celtic, 1-0) |
| Renovations | 1914, 1927, 1937, 1945, 1961, 1968, 1975, 1981-1986, 1991-1994, 1999, 2014 |
| Record attendance | 149,415 (Scotland - England, 1937) |
| Design | Archibald Leitch (1903) |
Description: Hampden Park
Hampden Park's Euro 2020 games
---
| Game | Attendance | Time (CET) | Stage |
| --- | --- | --- | --- |
| Scotland 0–2 Czechia | 9,847 | 14/06/2021 15:00 | Group D |
| Croatia 1–1 Czechia | 5,607 | 18/06/2021 18:00 | Group D |
| Croatia – Scotland | 9,896 | 22/06/2021 21:00 | Group D |
| Sweden 1–2 Ukraine | 9,221 | 29/06/2021 21:00 | Round of 16 |
Average attendance: 8,643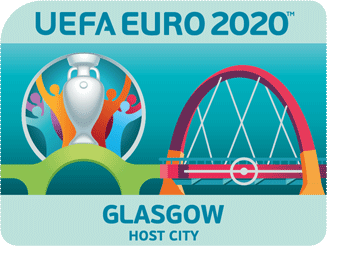 Location
---
It is located in the south-east of Glasgow in the Mount Florida area, approximately 3 kilometres from the city centre. It's accessible by light rail (ScotRail station Mount Florida, app. 400 metres west from the stadium) and bus service (several lines, key stop is Hampden Park and Ride, 200 metres east of the stadium).
History of the stadium
---
The present Hampden Park was opened in 1903. In the 19th century there were two stadiums with that name in similar location (neighbouring, not on the same plot) that were the predecessors of the current venue.
For many years it was the largest stadium in the world until the opening of Maracanã in 1950. At the end of the 1930s, it was expanded to 183,388 seats (!). For security reasons, the authorities allowed only 150,000 people. Hampden Park still holds the official European record for attendance in an international match. The duel between Scotland and England in 1937 was watched by over 149,000 spectators.
Over the decades, the grounds's capacity systematically decreased. The most important revamp took place in the 1990s, when the stadium gained, among others, new roofing, lighting and seats in all stands.
Architecture
---
Hampden is built on a circular plan with a bowl-shaped auditorium. The tribunes are single-storey, with the exception of the south stand, which has two tiers. The aforementioned stand serves as the main stand, as there are dressing rooms and media facilities in its back. In the south there are also lounges and premium seats. The northern stand has a small additional storey with lounges. The entire building is covered with an oval roof.
Other events
---
In addition to the Scottish national team and Queens Park games (the last match the club played at Hampden Park on March 20, 2021), there were national cup finals, as well as continental cup finals: the European Cup and the Champions League (1960, 1967, 1976, 2002), The Cup Winners' Cup (1962, 1966) and the UEFA Cup (2007).
Hampden Park also hosted big rugby games, the 1989 World Cup for U16 footballers and several football matches of the 2012 Olympics. It is also worth mentioning the big concerts that were quite frequent at the facility.
Euro 2020 upgrades
---
The stadium didn't undergo any significant changes for the tournament, however it did benefit from previous ones. The venue was temporarily converted into an athletics stadium for the 2014 Commonwealth Games, which is when the last major revamp took place. It focused particilarly on the north stand's facilities, including increased accessibility of the building.
Euro 2020 capacity
---
Due to pandemic restrictions, the ground will host 12,000 fans during Euro 2020, which corresponds to approximately 25% of its current capacity.
Related news
2021
2020
2014
2013