Stadium La Cartuja Sevilla
| | |
| --- | --- |
| Capacity | 20 000 |
| Nominal capacity | 57,619 |
| Country | Spain |
| City | Sevilla |
| Clubs | - |
| Inauguration | 05/05/1999 |
| Cost | € 120 million |
| Design | Cruz y Ortiz Arquitectos |
| Address | Isla de la Cartuja, Sector Norte, Edificio Suroeste, Puerta E, 4ª planta, 41092 Seville, Sevilla, Spain |
Description: Estadio Olímpico de Sevilla
La Cartuja's Euro 2020 games
---
| Game | Attendance | Time (CET) | Stage |
| --- | --- | --- | --- |
| Spain 0–0 Sweden | 10,559 | 14/06/2021 21:00 | Group E |
| Spain 1–1 Poland | 11,742 | 19/06/2021 21:00 | Group E |
| Slovakia 0–5 Spain | 11,204 | 23/06/2021 18:00 | Group E |
| Belgium – Portugal | | 27/06/2021 21:00 | Round of 16 |
Average attendance: 11,252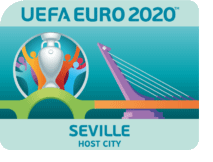 Location
---
It is quite unusual, because the stadium is located on the island of Cartuja between two arms of river in the town of Santiponce, which belongs to the metropolitan region of Seville. Despite the island's extensive leisure offer, it's poorly covered by public transportation. Only buses reach the vicinity of the stadium, expected to be boosted for Euro 2020. It takes some 30 minutes from the central train station to reach the stadium.
History of the stadium
---
The facility was erected in 1999 and was to be the main arena for the 2004 Olympics, followed by the 2008 Olympics. In both cases, Seville's application did not even reach the final selection stage. Despite these setbacks, an alternative name of the venue still exists today, Estadio Olímpico de Sevilla.
It was planned that the stadium would be the home of Betis and Sevilla FC. Ultimately, the idea fell through as it was met with great dissatisfaction of fans of both teams. Between 2018 and 2020, the venue was closed due to faults in the roof, the structure of which was inspired by the open fan of a flamenco dancer.
Architecture
---
The auditorium consists of four levels of stands, around which there is an athletics track. Tribunes and roof form an oval shape, which on the outside of the building takes on a slightly angular shape thanks to the retail and office space adjacent to the arena.
Other events
---
The fact that the stadium has a running track means that important athletic events take place there. The first major event was the seventh World Athletics Championships held in 1999. Twice (2003, 2011) the final of the tennis Davis Cup took place at the facility. The biggest football event so far was the 2003 UEFA Cup Final.
Football was rarely coming to Estadio Olímpico de la Cartuja. Before 2020, the Spaniards played there only four times. Paradoxically, the arena was helped by the outbreak of the coronavirus pandemic. As a result, the national federation has decided that the venue will host four consecutive Copa del Rey finals (2020-2023). Due to travel restrictions related to the epidemic, several European cup fixtures were held at the facility in 2021. In the past, the stadium also hosted concerts with such stars as Madonna and U2.
Changes for Euro 2020
---
Originally, the Spaniards chose Bilbao as their host city, but the application was rejected due to the impossibility of accepting supporters. Since the change took place at the very last minute, in April of 2021, there was no possibility of Seville seeing any significant structural or technological interventions.
Euro 2020 capacity
---
During Euro 2020, "La Cartuja" will make available at least 25% of its capacity. This means admitting at least 16,000 fans.
Related news
2021