Olimpico in Rome
| | |
| --- | --- |
| Capacity | 17 000 |
| Nominal capacity | 70,634 |
| Country | Italy |
| City | Rome |
| Clubs | AS Roma, SS Lazio |
| Inauguration | 1930 |
| Renovations | 1990, 2008 |
| Address | Via Foro Italico, 00194 Roma |
Description: Stadio Olimpico
Olimpico's Euro 2020 games
---
| Game | Attendance | Time (CET) | Stage |
| --- | --- | --- | --- |
| Turkey 0–3 Italy | 12,916 | 11/06/2021 21:00 | Group A |
| Italy 3–0 Switzerland | 12,445 | 16/06/2021 21:00 | Group A |
| Italy 1–0 Wales | 11,541 | 20/06/2021 18:00 | Group A |
| Ukraine 0–4 England | 11,880 | 03/07/2021 21:00 | Quarterfinal |
Average attendance: 12,196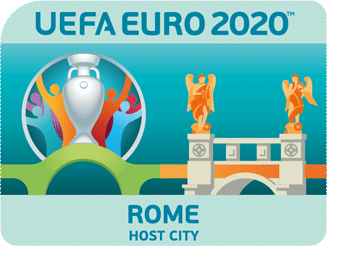 Location
---
Multi-functional facility is part of the Foro Italico complex, which is located in the north-west of the Italian capital. The city centre is 6 kilometres away. Because of Rome's unique topography, the building is far away from the subway. On a daily basis it's accessible by bus and during Euro 2020 this means of transport will be upgraded with special shuttle buses.
History of the stadium
---
Before the stadium was given its current name in 1960, when it was the main arena of the Olympic Games, it was called Stadio dei Cipressi (1932) and Stadio dei Centomila (1953).
Construction of the venue, carried out in 1927-1932, led to its partial inauguration in 1932, when the ring of stands consisting of grassy terraces was completed. In 1950-1953, the stadium was expanded, thanks to which auditorium reached a capacity of 100,000 seats. Works from the 1950s would have been done much earlier, but the outbreak of World War II postponed works that had started in 1937.
In 1987-1990 the facility underwent a thorough modernization for the 1990 World Cup. The venue was demolished and its new structure was based on reinforced concrete. The stands were moved closer to the pitch and the whole building was covered with a roof. In 2007-2008 the stadium had its last revamp, during which seats were replaced with new ones and plexiglass covers between the tribunes and the pitch were partially removed. The capacity of the ground has remained unchanged since the year of those changes.
Architecture
---
Auditorium of Stadio Olimpico consists of one continuous ring of stands, which can be divided into four sections: Curva Nord, Tribuna Tevere, Curva Sud and Tribuna Ovest. There is also an athletics track around the playing field.
Other events
---
The most important games of the national team as well as home matches of Lazio and AS Roma are regularly held at the stadium. The fixtures of the European Championships (1968, 1980) and the 1990 World Cup were played at Stadio Olimpico. The ground hosted finals of the European Cup / Champions League four times (1977, 1984, 1996, 2009). In addition to football, the stadium hosts Italian rugby team and serves as the national athletics stadium. Occasionally there are concerts and other events.
Euro 2020 changes
---
Because the Olimpico is one of the most outdated stadiums of the tournament, upgrades were not limited to the regular press and hospitality areas. Additional alterations covered the issue of accessibility, particularly removal of unnecessary barriers.
Euro 2020 capacity
---
Due to the coronavirus pandemic, Italians have declared that Stadio Olimpico will admit 17,000 fans.
Related news
2021
2020
2014
2013