Parken Stadium
| | |
| --- | --- |
| Capacity | 25 000 |
| Nominal capacity | 38,065 |
| Country | Denmark |
| City | Kopenhagen |
| Clubs | FC København |
| Inauguration | 1911 |
| Renovations | 2002, 2009 |
| Record attendance | 52,377 (Denmark - Sweden, 1961) |
| Design | Gert Andersson |
| Address | Øster Allé 48-50, 2100 København |
Description: Telia Parken
Parken's Euro 2020 games
---
| Game | Attendance | Time (CET) | Stage |
| --- | --- | --- | --- |
| Denmark 0–1 Finland | 15,200 | 12/06/2021 18:00 | Group B |
| Denmark 1–2 Belgium | 23,395 | 17/06/2021 18:00 | Group B |
| Russia 1–4 Denmark | 23,644 | 21/06/2021 21:00 | Group B |
| Croatia 3–5 Spain | 22,771 | 28/06/2021 18:00 | Round of 16 |
Average attendance: 21,253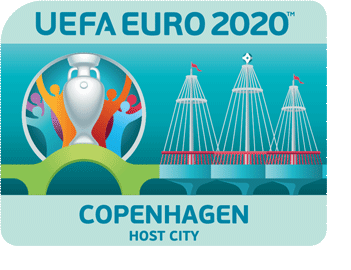 Location
---
It is located in the Indre Østerbro district, which is north of Copenhagen city centre, approximately 4 kilometres from the main train station. You can reach the stadium with line M3 of Copenhagen's metro, with both the Trianglen and Vibenshus Runddel stations within a short walk from the building. Vibenshus Runddel is also where the best bus connections are.
History of the stadium
---
Denmark's national stadium was inaugurated in 1911. It existed in its original form until 1990. Then it was demolished and a new venue was built in its place, which was opened in September 1992. The main stand was preserved from the old stadium. Its bottom 16 rows were removed to make room for a concert stage. Additionally, the pitch was turned 90 degrees in relation to the old facility.
In 2007-2009, the old main stand was demolished and replaced with a new one. This resulted in a reduction in the stadium's overall capacity, but increased the number of premium seats. The lower part of the aforementioned stand is foldable. The venue also underwent modernization in 2002.
Architecture
---
From the outside, the stadium looks like an office building. The arrangement of stands is typical for the "English style". Each of them is visually separated from the rest, but the corners are built up with commercial and office spaces. The east, west and south tribunes have two levels that are fully accessible to fans. The smallest number of seats is on the north stand, as most of its upper part consists of boxes. The retractable roof is a big advantage of the facility, which allows the organization of many non-football events.
Other events
---
Two European Cup finals took place at Parken Stadion: the UEFA Cup Winners' Cup (1994) and the UEFA Cup (2000). The facility serves FC København and the national team on a daily basis. From time to time, important domestic and foreign handball games are held at the stadium. The largest concert ever organised in the arena was Michael Jackson's performance, which attracted 60,000 spectators in 1997. In 2001, the final of the Eurovision Song Contest took place at Parken Stadion.
Euro 2020 changes
---
The aforementioned 2009 redevelopment was the last significant structural change. However, the naming rights partnership with Telia in 2014 resulted in great boost in connectivity, including wi-fi. A year later, some 350 new TV screens were mounted accross the stadium.
Euro 2020 capacity
---
In March, the Danish government agreed to 30% of the stadium's capacity during Euro 2020. This would have allowed 11,250 fans to be admitted. However, in May it was confirmed that 15,900 is the safe capacity for tournament games. Then on June 10, the Danish football association confirmed approval for 25,000 fans to be admitted, representing roughly 65% of nominal capacity. Because public authorities took the decision just 2 days before first game in Copenhagen, it was impossible to implement it immediately.
Related news
2021
2020
2014
2013