Football Arena Munich
| | |
| --- | --- |
| Capacity | 14 500 |
| Nominal capacity | 70,000 |
| Country | Germany |
| City | Munich |
| Clubs | FC Bayern München |
| Inauguartion | 19/05/2005 |
| Construction | 21/10/2002 - 05/2005 |
| Renovations | 2015, 2017 |
| Cost | €340 million |
| Design | Jacques Herzog i Pierre de Meuron |
| Address | München Stadion GmbH, Werner-Heisenberg-Allee 25, 80939 Munich |
Description: Allianz Arena
Football Arena's Euro 2020 games
---
| Game | Attendance | Time (CET) | Stage |
| --- | --- | --- | --- |
| France 1–0 Germany | 13,000 | 15/06/2021 21:00 | Group F |
| Portugal 2–4 Germany | 12,926 | 19/06/2021 18:00 | Group F |
| Germany – Hungary | 12,413 | 22/06/2021 21:00 | Group F |
| Belgium 1–2 Italy | 12,984 | 02/07/2021 21:00 | Quarterfinal |
Average attendance: 12,831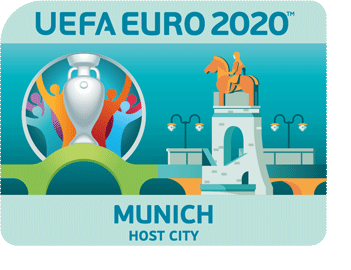 Location
---
The arena is located at the northern edge of Munich in the Schwabing-Freimann district, approximately 10 kilometres from the city centre. Because of its location beside the northern ring-road and a massive parking garage nearby, many fans select cars as preferred means of transportation. However, the stadium is also serviced by two subway lines (U3 and U6), each stopping at the Fröttmaning station.
History of the stadium
---
In 2001, a referendum was held on the construction of the stadium in the above-mentioned location, which ended with a result of 65.8% in favour of the new facility. Earlier, the reconstruction of Olympiastadion was abandoned.
Built in 2002-2005, the venue is one of the most modern in the world and the second largest in Germany. Until the end of the 2016/17 season, the stadium was shared by Bayern and TSV 1860. Currently, the sole tenant is a multiple German champion.
Over the years, its capacity has been systematically increased. The number of spectators that the facility can accommodate has also gone up due to the dismantling of a number of seats. These works were done in order to expand standing places, which were approved by the Bundesliga authorities.
In 2015, the stadium received new outdoor lighting and two years later two giant screens, which are among the largest in Europe. In 2018, the seats of the middle ring were changed to red. The colours of the remaining seating is gray.
Arrchitecture
---
The arena started the trend for oval stadiums where facades and roof merge into one. Most distinctive part of the ground are almost 3,000 ETFE-foil 'air panels' that cover facades and roof of the stadium.
With its immense size exterior cladding is the largest foil construction in the world. Each of the panels, also known as cushions, may be lightened in different colours. The auditorium consists of three levels. Each of them can accommodate roughly the same number of spectators.
Other events
---
Six matches of the 2006 World Cup were held in the arena. From time to time, fixtures of the national team are hosted at the stadium. In 2012, the Champions League final took place at the facility. The next final of the most important club competitions in Europe is planned for 2022. Music events are also organized at the stadium.
Euro 2020 changes
---
Since the stadium's complete takeover by FC Bayern, its infrastructure has been subject to numerous updates. These include the aforementioned shift to LED lighting, partial seating replacement and introduction of 5G across the stadium. There was thus no need for other overhauls for this tournament.
Euro 2020 capacity
---
Due to the capacity limitations of the venues caused by the pandemic, Allianz Arena will host no less than 14,500 fans during Euro 2020.
Related news
2021
2020
2017
2014
2013