Saint Petersburg Stadium
| | |
| --- | --- |
| Capacity | 30 500 |
| Nominal capacity | 62,315 |
| Country | Russia |
| City | Petersburg |
| Clubs | FK Zenit Sankt-Pieterburg |
| Inauguration | 22/04/2017 (Zenit - Ural Yekaterinburg, 2-0) |
| Construction | 12/2006 - 31/03/2017 |
| Cost | RUB 42.8 billion |
| Design | Kisho Kurokawa Architect & Associates |
| Contractor | Inzhtransstroi / Metrostroi |
| Address | Futbolnaya, 197110 Sankt-Peterburg, Russia |
Description: Stadion Sankt Petersburg
St. Petersburg Stadium's Euro 2020 games
---
| Game | Attendance | Time (CET) | Stage |
| --- | --- | --- | --- |
| Belgium 3–0 Russia | 26,264 | 12/06/2021 21:00 | Group B |
| Poland 1–2 Slovakia | 12,862 | 14/06/2021 18:00 | Group E |
| Finland 0–1 Russia | 24,540 | 26/06/2021 15:00 | Group B |
| Sweden 1–0 Slovakia | 11,525 | 18/06/2021 15:00 | Group E |
| Finland 0–2 Belgium | 18,545 | 21/06/2021 21:00 | Group B |
| Sweden 3–2 Poland | 14,252 | 23/06/2021 18:00 | Group E |
| Switzerland 1–1 (1-3p) Spain | 24,764 | 02/07/2021 18:00 | Quarterfinal |
Average attendance: 18,965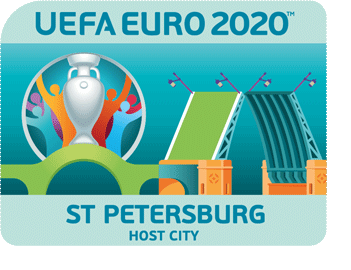 Location
---
The facility is located on the western tip of Krestovsky Island in the northwest part of Saint Petersburg, approximately 7.5 kilometres from the city centre. For decades the area was quite remote and had limited access via public transportation. Now, the island is served by two lines of the city's metro system. Line 3 reaches the Zenit station, just 300 metres west of the stadium. Line 5 is more distant, reaching the Krestovskiy Ostrov station, 2.1 km east of the stadium.
History of the stadium
---
Construction began in December 2006 with the demolition of Kirov Stadium, where a new arena was built. The actual construction works started in 2007 and were to last less than three years. Initially, it was planned to build a venue for 62,000 spectators until 2009, but it did not happen and the completion date was postponed several times.
The reasons were design errors and difficulties in implementing amendments to the documentation, which was not finished until 2012. The general contractor also changed several times, sometimes even had to demolish the already built elements due to the constant changes in the concept of the facility.
Architecture
---
The winning design by Kisho Kurokawa opted for a connection between history and future through combination of the historic colonnades and embankments with a spaceship-like addition. After the construction had begun, the layout and capacity of the stands, as well as the roof structure, were redesigned. The roof was installed in a year and the entire structure weighs as much as 32,000 tons. It is one of the heaviest roofs in the world.
The pylons supporting the roof remained unchanged. Eight sharp spires bent towards the inside of a circular solid rise up to 110 metres. Thanks to this solution, the retractable roof resembles a spaceship. An additional advantage of the stadium is a sliding field, which can roll out of the arena for optimum sunlight on a massive platform, to rest on the riverside of Malaya Neva.
During the construction of the facility, Russia began efforts to host the 2018 World Cup, which resulted in an increase in capacity from 62,000 to nearly 69,000 seats. Auditorium is divided into two levels of stands. The construction of the arena was officially completed in March 2017.
Other events
---
Zenit Arena played host to 4 matches of the 2017 Confederations Cup and 7 games of the 2018 World Cup (including a semi-final). The Champions League final is scheduled for 2022. Russian champions Zenit play at the stadium on a daily basis. There were also hockey fixtures of the national team at this facility. The music events included Rammstein concert in 2019.
Euro 2020 changes
---
Because the stadium was opened just 4 years before the tournament, there was no need for any major interventions.
Euro 2020 capacity
---
Due to the pandemic, the Russians intend to admit 30,500 fans, which is slightly less than 50% of the stadium's capacity.
Related news
2021
2020
2018
2017