Stadion Miejski w Białymstoku (Stadion Jagiellonii)
Capacity
22 372
23+23

(Disabled seats)

1,027

(Away section)

Country
Poland
City
Bialystok
Clubs
Jagiellonia Białystok SSA
Inauguration
18/10/2014 (Jagiellonia - Pogoń Szczecin, 5-0)
Construction
07/06/2010 - 09/2014
Cost
PLN 289.7 million
Record attendance
22,394 (Jagiellonia Białystok - Legia Warszawa, 21/05/2017)
Design
APA Kuryłowicz & Associates
Contractor
Eiffage Budownictwo Mitex / Hydrobudowa Polska / OHL
Address
Słoneczna 1, 15-323 Bialystok
Stadion Jagiellonii – stadium description
Decision to build a new stadium for Białystok was made back in 2006, while early design renderings were shown back in 2007. The vision of Warsaw-based APA Kuryłowicz envisaged double-tiered stands able to hold 22,400 people (after consultation with fans tiers were merged behind goals).
The most distinctive feature is surely its exterior, lacking a regular cladding, but making up for it with unusual concrete-steel roof supports painted in white and orange. There are precisely 100 in each colour, creating a rhythmic, elegant envelope for the largely monolithic concrete seating bowl. Their colour and texture stand in contrast with the concrete, while also creating a semi-enclosed environment in the public concourse.
The two-coloured supports lock over 3,000 tons of steel in place – that's how much the 100 girders of the roof weigh. Their thick structure is complimented by semi-transparent cladding, making the stadium feel airy and light throughout the day. Very fitting for a stadium placed on ul. Słoneczna (Sunny St.).

Indeed, play of light and shadows was one of the key architectural features of the entire stadium. This is consistent with public image of Białystok (utilising the sunrise theme in its brand) and Jagiellonia, whose primary team colours are yellow and red, just like the city's.
While the auditorium surrounds the entire field, this wasn't the case during construction. In order to allow Jagiellonia to play at the stadium during reconstruction, the project was divided into two phases. First came the main west stand and part of the south end. These were delivered in August of 2013. Remaining stands were delivered in September of 2014, creating a total of 76 sections of seating.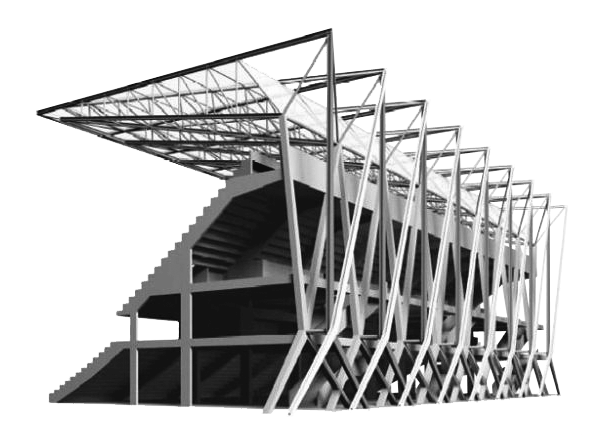 In total the stadium offers up to 6 floors of infrastructure, one of them underground, though bulk of the facilities is spread across 3 of them, within the west stand. Here, as is customary, players and journalists have their amenities, while hospitality offers 16 skyboxes and a main lounge for up to 200 people. In total there are 24,500 m2 of enclosed space, of which nearly 2,000 m2 serves office use.
The stadium offers almost 1,000 parking spaces, mostly to the north, as well as room for 80 buses. Along with the parking, a synthetic training field with a small stand was created, serving as secondary stadium and base for local American football and rugby teams.
The project suffered from various setbacks. Initial contractor, French company Eiffage, wasn't able to reach deadlines and meet the declared price, thus leaving the site. After another tender the cost rose massively from PLN 156 million to some PLN 289.7 million. And even having chosen new contractors, the city faced trouble as one of them (Hydrobudowa) went bust and left only Spanish OHL on the site. This caused further delays. Eventually the stadium was delivered without other issues and the city of Białystok managed to win back a very significant portion of the Eiffage-connected expenses in court.
Related news
2022
2020
2019
2017
2016
2015
2014
2013