Polsat Plus Arena Gdańsk (Stadion Gdańsk)
Capacity
41 620
480 (37 skyboxes)

(VIP seats)

1,383

(Business seats)

66+66

(Disabled seats)

Country
Poland
City
Gdansk
Clubs
Lechia Gdańsk S.A.
Other names
PGE Arena Gdańsk (2010-2015), Stadion Energa Gdańsk (2015-2020), Lechia Gdansk Stadium (nickname)
Inauguration
06/08/2011
Construction
28/05/2009 – 18/07/2011
Renovations
2016
Record attendance
40,392 (Poland - Netherlands, 01/06/2016)
Cost
PLN 864 million
Design
Rhode-Kellermann-Wawrowsky
Design time
2006
Contractor
Hydrobudowa Polska- Alpine Bau
Address
ul. Pokoleń Lechii Gdańsk 1, 80-560, Gdańsk
Polsat Plus Arena – stadium description
In Spring 2007 the cost was estimated at PLN 660 mln (app. €170 mln ). By Summer 2011 the number has increased to PLN 864 mln (€213 mln). For three years, starting in mid-2009, whole Poland was watching the progress of the venue initially called Baltic Arena. One of Euro 2012's most spectacular stadiums rised in the Letnica district of Gdansk, though not without delays. First scheduled to be ready for January 2011 was then postponed till April and finally opened in July 2011.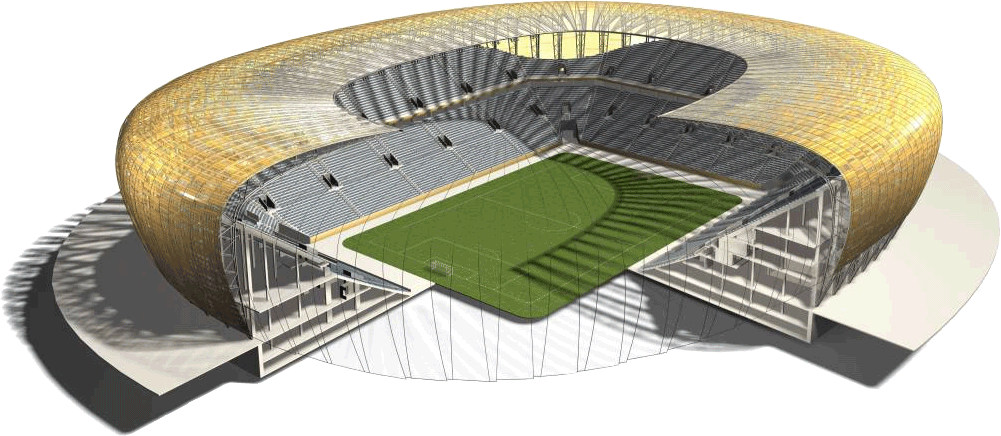 Its appearence and construction is the work of Rhode-Kellermann-Wawrowsky office from Dusseldorf. It was the first stadium designed on their own account, though before they've also been involved in works on other stadia. For Gdansk they chose the form of amber, called "Gold of the Baltic", in warm, light colours. However, due to appeals of local football supporters stadium seating colours were changed from yellowish to greenish, to resemble the colours of Lechia Gdansk football club.

Two-tiered stands are surrounded by 82 supports bearing the roof and facades.With each segment weighing 66 tons, the primary dome weighs over 5,400 tons, while all of the steel structure sums up at 6,500 tons.
The whole venue is covered in 6 tints of polycarbonate panels that reflect sunshine at daytime and at night are illuminated to give a yellow glow. In total the cladding covers 4.5 hectares.
Underneath this cover there are 53,000 square meters of space for administrative and commercial use. Around the venue a rollerblade track was created and beyond it fans will find 2,171 parking bays for cars and another 74 for coaches.
The Gdansk stadium is also the first Polish example of naming rights contract (similar case from Lubin isn't a classic naming rights deal due to the stadium and sponsor being part of the same company). Energy company PGE bought the arena's name for 5 years, paying a total of PLN 35 mln (app. €9 mln). After the deal ran out, stadium name changed to Stadion Energa, under contract with another energy supplier.
Related news
2022
2021
2020
2018
2017
2016
2015