Year recap: Best of 2016 (top 10)
source: StadiumDB.com; author: michał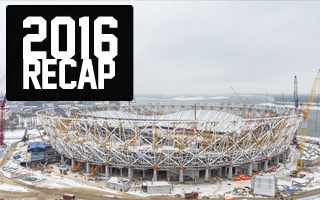 Ultras return to Parc des Princes, safe standing lands in the Netherlands and Scotland, NFL arrives in Los Angeles, Sydney gets its final stadium plan, while Russia is catching up with World Cup works.
Yesterday we shared with you the stories that we wish hadn't happened in 2016. Now it's time for the more positive part of last 12 months' review.
10. Expensive peek

In 2016 three stadium designs (Tottenham, Man City and WS Wanderers) included a feature unseen before. Or at least unseen by us and we're trying to keep an eye on all major stadium projects. That feature is glass separating players entering the field and corporate clients. While we're not into the posh matchday experience, this one is interesting, somewhat amusing and may be worth taking note of for the future. Not sure how the players will feel about rich spectators getting closer and closer to their locker rooms, but the game is clearly changing to keep hospitality areas just a step away from footballers.
9. Agreement at PSG

For years the ambiance of Parc des Princes was famous worldwide but in recent years it fell flat. After tragic brawl outside the stadium it was decided that no organized support will be retained at the stadium. In 2016, after six years of impasse, vocal support finally returned to the Parc, showing that dialogue between supporters and authorities may be the way to go.
8. Safe flares

Pyrotechnics inside stadiums are a hot topic and not only literally. Well, in Denmark they're working on cooling both the debate and the flame itself. We're not judging the outcome just yet, the much better point is that supporters, club and pyrotechnic experts can work together in order to introduce a solution that would satisfy all sides!
7. Sydney's new stadium plan

2016 brought a complete change of Sydney's stadium landscape. Not in reality yet, but the governmental spending of $1.6 billion, subject to prolonged debate, is now allocated to concrete projects. ANZ Stadium, famous for the 2000 Olympics, will be converted into a robust football/rugby stadium for 75,000 people. A brand new Western Sydney Stadium is expected to replace Pirtek Stadium in a plan that will see great improvement for Australian soccer overall.
6. The amazing away following in Germany

There were many great games in 2016, many impressive travelling contingents. But the two that caught our attention the most happened in Germany. Union Berlin and Dynamo Dresden proved to have great following even though none of them is a Bundesliga side. And having 12,000-20,000 people travel across the country for 90 minutes of football is indeed remarkable.
5. Dutch and Scottish safe standing

Safe standing has been legal in the Netherlands for quite some time, but none of the three biggest clubs provided such sections for their fans. In 2016 this changed at PSV Eindhoven and Ajax Amsterdam, while Feyenoord assured it would be considered for both De Kuip and the planned new stadium. Similarly, in Scotland finally the pilot programme at Celtic Park was launched and received quite good publicity, too. It seems we're finally on the right way to accommodate common expectations of supporters in further European stadiums. Better late than never.
4. NFL2LA

The issue of Los Angeles getting back an NFL team was raised far too many times over the past two decades. It even seemed to be a strategy for teams wanting a new stadium: threaten local authorities they might leave for the largest unoccupied city/market in the US. Well, now it's at least partly sealed. The world's most expensive stadium in Inglewood is officially under construction for LA Rams!
3. Newer, bigger Anfield

Contrary to West Ham United, Liverpool FC went through a rather smooth transition between the old and new. Sure, they only changed one grandstand, but the new west side of Anfield is still a massive operation that's just entering final phase of works now. The 20,000 stand also answers a question that's been lingering since the beginning of the 21st century: where will LFC spend the future? After a long series of failed plans they decided to stay put. Looking at first months of the expanded Anfield, it seems to have been the best option.
2. La Liga catching up

The Spanish league saw major changes either approved, continued or already carried out in 2016. Celta Vigo carry on their reconstruction, Real Sociedad and Deportivo Alaves announced their plans, each worth €50 million. Sevilla is finishing upgrades at "Bombonera de Nervión" while neighbouring Betis began work on the fourth stand. Add to that the expansions in Eibar and Leganes, renovations in Villarreal and Malaga approval for Real Madrid's downscaled project and the list gets truly impressive.
1. Russia making up for the lost time

This time last year almost all stadiums of the 2018 World Cup were behind expected schedule. Now, 1.5 year before the tournament, there's hardly any single section of the stands that is yet to be installed. Credit where credit is due, Russian contractors managed to both cut costs and speed up construction of all stadiums. Well, Zenit Arena is still behind schedule but that one's been a special case from the start…