Sevilla: Bombonera de Nervión changing every day
source: StadiumDB.com; author: michał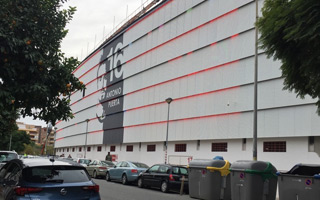 New southern mosaic, new western façade, trophy gallery and a tribute to Antonio Puerta. All these elements are already in place as the metallic skin is covering Sevilla's stadium.
In early 2017 Estadio Ramón Sánchez Pizjuán will look nothing like we're used to. The historic stadium famous for white-red paintwork and impressive mosaics is changing its image for a much more modern one. Majority of the stadium will be covered by aluminum mesh by January.
What else is going on? Let's begin in the west, where the monumental central mosaic was retained, but walls on its both sides are now painted black and have been covered by black and red banners in late October.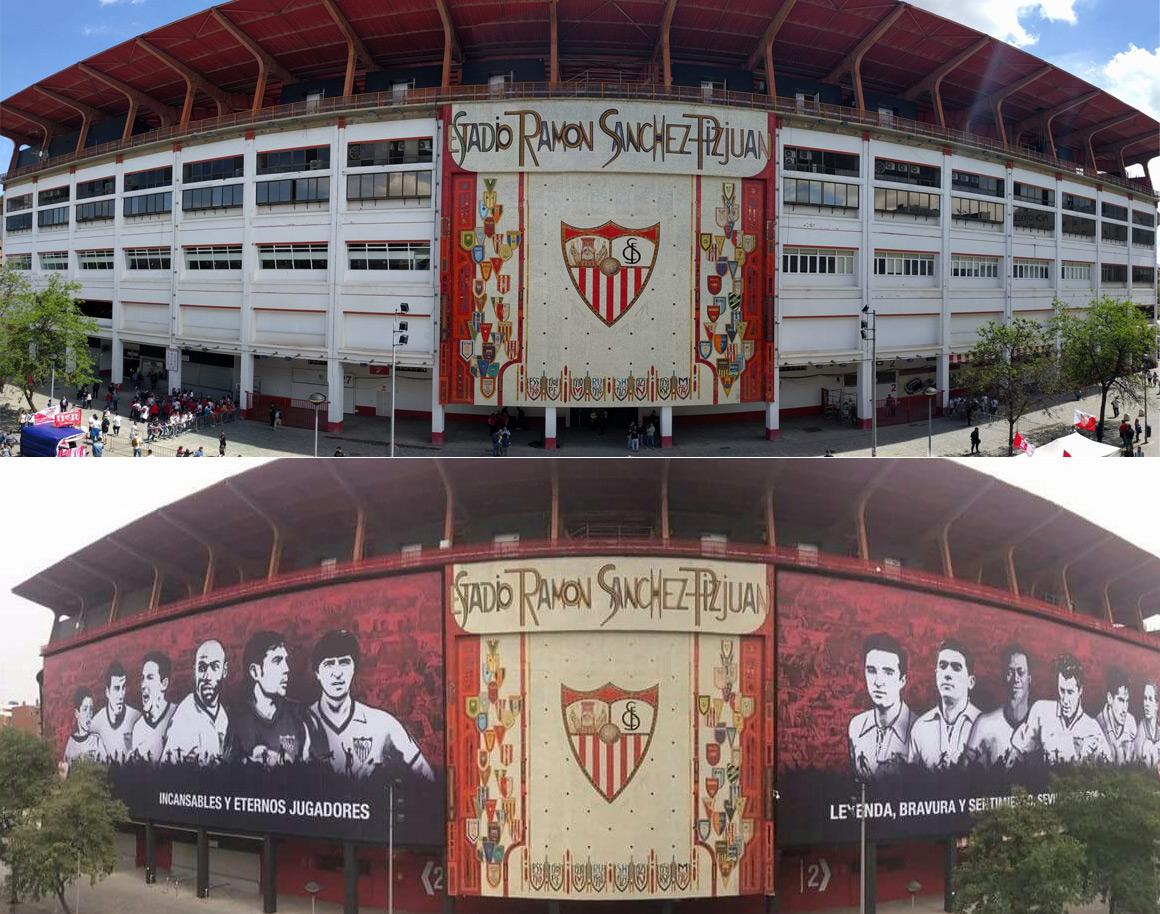 Also by the end of October the new southern mosaic was created. Much less popular than the main one, old southern mosaic wasn't removed but instead covered with a new one. Much more simple, the flashy red new one is more simple and in line with Sevilla's plans for the stadium's modern appearance. The difference can be seen below: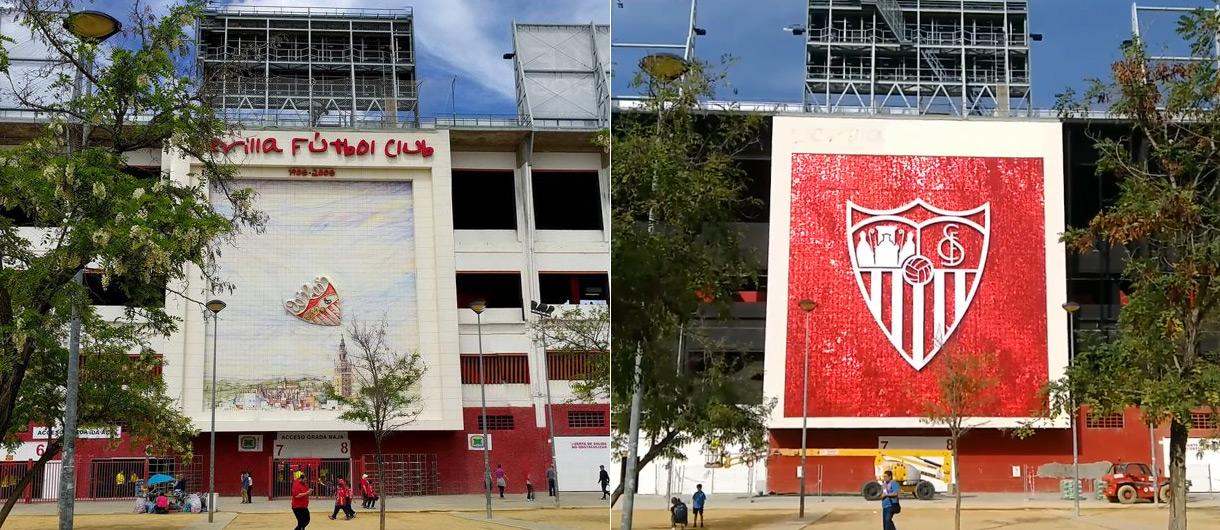 Since September work has been progressing on the stadium's new aluminum outer skin, now spanning across majority of the north and east stands, moving towards the south end. Already in late October a portion of the mesh saw illumination testing. Each strip of the mesh has LED lamps underneath, allowing various lighting patterns to be displayed on the stadium.
¡Cómo mola! @JoseMariFC @NervioneoSFC pic.twitter.com/YAohNzotvk

— Dani Pine ✌️ ☀️ (@danipine92) October 25, 2016
One portion of the aluminum skin isn't silver, contrary to the rest of the stadium. That's the central segment covering Estadio Ramón Sánchez Pizjuán's east stand. This piece is dedicated to Antonio Puerta, Sevilla's player who died after suffering from heart attack on the stadium's field in 2007.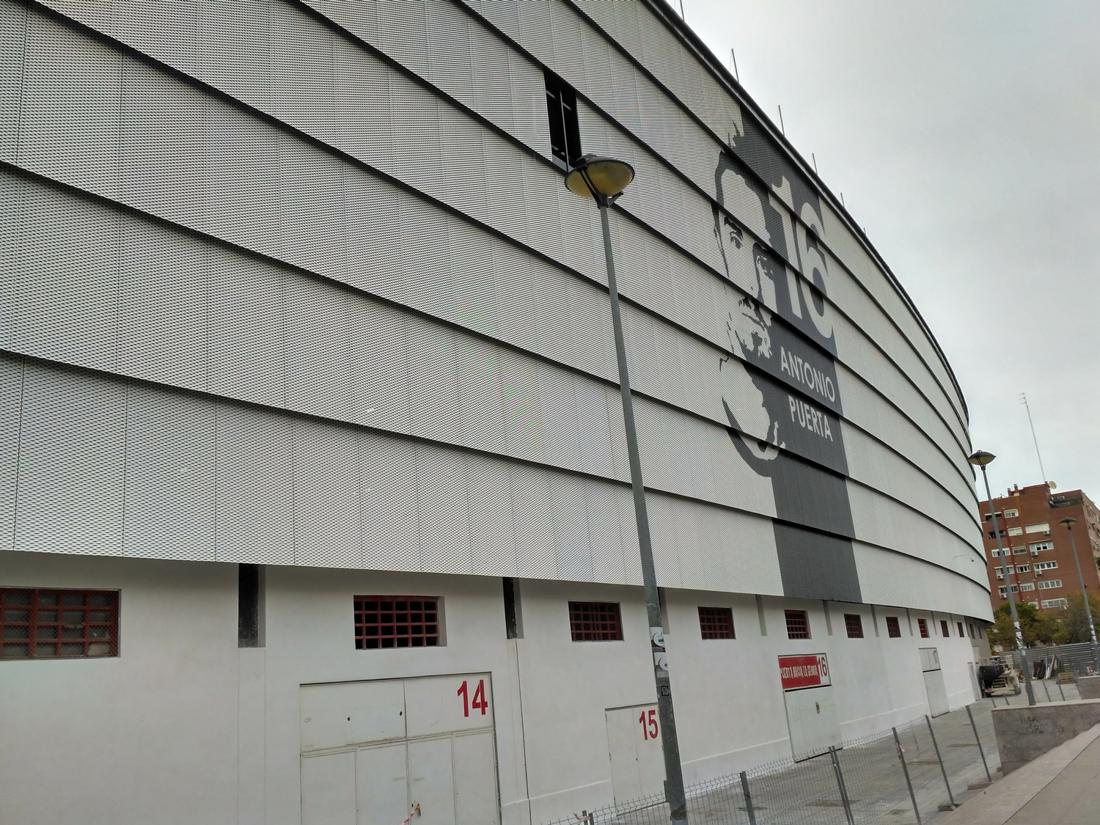 Currently decorative plaques are being mounted onto the north end of the stadium. Each represents a different trophy won by Sevilla domestically and internationally. All of them will be placed on the sides of a yet-to-be-delivered simplified logo of the club with the letters SFC.
Current works at the so-called Bombonera de Nervión are the second phase of Sevilla's major renovation effort. During the first stage all seats were replaced inside, along with numerous systems and amenities accessible to fans.