Spain: Sevilla shows further stadium plans
source: własne | MK; author: michał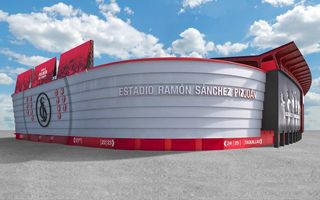 As the first renovation phase is nearly complete, now Sevilla FC present the future exterior of Estadio Ramon Sanchez Pizjuan. This time next year the stadium will be entirely changed.
This week Sevilla invited journalists to take a tour of the improved "Bombonera de Nervión". Inside the stands are completely changed compared to their previous appearance. After upgrading the concrete surfaces, 42,000 new red (mostly) seats were installed.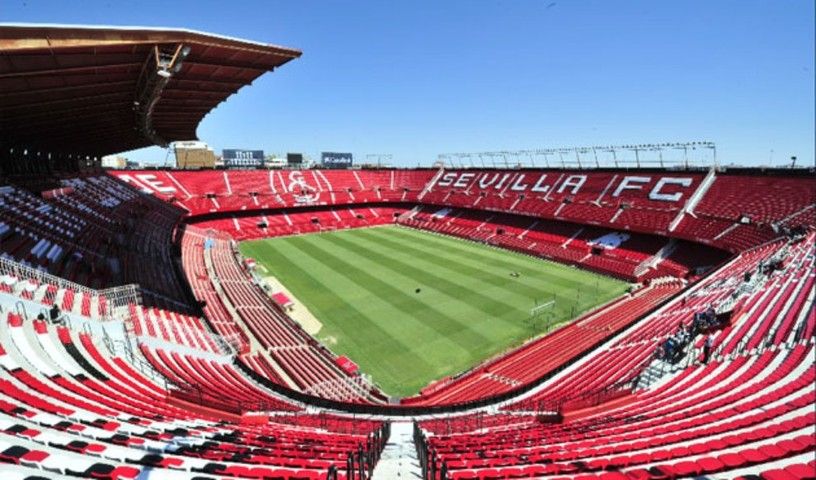 Now final works of this stage continue, primarily in the main grandstand. New player benches are ready, so are the media zone, mixed zone, advertising boards, club store, medical entrance to the field and more. The goal is to impress fans as they visit the stadium for season 2015/16 opening on August 30 (against Atletico Madrid).
Throughout the season further changes will be introduced, this time focusing on the outer side of Estadio Ramon Sanchez Pizjuan. Yesterday Sevilla released a set of renderings showing white mesh covering the stadium.
The mesh will be illuminated at night with red lights. By day it should also have a lot to offer to fans. North and south facades will present trophies won by the club, as well as its crests. The west grandstand will include the historical mosaic and banners presenting club legends. The east stand will in turn honour Antonio Puerta, who died on the field in 2007.