Spain: A more yellow submarine
source: StadiumDB.com; author: michał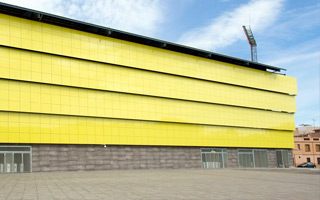 Villarreal has recently installed bright yellow outer cladding on its south-western stand. More changes will come in 2017, including the anticipated new stadium name.
Since August this year Villarreal CF has been upgrading El Madrigal. In phases, step by step, without major publicity they've extended the field of play, created new press facilities and most recently created a brand new outer wrap for the south-western side of the stadium.
The new cladding consists of bright yellow ceramic tiles installed on four independent 'ribbons' surrounding the stand. The layout brings to mind the projects carried out in Bilbao and Sevilla (still ongoing).
Selection of ceramics isn't accidental. Villarreal is the most famous club of the Castellón province, which itself is known for exactly this industry. In fact, the main grandstand has been covered with tiles for several years now. In upcoming months other parts of the stadium should also begin looking like the images below.
Perhaps the most anticipated element is the stadium's new name. Leaks and speculations about it have been surfacing since the summer and it was anticipated the new naming would be revealed upon completion of the south-west stand's new skin. That didn't happen and now it's most likely that details will be revealed in January (Jan 8, on the day of Barcelona game).
Interestingly, Villarreal CF have hinted that the stadium might not have a fully commercial name. It was suggested the future name might be Estadio de la Cerámica, honouring the whole branch of industry rather than a single enterprise.