Munich: Dynamo Dresden took Allianz Arena
source: StadiumDB.com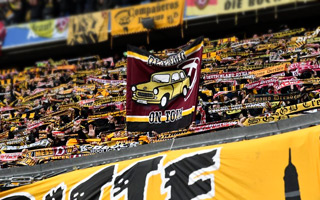 They had over 450 kilometers to travel and yet Dynamo Dresden managed to bring roughly 20,000 fans with them, becoming the de facto hosts at Allianz Arena!
Yesterday Allianz Arena was neither red-blue, nor blue-white. Though TSV 1860 were the hosts, they were outnumbered by supporters of Dynamo Dresden. Or at least that's what Dynamo Dresden claim, assuring that "over half" of the audience was on their side.
This would mean over 21,000 people coming from Dresden, a stunning number to even imagine when taking into account the distance between Bavaria and Saxony. There are some indications that Dynamo may have a point there. On Tuesday fans from Dresden were estimated to have 15,000 tickets and within three days that number grew to 18,000. Yesterday the south-eastern part of Allianz Arena looked like that:

And that part of the stadium seemed much more packed than the north-western part occupied largely by TSV supporters. It didn't even help that TSV 1860 reduced ticket prices to some sections to a truly modest level of €7. Dynamo claimed after the game that "over half" of the 43,400-strong crowd was on their side.
Even if the number is slightly off and Dynamo didn't have majority, you still have to give them credit for drawing immense crowds for what was after all only a 2nd league game. It even beats the recent invasion of Dortmund by Union Berlin fans.
According to the information we have, most supporters of Dynamo traveled by trains, causing some distress among Munich residents unsure of what was happening. Key stations across the city were patrolled by heavily-armed police officers to ensure safety. Still, the most serious incidents that we currently know of are the vast amounts of litter left behind in trains, as well as some (though minor) cases of vandalism.
It's worth mentioning that large away following is nothing new to Dynamo Dresden, the most traditionally-supported club across Saxony. Especially Munich is an important away day for them. Then again, yesterday's attendance numbers are one more proof that TSV 1860 needs a new, smaller stadium that would make the best of their faithful following, surely not in love with attending the stadium of FC Bayern.