London: Tottenham's business plans leaking
source: StadiumDB.com; author: michał
Three leaks in recent days and one of them is exclusive to us at StadiumDB, apparently. See Tottenham's brilliant hospitality zones and what may be the future name. No, it's not Uber…
North London's biggest club-owned stadium (it matters when you compete against Emirates Stadium, with world's best matchday revenue!) is still far from being complete. Currently the new structure reaches 5 floors in the north out of 9 planned eventually. It won't be complete by 2018/19 and the current season is Tottenham's last at partly-demolished White Hart Lane.
It's no wonder that Spurs are already looking for corporate partners to occupy their extensive hospitality areas. Except they may have been surprised when renders of these spaces were passed around by fans and leaked to the media, because none of those was previously published. Here are 2 of them (3 more in the stadium design's presentation) that depict perhaps the most original ideas for business clubs at the stadium.
Above is the Sky Lounge. There will be two of those, along the west and east side of the new stadium, each located on the highest 9th floor of the stadium. With great view inside and outside of the stadium, these spaces will also offer a rare stadium feature: translucent roof letting sunlight inside and allowing to get a glimpse of the sky.
And below is the exact opposite, a business club placed below field level of the west stand. Not only is it lower than you'd expect a hospitality area to be, it's also separated by only a glass wall from the players' tunnel.
This will give spectators a unique opportunity of watching the players prepare to enter the field before games. This underground lounge will of course also have corresponding seats behind the substitutes benches, making sure that clients are as close to the action as possible.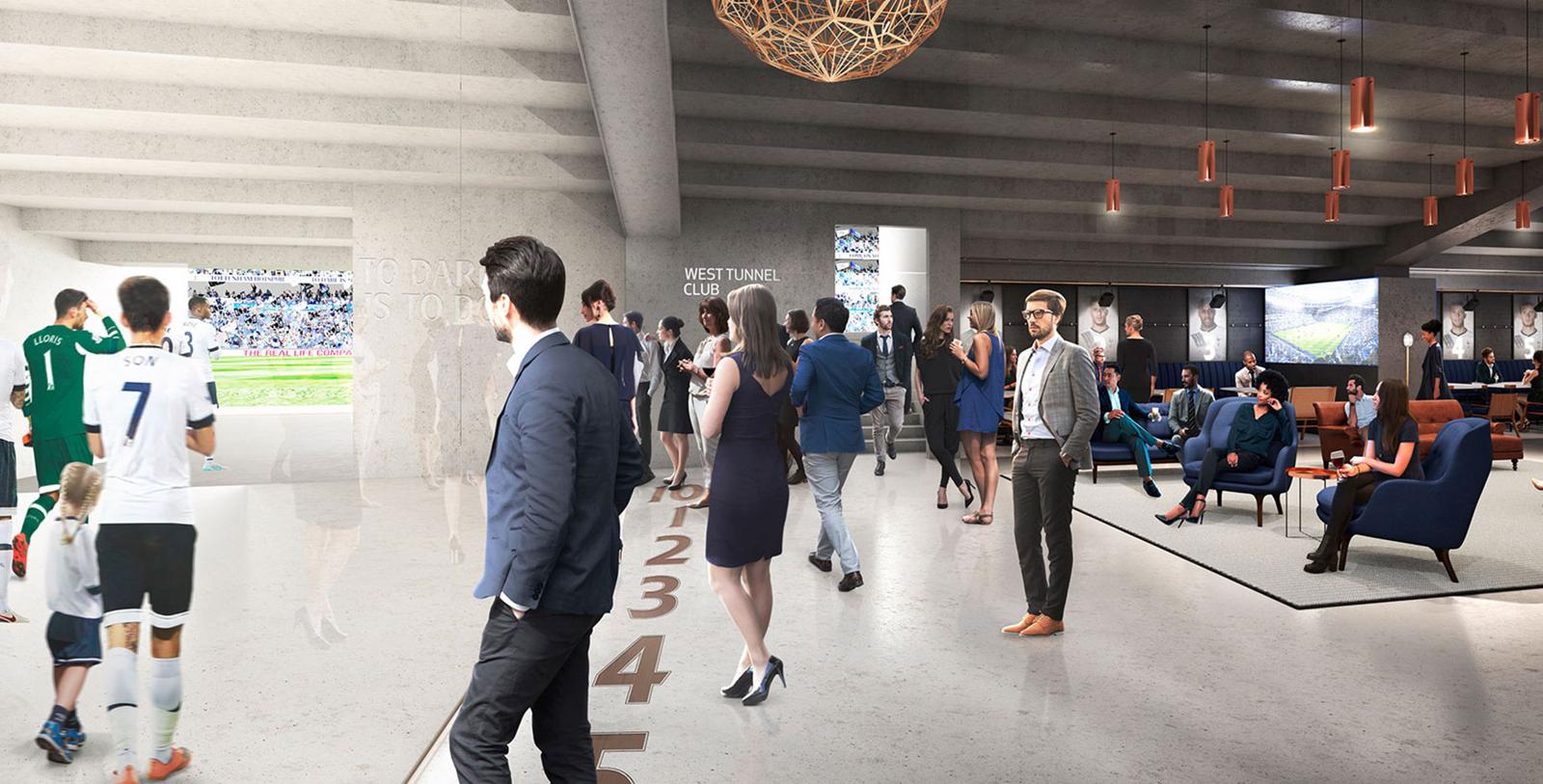 Name game: Uber? No, how about Qatar Airways?
Since Wednesday it's been a hotly debated issue once more: who will grab Tottenham's naming rights? And once again it was caused by a leaked photo, this time of a stadium model with "Uber Stadium" engraved into it.
Tottenham haven't commented on the supposed partnership, but Uber dismissed the claims. It's now reported that the London club did approach Uber, but the naming rights aren't discussed any more.
This is where our "third leak" comes in. During the research for quality images of the new corporate areas we surprisingly found what you can see below. These images are fresh, dated as October 2016 marketing material.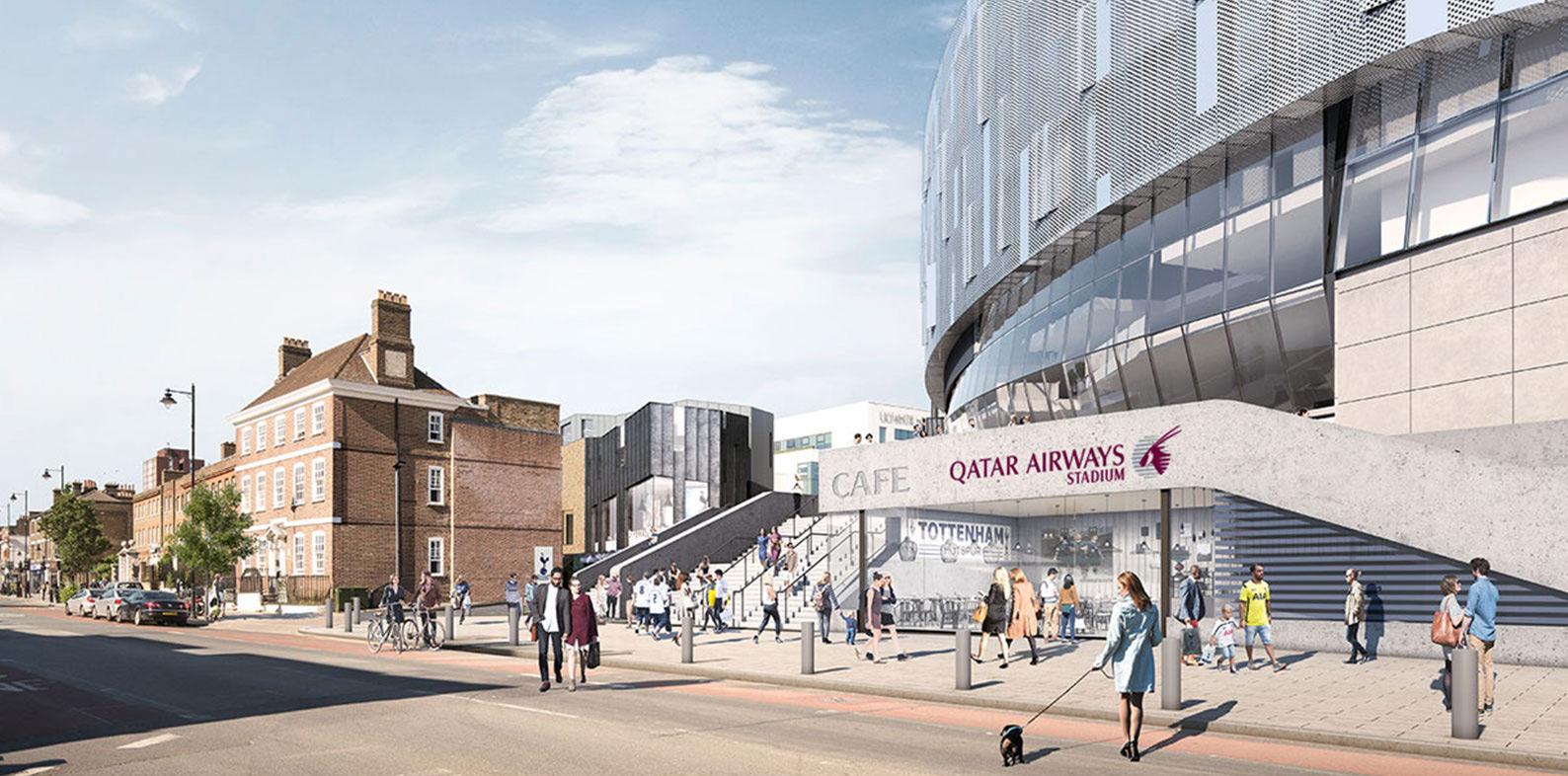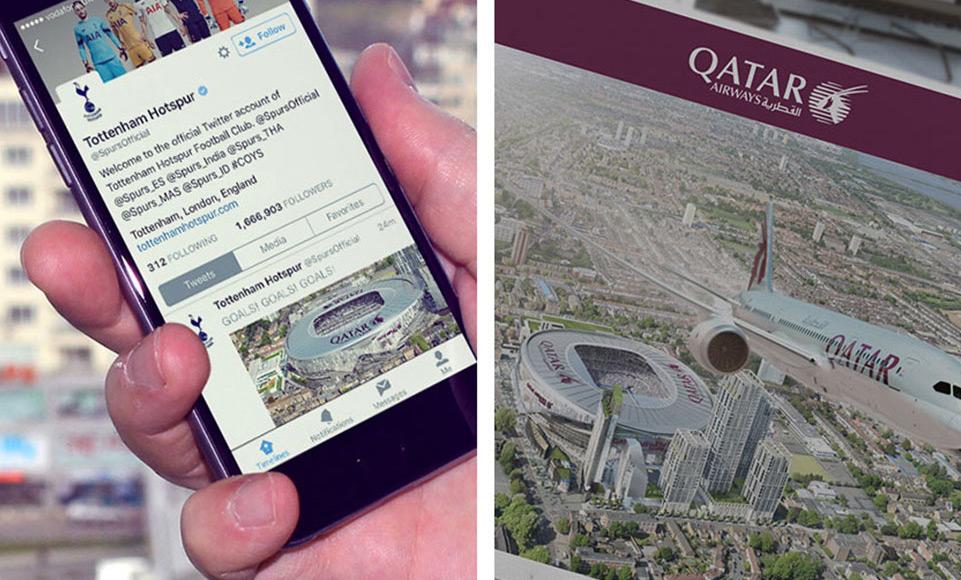 In a way it would be fitting for derby rivals in north London to have stadiums named after competing airlines from the same region of the world, but more importantly Qatari investors have been linked to the Tottenham stadium project for years now.
The first Qatar Airways naming rights rumour that we know of dates back to 2011 when Tottenham were still struggling to deliver their old stadium design. It then kept resurfacing several times until a month ago when The Times claimed that Qatar Investment Authority would become the stadium sponsor.
A 6-year deal worth £25 million annually ($30m, exactly the price expected by Tottenham) is what The Times described. These latest images seem to suggest, at the very least, that Qatar Airways should not yet be ruled out as potential naming rights partner.