10+ Ranking 2015: Attendances in Europe (Part 1. The Leagues)
source: StadiumDB.com; author: michał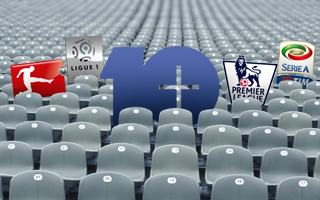 Numbers don't lie: French Ligue 1 outgrew Italian Serie A as Europe's fourth largest league. Premier League seems unlikely to catch up to Bundesliga, while Turkey, Ukraine and Scotland are down.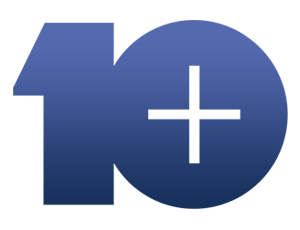 Welcome to the 6th edition of 10+ Ranking. This one is a bit different from previous entries as we're dividing it into two parts. First one is dedicated to Europe's largest football leagues rather than clubs individually. That part can be found in a different article you should definitely check!
10+ means we're focusing on leagues that drew 10,000+ fans or more per game. And the list is significantly shorter this year than we used to. Turkey, Ukraine and Scotland went under the 10,000 mark, leaving only 12 leagues across the continent, in 10 countries. See them below in the table and infographic.
TABELA 1. Lista lig o średniej 10+
No
League
Country
Average attendance

League leader (attendance)
1
Bundesliga
43,539 (+49)

Borussia Dortmund (80,463)
2
Barclays Premier League
36,176 (-431)

Manchester United (75,335)
3
Liga BBVA
27,021 (+178)

FC Barcelona (77,632)
4
Ligue 1
22,329 (+1,237)

Olympique de Marseille (53,130)
5
Serie A TIM
22,213 (-1,172)

AS Roma (40,118)
6
Eredivisie
18,744 (-690)
AFC Ajax (49,403)
7
SkyBet Championship
17,846 (+1,238)

Derby County (29,232)
8
2. Bundesliga
17,667 (-221)
1. FC Kaiserslautern (33,013)
9
Jupiler Pro League
11,677 (-159)

KV Club Brugge (26,006)
10
Raiffeisen Super League
10,867 (+95)

FC Basel (28,878)
11
Premier Liga
10,151 (-1,359)

FC Spartak (24,931)
12
Liga NOS
10 102 (-136)

SL Benfica (42,570)
Just below the line:
13
Ladbrokes Premiership

8,659 (-1,351)

Celtic FC (44,585)
14
T-Mobile Ekstraklasa
8,269 (+435)

Lech Poznań (20,054)
France beats Italy
One major change in the list is the collapse of "big four" European leagues. Italian Serie A was outgrown last season by Ligue 1, losing its fourth spot. The French top flight attendance grew by over 3,000 people per game over just two seasons and is likely to grow even further as new stadiums in Bordeaux and Lyon are joining the venue list. without a doubt Euro 2016 contributed to Ligue 1's growth, but so did the investment in clubs from not-necessarily-French capital.
With 65.2% occupancy rate France still has a lot to work on, but that's already 10% better than Italian Serie A's occupancy. And even that number was achieved after capacities of several stadiums were cut back. Will new stadiums for AS Roma, AC Milan and Udinese make the necessary difference? This might not be enough to reclaim the title of Europe's fourth biggest league.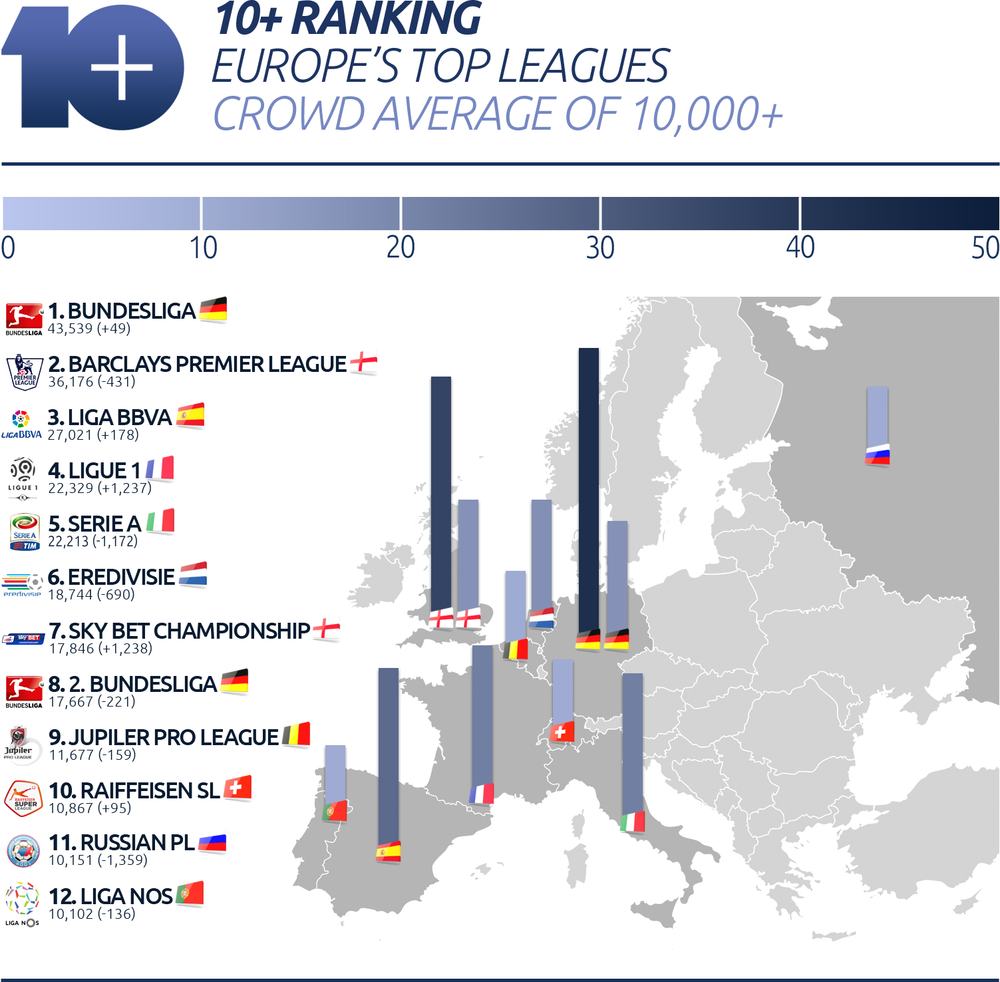 The stable ones
What seems unlikely to change in the next few seasons is the podium for Europe's attendances. Bundesliga leads and sets records year after year, while Premier League is constrained by too small stadiums. Spain has a lot of room to grow, but just isn't growing as one might hope it would – their crowds have barely changed since 2000.
Two more examples worth mentioning are the Netherlands and Belgium. These are leagues which won't grow rapidly, but are improving year-to-year status, just like they're upgrading their stadiums in many cases. Although entire league statistics are primarily dependent on who gets promoted/relegated – some big and small clubs balancing on the edge in both cases.
Down, down, down
Various disturbances made this year's league list shorter than usually. Most importantly it's the crisis in Ukraine and Russia. For Ukraine it means loss of 55% matchgoers (or fall from 11,082 to 6,143 per game). In Russia the fall caused partly by unstable economy was much smaller (1,359 per game), but it's worth noting that attendance dwindled despite the opening of two 2018 World Cup stadiums in Moscow and Kazan.
Serious trouble was faced by the Turkish Superlig, which ended the 2014/15 season with all-time low of 7,989 (to our knowledge, the league refused to release data on several seasons). Nationwide match boycott by fans protesting against obligatory fan ID cards contributed heavily to this 35% decrease. On a more optimistic note for the Turks, Fenerbahce recently released information that they sold over 30,000 season tickets for 2015/16, while their 2014/15 attendance was barely over 20,000.
Scottish football found itself in a unique situation last season as the country had two leagues with similar popularity. Premiership averaged just 8,659 people per game, while Championship rose to 7,543 (from 1,795!!!). This of course is due to relegation of Hearts and Hibernian from the Championship and promotion of Rangers to that same league.
Very sad sight is that of Hungary, Romania and the Balkans. These leagues and clubs we're rooting for, but instead of regaining their historical importance, most of them are falling into further decline. In Hungary nationwide fan protest against growing restrictions saw attendance drop to all-time low of just over 2,500 per game despite two new stadiums being opened. In Romania a change of power also changed the interest in football. Once-great Steaua lost over 70% of their active supporters in two seasons. Overall the average of just over 3,500 in Romania is just half of the 2004 number.
You'll be able to see painfully clearly how the Balkan football powerhouses have lost importance tomorrow, when we show which clubs in Europe managed to get 10,000+ per game. In this region it's only two (!) teams.
Meanwhile, below are details on the six most important leagues of 2014/15 in Europe: