StadiumDB Newsletter: Issue 19, check last week's headlines!
source: StadiumDB.com; author: michał
Welcome to the 19th issue of StadiumDB newsletter! We're happy to give you last week's top news and, as is quite common recently, a lot of of our coverage was focused on England and their stadia. But there's much more from other countries and continents below as well!
Before you read the summary of our last week's headlines, please make sure that you subscribe using the above form and get similar summaries to your mailbox every week!
Not the biggest stadium but the biggest update is the new Salford City stadium. Moor Lane is undergoing a rapid transition from small non-league ground to League-One-ready covered stadium for over 5,000 people. There are some constricton photos for you and it's worth seeing what they managed to do in just over half a year!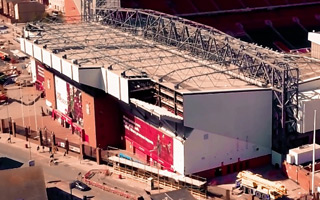 In other English news, Anfield's famous The Kop is going through expansion. Not big, but even 470 seats will change its appearance for years. Also, York City's future 8,000-seat stadium finally has a solid time frame, with groundbreaking expected in October. Similarily, Scunthorpe's 12,000-seater is moving forward after a series of delays.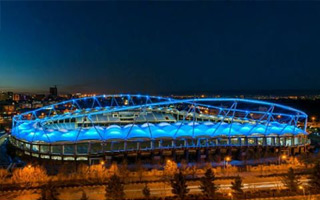 Our database grew by only one stadium last week, but not just any stadium. It's Iran's first stadium with a tensile cable roof (or in fact any roof that covers all spectators!), which made it a source of local pride and quite rightly. Imam Reza Stadium might not be the world's most modern, but it's surely a landmark for Iran's second largest city, Mashhad. It's still a shame that women in Iran cannot attend the same games that men can, but we're still hoping that domestic and international pressure will work eventually.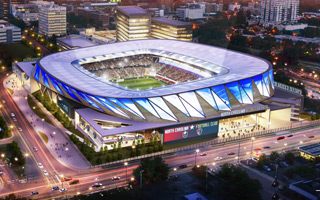 In the US, MLS hopefuls North Carolina FC have presented their future stadium in north downtown Raleigh. A bold design with extensive secondary functions is still preliminary, but might bring the North Carolina team closer to a place in MLS. Moving north, in Minneapolis the U.S. Bank Stadium is going through its first major repair, not even a year after opening. It's already the fourth scandal casting a shadow on the stadium and just in the past few days another personal changes in the stadium's operating company were made...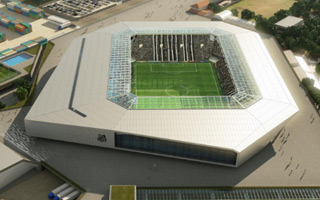 In South America, the famous Brazilian team Santos FC came up with a new relocation plan. This time they're teaming up with across-the-hill neighbours from Jabaquara AC to share what might be a stadium of up to 30,000 seats. For reference, we've shown the last year's plan, which unfortunately failed before construction could begin.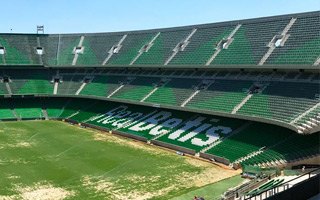 And finally, the most read news despite being one of the latest. Real Betis Bolompie are ready to inaugurate their new south stand. Housing over 14,000 people and 102 cars, the stand allows Estadio Benito Villamarin to exceed 60,000 seats, becoming the third largest across Spain. At least until September, when Wanda Metropolitano opens in Madrid.