Liverpool: The Kop growing this summer
source: StadiumDB.com; author: michał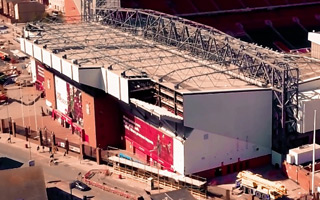 There are many stands going by this name, but there's only one that instantly comes to mind. Anfield's The Kop is undergoing expansion these days, which will see fans sitting... above the street!
In 2016 Liverpool FC have reopened their massive main stand with 20,000 seats, bringing Anfield above 50,000 in total capacity. They also have an outline planning permission for a new north stand. This summer works are focusing on two remaining sides: east and south.
Let's see what LFC are doing with their most famous section, The Kop. Once known for hosting 30,000 standing fans, this single-tiered stand is now much smaller and in 2017/18 will see additional places for fans with disabilities, like many Premier League stadia. To make up for loss in capacity, the Reds are running a small expansion project.
By August the stand should have 470 new seats in what may be an unexpected area: in the very top corners. Since June the works to add 9 further rows are ongoing and their outcome will see The Kop's silhuette change significantly since it opened in 1990s. See below:

The changes also mean that The Kop's southern corner will now be hovering above pedestrians walking outside the stadium. You can see current state of construction in this brilliant aerial video from July 9.
It also shows very well what's going on in the east. Kenny Dalglish Stand (formerly Centenary Stand) is getting a new 5-level pavilion to improve crowd flow and accessibility of the stadium.