United Kingdom: Will they bring football home in 2030 again?
source: StadiumDB.com [KT]; author: Karol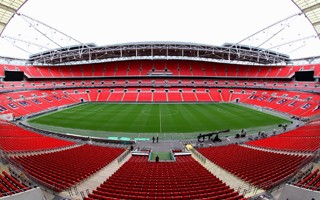 Prime Minister Boris Johnson has recently supported the potential candidacy of the UK and Ireland for the FIFA 2030 World Cup. The formal process for a prospective five-association bid will be opened in 2022.
Interesting news from Great Britain. The Football Association is exploring the possibility of launching a bid to host the 2030 World Cup. UK Prime Minister gave his public backing to "bring football home". He guaranteed that his Government would support such a move.
According to the recent interview published in The Sun newspaper, Prime Minister Boris Johnson said: We are very, very keen to bring football home in 2030. I do think it's the right place. It's the home of football, it's the right time. It will be an absolutely wonderful thing for the country.
A joint-statement from the football associations of England, Wales, Ireland, Northern Ireland and Scotland read: The football associations and government partners of the UK and Ireland are delighted that the UK government has committed to support a prospective five-association bid for the 2030 FIFA World Cup.
A feasibility study is underway and will continue before the formal bidding process begins next year. In 2022 FIFA will formally open the process.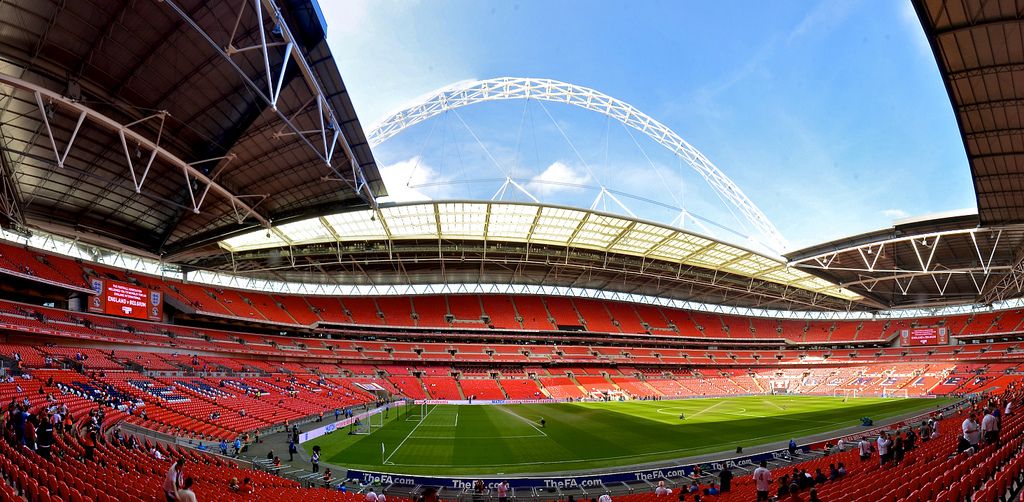 © Steve James (cc: by)
The best possible place for the World Cup?
England previously hosted the World Cup in 1966, famously winning that competition. Since that time, excluding Euro 96, the country has not hosted a major men's international football tournament, failing previous attempts before the 2006 and 2018 World Cups. Current football infrastructure in the UK, including stadiums under renovation and planning, make that candidacy a superb one.
As the guidelines for the tournament in 2030 are not known yet, we could make reference to the bidding process for the 2026 FIFA World Cup. According to the requirements published by FIFA, we can predict that potential hosts will have to deliver 14-16 venues with a minimum of 40,000 capacity each.
Wembley, Millennium Stadium in Cardiff, London Stadium will of course host their fair share of the tournament, if the bid is chosen. Besides that, there are plenty of unique and amazing venues to host the biggest football tournament in the world. Continuing to count: Old Trafford, brand new Tottenham Stadium, Aviva Stadium in Ireland, Anfield with upgraded Anfield Road Stand, Emirates Stadium, Etihad Stadium, St. James' Park, Celtic Park, Ibrox Stadium or Hampden Park. Wow!
Additionally, Aston Villa is one of the clubs that offers full support for any bid and plans to upgrade Villa Park to ensure it meets FIFA guidelines for the tournament. Recently, Everton FC has been given the green light by city authorities to build a new stadium. And that's not the end yet...
Most likely hosts for UK & Ireland 2030
So, where could the world's best players end up in 2030, should the bid prove successful? We decided to prepare a list of potential hosts. Contrary to other media, it's based on more criteria than stadium standard and capacity. We include the political and financial aspects as well. FIFA expects 14-16 stadiums, we consider 12 of them very safe bets (one of the London stadiums would be 13th, if FIFA greenlights more capital-city venues) and a few potential ones.
First: England takes most of the cake, no doubt about that. The lingering question is: will the bid aim at centralising the tournament in England or expanding the representation of smaller nations? In the first scenario, both Irelands, Scotland and Wales could end up with only one venue each (although Scotland stands out with 2 strong host city options). In the latter scenario, only Northern Ireland seems to be left with 1 venue as there's hardly any demand for another large stadium apart from Casement Park.
Second: time of big spending is over. Not just because of the current crisis, also due to rising criticism of mega events and their problematic cost-benefit evaluation. So we see no major new stadium coming up, the tournament itself doesn't even seem like the kind of stimulus to revitalise the shelved Chelsea FC stadium plan. This might change but only if a major club with high ticket demand capitalises on the event. Otherwise, all crucial facilities are in place already.
Third: competition within certain cities will be fascinating. London, Liverpool and Manchester will see at least some of their major clubs outside of the host list. For example – if the Reds build their new Anfield Road Stand, they'd have the edge over Everton, but if they don't and Everton delivers the Bramley-Moore Dock stadium, it's the Toffees with better facilities. In Manchester, possible expansion of Etihad Stadium could bring City over United, even with Old Trafford's immense scale.
London has a different question: how many stadiums is too many? Previously, FIFA didn't allow more than 2 host venues per city. But the tournament is growing to 48 teams, besides – 2022 will basically be held within one city, so limiting London's options would be hypocritical. Not that hypocrisy would be new to FIFA… Also, contrary to fans' wishes, it seems extremely likely that London Stadium ends up on the list, that's in the public authorities' interest.
On the other hand, Glasgow seems to be a done deal. Scottish FA bought Hampden and intend to revamp it, it's extremely unlikely they would give up any games to Celtic or Rangers. Conversely, a deal with the national rugby stadium seems highly probable, which would bring Edinburgh into the equation.
Fourth: competition for final spots is highly interesting. If smaller federations are to gain more places, we can see Limerick (more likely with upgraded Gaelic Ground than Thomond Park) and Swansea (they have an expansion study in place, after all) added. In the England-oriented scenario particularly central England is full of options. Expansion plans are in the works for Leicester City (40,000+), Sheffield United (41,300), Nottingham Forest (38,000) and Wolverhampton Wanderers (up to 50,000). Recent boost for Leeds United also suggests Elland Road will get a revamp sooner than later. While options like Sunderland and Southampton could be on the table, it's unlikely the tournament would reach as far as the 2018 bid (Plymouth and Bristol seem out already).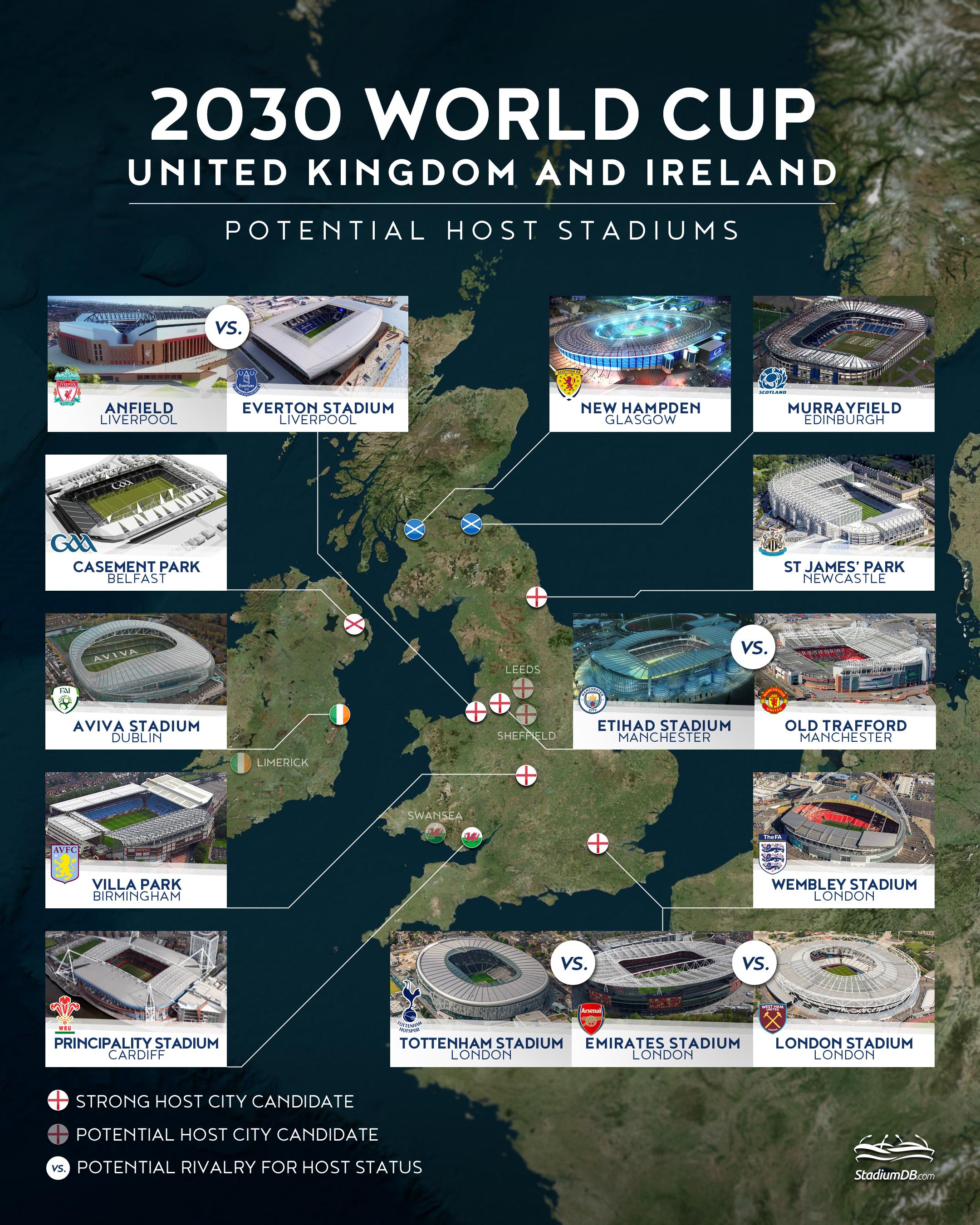 Centenary of the World Cup
The 2030 FIFA World Cup will be the 24th edition of the tournament. The event will mark the centennial of the first football competitions. First launched in 1930, it has been hosted all across the world, including South America, North America, Europe, Africa and Asia, whilst the 2022 tournament takes place in the Middle East (Qatar).
England plays a role as the capital of European football. Wembley Stadium will host several matches at the UEFA EURO 2020, holding group-stage matches, the semi-finals and the final. England is also hosting the postponed Women's European Championship in 2022.
A joint bid from Chile-Argentina-Paraguay-Uruguay, Morocco potentially with Algeria and Tunisia, Bulgaria-Greece-Romania-Serbia and Spain with Portugal are expected for the 2030 competition. At the same time there are other countries also considering a bid: Cameroon, Egypt, and jointly Colombia-Ecuador-Peru. The bidding process was set to be launched in the second quarter of 2022 and the host will be chosen at the 74th FIFA Congress in 2024.
Author: Karol Tatar