England: Leicester City plans leaked, look at that!
source: StadiumDB.com [MK]; author: michał
When expansion of King Power Stadium was mentioned, we thought it would follow the example of Cardiff City, adding just another tier on top of the east stand. Well, this would be far more impressive!
Premier League fans are celebrating stadium return, starting December 2. But in Leicester there's not much to celebrate. The city, in fact all of Leicestershire, is designated as 'tier 3' (high risk region), which means no mass events can be held. For tier 2 regions there's a limit of 2,000 per event, in tier 1 it's 4,000 per game.
But there's still some reason for enthusiasm as renderings of King Power Stadium expansion have been leaked. We have to stress that these might not be final or approved for implementation but they are still worth your time. So far the club hasn't responded to the images but the fans' minds have been taken by them.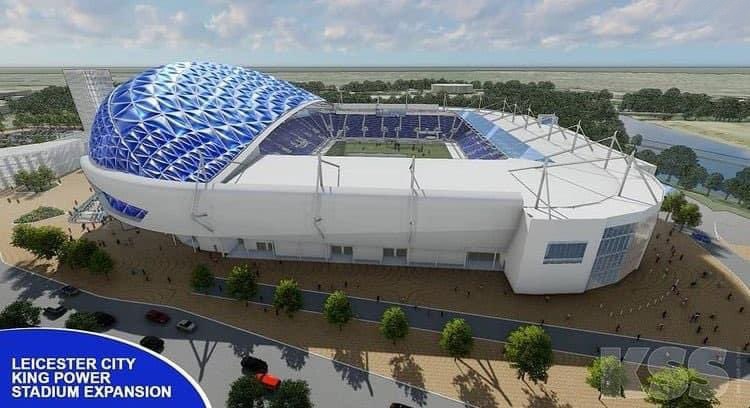 We should mention that Leicester City's plans for stadium expansion date a few years back. The project was somewhat challenged when the club owner Vichai Srivaddhanaprabha was killed in a helicopter crash. Then this year COVID-19 led to further delay of the scheme.
Construction on the stadium was always set to begin after the new £100-million training academy was delivered. It was due in early 2020 but COVID-19 forced rescheduling. We then expected it to open in summer but the project is still ongoing now, about to be finished. So the east stand's expansion won't happen for at least several months even if the design is final indeed.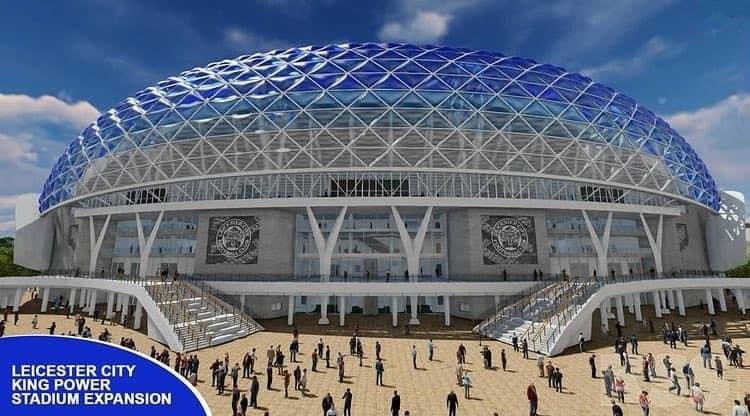 The training complex was designed by KSS Design Group, leaders in British football academy complexes and one of the most renowned companies for new and upgraded stadiums in England. KSS' logo is also visible on the leaked renders, which makes sense as the company has previously been linked to LCFC's plans.
More to the point: ever since the expansion plans were announced, a second tier added to the east stand was the first phase. Because King Power Stadium is considered one of the infamous 'identikit stadiums', it seemed the expansion would follow Cardiff City's example in just adding a second tier, conforming with the remainder in architectural terms.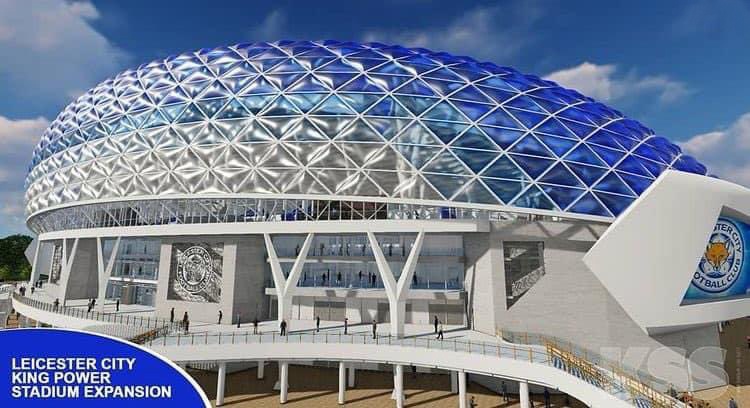 This would have been the economic way to go. But leaked images suggest a much more transformative variant was chosen, changing the stadium's image altogether.
First, instead of a simple cantilever roof a half-dome covered with ETFE panels is suggested, based on 6 large girders. Second, it's not just about extra seats. The design seems to interfere significantly with existing east sections' facilities. Thus the additional strip of boxes between both tiers and expanded hospitality and disabled fans' amenities.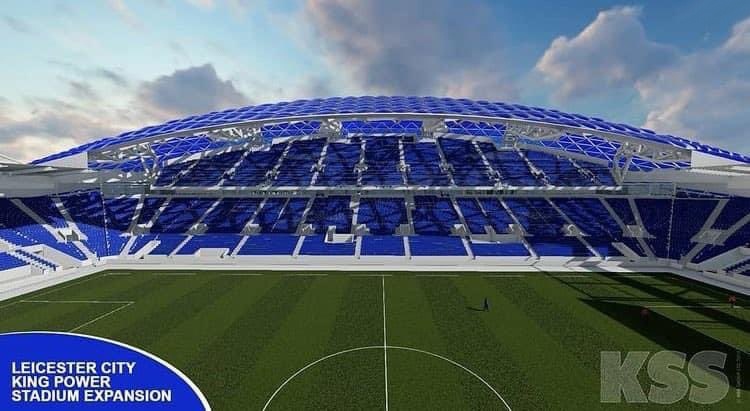 One thing we don't really know is the capacity of what we're looking at. We would expect the stadium in such a phase to hold just under 40,000 people, most likely between 38,000 and 39,000. But, according to all previous reports, the plan is to increase King Power Stadium's size further.
Unofficial information suggests that as many as 48,000 seats might be the long term goal. That said, such size would force expansion also behind both goals.