StadiumDB Newsletter: Issue 85 - Milan, Sydney, UEFA finals and more
source: StadiumDB.com; author: michał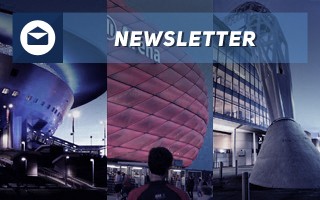 With European club competition hosting rights having been awarded we can safely send you this latest batch of news. Over the past week we've reported on a number of stadia, not all of them from front pages of regular media...
Let's begin with the most obvious subject to cover: UEFA has decided on hosts for three consecutive Champions League finals. In 2021 it's Saint Petersburg's debut in this role, followed by Allianz Arena's second ever final in 2022, ending with Wembley's third final (or eighth, if we include the legendary old Wembley). Also, the 2021 Europa League final goes to Sevilla FC's home, while that year's Super Cup will take place at Windsor Park, Belfast. Be sure to follow all of our coverage of UEFA's press conference!
Perhaps even more interestingly, two visions for a new Milan stadium were revealed by both AC Milan and FC Inter. The two are finalists selected out of a longer list of proposals and both are early visions for how a 60,000-seater next to San Siro (with San Siro being demolished after both clubs move out) might look. Very tasty material for all stadium enthusiasts, which we tried to synthetise into a readable amount of text.
One more new design surfacing last week was the ANZ Stadium refurbishment plan. Already the third one of the iconic 2000 Olympics venue, it foresees the demolition of all lower and mid-tier seating to create a more compact, comfortable auditorium. Along with reconstruction the stadium's roof would be expanded, while all of its internal facilities would be refurbished entirely to meet all expectations.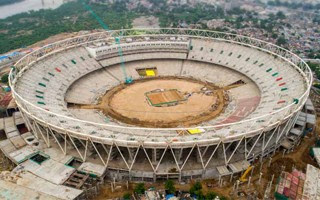 Skipping to a less known project, the development of cricket's largest modern stadium is almost at its completion, expected in early 2020. While it's a year behind initial expectations, delivery of a 110,000-seater in three years is as fast as one would expect. Especially with suspiciously low budget, which we still find hard to believe: under $100 million.
FC Barcelona also have a year's slip in their stadium project, except in Catalonia works are yet to begin. They were scheduled to see first changes at Camp Nou this past summer, though nothing happened. The club has thus confirmed a new completion date of 2024. Sadly, the budget has also changed, from €640 to €685 million, making it all the more challenging to complete.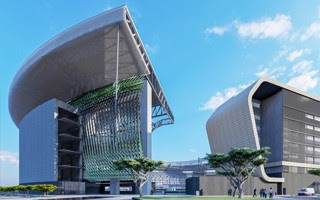 In Mexico design work is nearly complete on the new city of León stadium. We were thus able to show you how the vision has evolved and matured. With contractor selected, groundbreaking is now set for January or February of 2020. Delivery? 2023, should everything go as planned. And there's a lot to deliver, seeing hotel, shops and offices attached to the 35,000-seater.
We also delivered an exhausting report on new stadium in Varna, Bulgaria. Well, it was exhausting to research at least, because it's as far from the word 'transparency' as you might expect from a shady Bulgarian public-private project. But hopefully this will change after very unfortunate 11 years of construction. The country's government is expected to take charge and deliver an even greater venue than the 22,000 seats currently planned.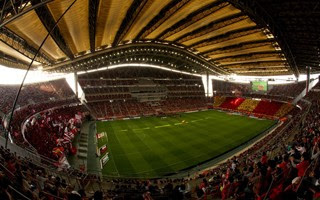 And finally, we land in Japan and the peculiar case of Toyota Stadium. That is the city of Toyota, of course, not the brand. But naming isn't the issue here, it's all about the retractable roof. One-of-a-kind system operating the transition from open to indoor facility hasn't been used for over 4 years now, once authorities found it to be excessively expensive.