Japan: Closing the roof is too expensive
source: Asahi.com / WalesOnline.co.uk; author: michał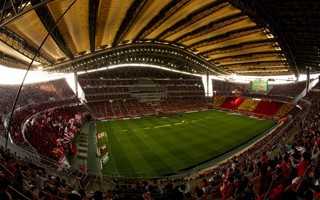 Retractable roof systems are nothing new or surprising. But it may come as a surprise that one of the stadia equipped with such system is no longer using it. It's just too expensive to operate.
Rugby supporters of Wales and Georgia were met with an unusual announcement ahead of their Monday game of the 2019 World Cup. While there were periodic storms expected in the city of Toyota, at the same time it was decided that the retractable roof of Toyota Stadium would not be closed.
The reason for such a move was quite simple: money. The system implemented in Toyota proved too costly to operate back in 2015, which is when it was decided that the roof would remain open throughout the year. Which, to no surprise, means it's not operational enough to close after 4 years of rest.
© Sh@tei
The decision to no longer use Toyota Stadium's most modern feature was made based on an independent audit, which saw an annual operational deficit of ¥800 million ($7.5m). At the same time, total cost of maintenance and repairs until 2032 was foreseen to reach ¥10.9 billion ($100 million), of which a significant portion would be owed to the retractable roof.
The numbers seem compelling enough to even consider removing the retractable part, which was also mentioned in 2015. But, as one might expect, it never happened due to cost of such operation. For this reason the stadium continues to operate with the sliding roof resting in place.
© Sh@tei
Toyota Stadium is the single only stadium with such retractable roof system, created initially by Kisho Kurokawa. Unofrtunately the system, while fascinating technically, proved ineffective in day-to-day operations of the stadium.
Interestingly, an almost identical system was to be implemented in Kurokawa's second major stadium project, in Saint Petersburg, Russia. However, Russians eventually dropped it after the Japanese architect's death, arguing the proposed membrane would simply crack during northern Russia's harsh winters.