India: Record-breaker to be ready in January
source: IndiaTimes.com / the12thman.in; author: michał
It hasn't even been built yet and already is the pride of India. You won't find an article in Indian media that doesn't celebrate Motera Stadium's dominance over Melbourne Cricket Ground, currently the largest cricket stadium.
Motera Cricket Stadium in Ahmedabad (Gujarat) is entering final stage of works. Progress level of 90% has officially been confirmed, as has the opening date of January, 2020. The circular stands are structurally complete, so is the cable roof that will cover the upper tier.
January of next year is still a year behind schedule, as the stadium was initially announced to be ready in early 2019. However, the problem seems to be rather with excessive optimism at the onset of construction. 3 years is a reasonable time frame for delivery of such giant, 320 meters in diameter.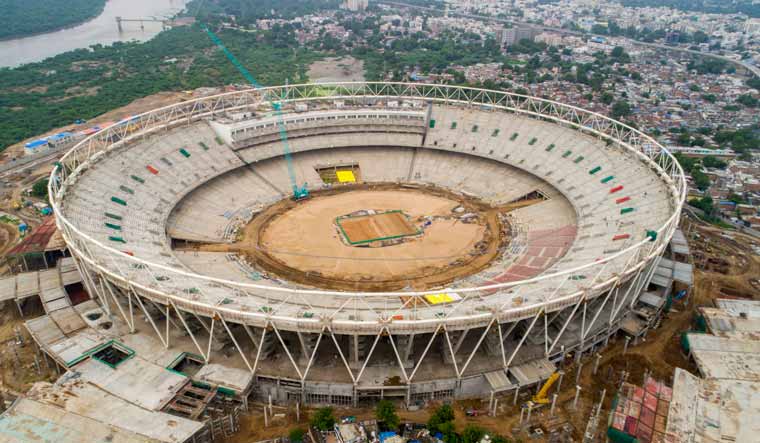 Once delivered, the stadium will hold 110,000 people and top the list of cricket stadia worldwide, surpassing even Melbourne Cricket Ground by a safe margin of 10,000. Once compared to stadia of other disciplines, it will only lose to the North Korean Rungrado May Day Stadium in Pyongyang.
Designed by global leaders Populous, the Ahmedabad stadium will provide two uniform tiers of seating for all fans, except for the south stand. Here a large pavilion occupies much of the upper tier, offering 75 boxes and 55 rooms in the club house.
There's no information of cost overruns, which is why Indian media hang on to the INR 7 billion budget, though it seems too modest by our estimate, currently representing under $100 million. So take the price tag with a grain of saly until it is confirmed.