New designs: Monumental visions for Milan
source: StadiumDB.com; author: michał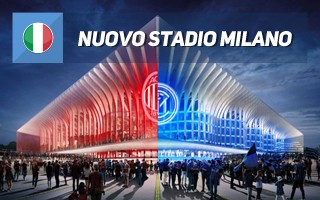 Exciting renderings and the painful thought of farewell to San Siro – it was a mixed emotion Thursday for supporters in Milan. Two finalist concepts were revealed for the new home of FC Inter and AC Milan.
It was the day many people were waiting for, regardless which of the two Milan clubs they supported. During a special conference on Thursday two visions of new stadium were revealed, selected earlier as finalists out of a much longer list.
Along the strategy of both teams, there is no use in trying to save Stadio Giuseppe Meazza. The old temple would reportedly consume €510 million to revamp, but would deliver compromised outcome overall. Also, during its reconstruction the two teams would likely lose up to €115 million in revenue.
Now, via a dedicated website, fans and citizens alike can learn more about the two proposals. Soon a special consultation platform will also be released to welcome feedback regarding both proposals.
At the moment it's not clear when the stadium could be built, though the feasibility study published by both clubs would preferably see it in place for the 2026 Olympics, which is the opposite of how Milan municipal authorities preferred (the city pledged to retain San Siro in place until 2026).
What is clear is the capacity of around 60,000 seats (room for change of 5,000 is introduced in the study) and preliminary budget estimate of €650 million. But we should note the route for any of these projects to become reality is long. At present there is no solid financing model for the proposed development.
Nicknamed the Cathedral, the stadium is expected to bring to mind the image of other Milan's landmarks, primarily the Duomo and the Galleria. Fans and tourists alike are to be lured to the area with iconic architecture, as they are with the old San Siro.
Here, raw concrete is smoothened in form by unique shape of girders and softened by the addition of nearly transparent glass facade around the entire stadium. Elevated public concourses resemble church naves, building up the atmosphere of a football temple before fans reach their seats.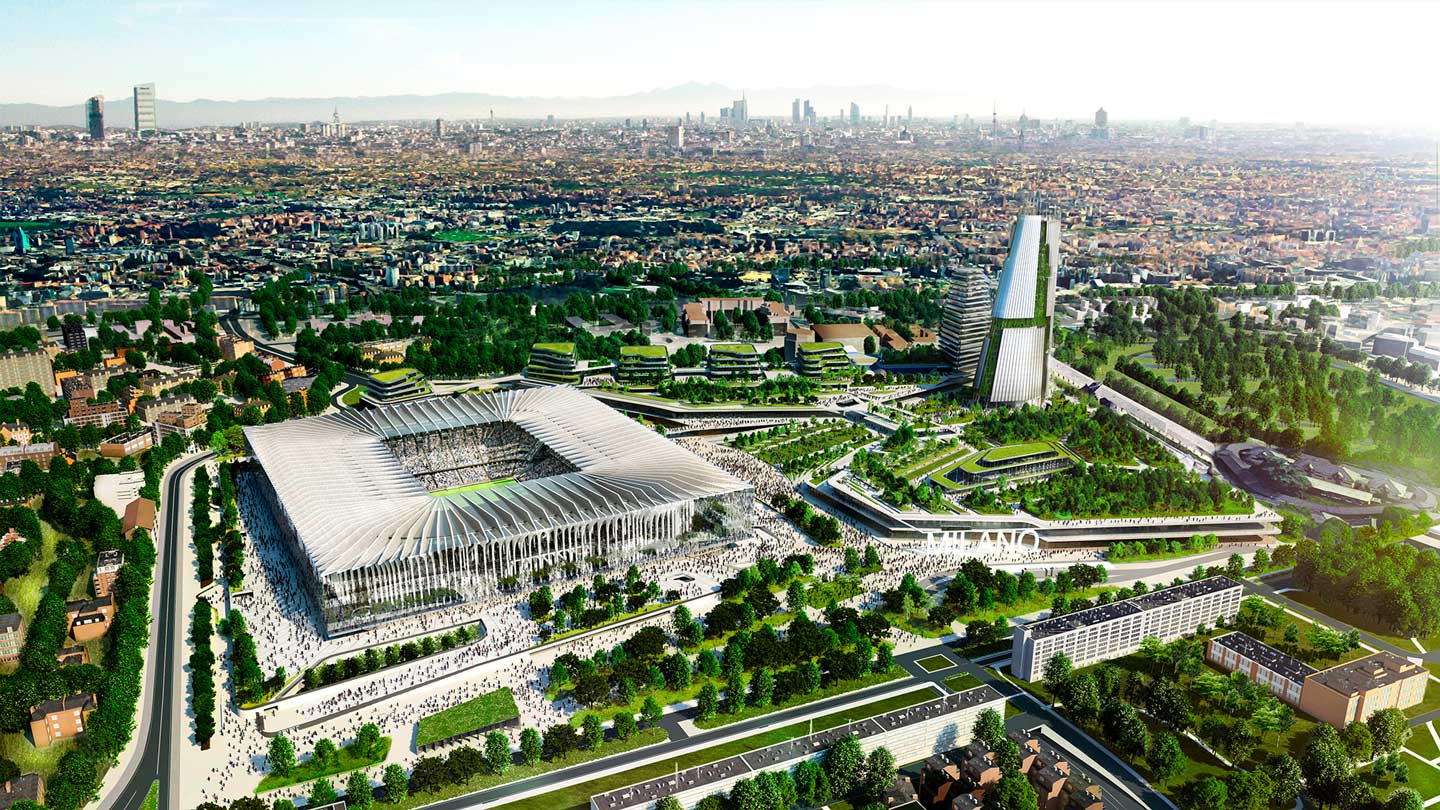 Once in their seats, fans would instantly notice two immense upper decks behind each goal, a space created for fans of Inter and Milan to organise their vast choreographies. Both stands along the side would be far more regular, with three tiers and extensive corporate hospitality offer.
The stadium designed by Populous is expected to astonish with its scale, while enchanting with spatial order and harmony. It's also expected to be a green venue, not just because of the small trees around concourses. Tiled with photovoltaic panels, the roof would harness energy and batteries below would store it.
Ironically, the concept sees no direct memorial of the old San Siro, which would be demolished and replaced largely with commercial spaces, even if topped by public green areas.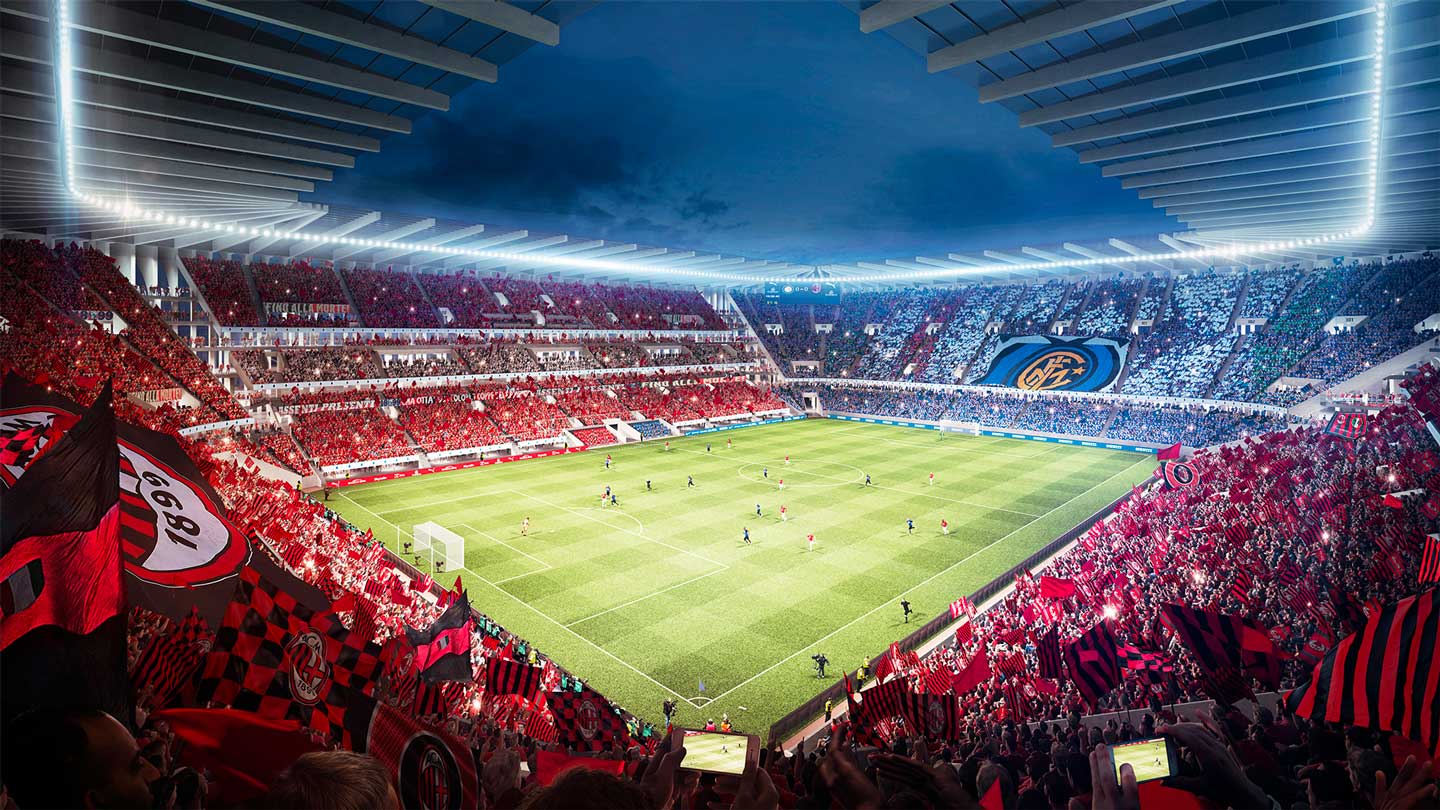 Vision 2 | Manica & Progetto CMR
Called 'The Rings of Milano', this vision for a new stadium emphasises the unique bond between AC Milan and FC Inter. Each of the clubs is represented by one of two interlocking rings creating the outer wrap. They're interlocked, so opposed to one-another on one hand and bound together on the other.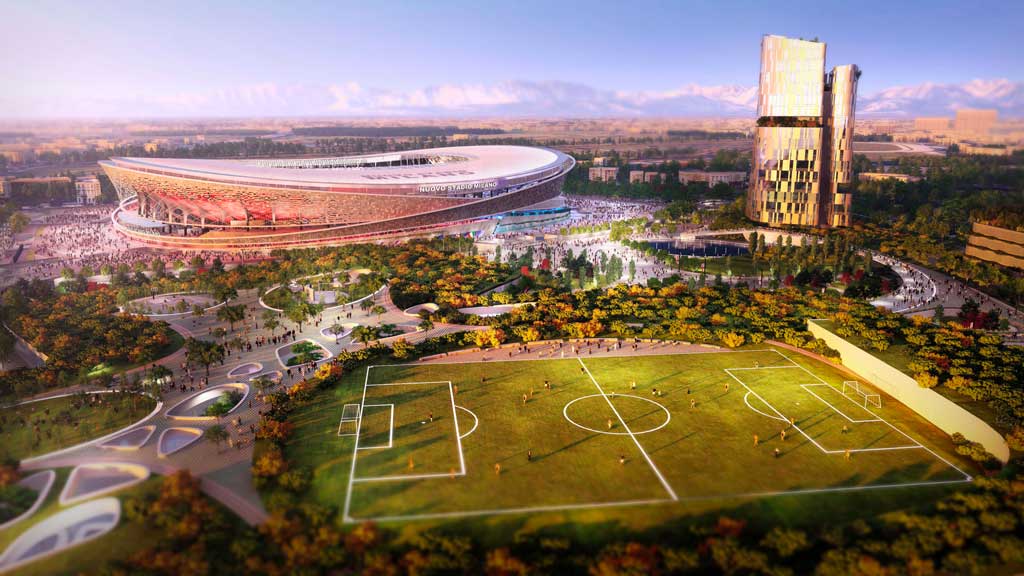 The rings are to be illuminated in club colours of each team during derby night, while on other occasions they would both take on the colour of whichever club plays as host. By day, up to 17,000 images of supporters could be etched into the facade.
Despite the capacity of 60,000, auditorium would be divided into just two tiers, which in some way associates the stadium to San Siro, where the two lower levels hold similar numbers. Contrary to many new stadiums, there would be no hospitality areas behind goals, each 'curva' would be dedicated to fans of one of the two host teams.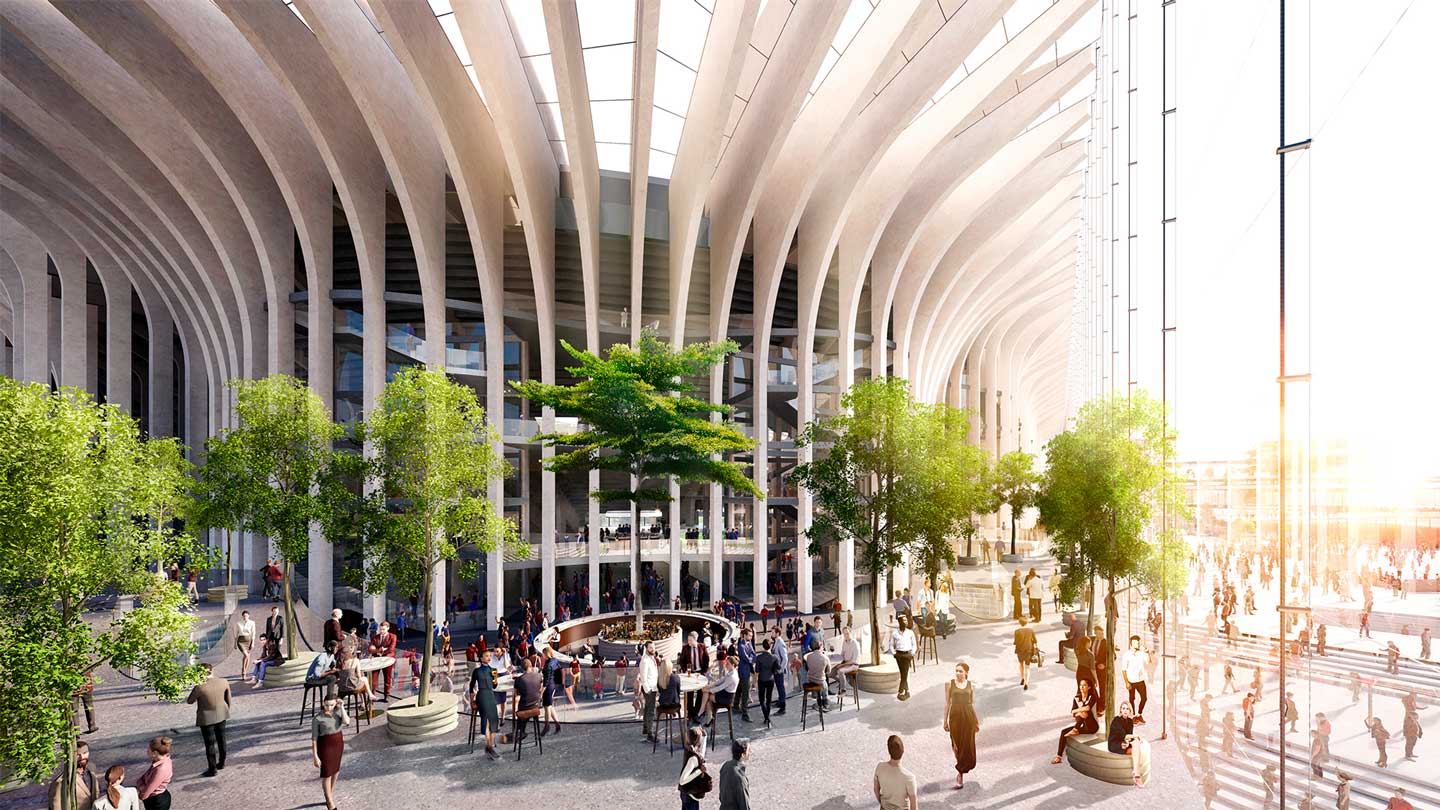 One more recognition of the beloved San Siro would be placed outside, east of the new stadium. In the location of demolished San Siro, even if rebuilt atop commercial and leisure facilities, there would be an open playing field, created exactly where the current pitch is.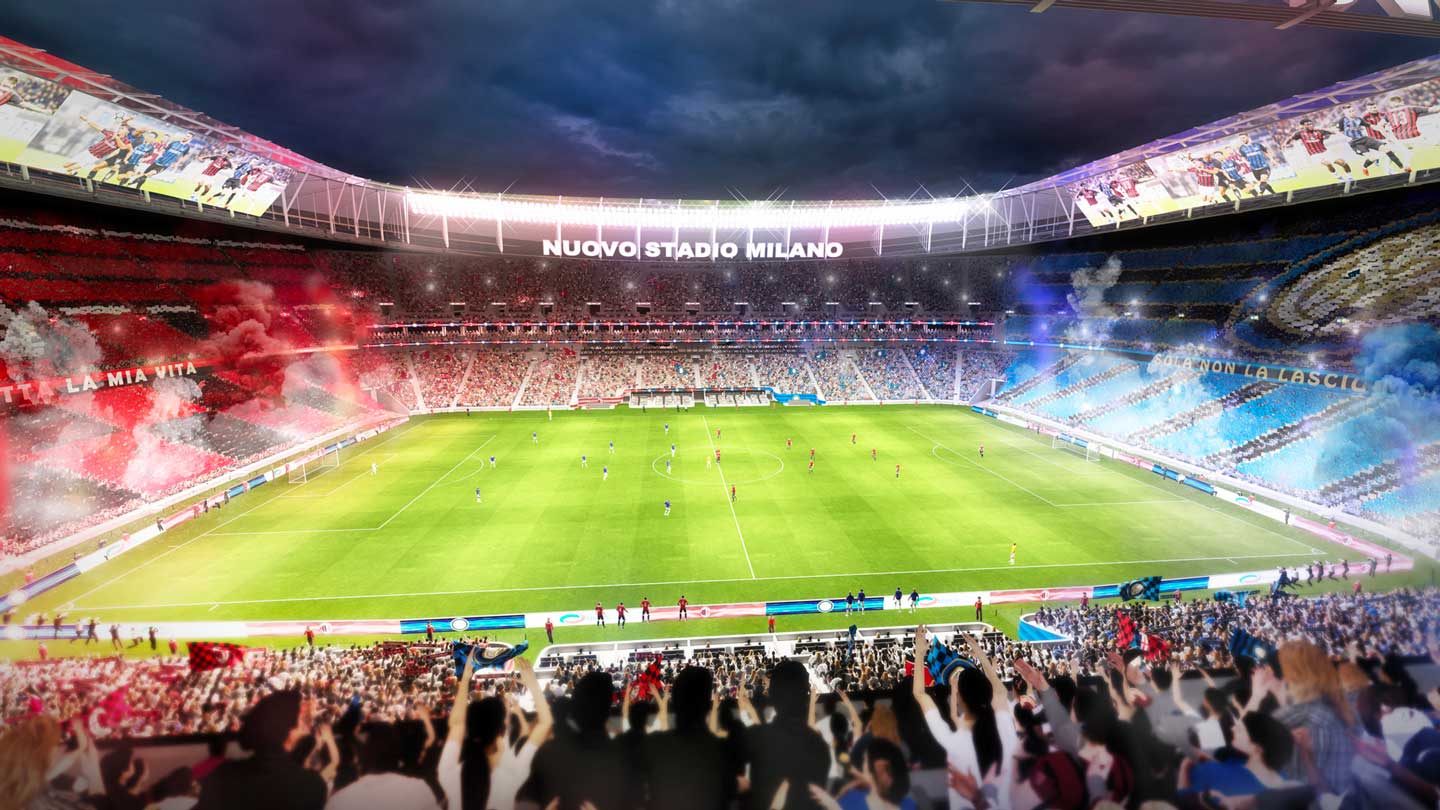 What do they have in common?
Both presented variants of the future stadium would see it built beside San Siro, which would then be demolished and replaced with mixed-use development. The stadium itself would be surrounded by a vast podium, elevated by 2m from ground space, releasing 127,000 m2 of space on ground level for various uses. The field itself would be 7m below ground level so that the stadium doesn't become too imposing in size.
While analysed between 55,000 and 65,000, the official listed capacity is 60,000 and should meet the demand of both Milan and Inter. Contrary to San Siro's under 4,000 premium seats, a new stadium would provide up to 12,500 such seats, depending on demand, while also providing a bowl that would not emit much noise to neighbours, limited at 60db.