Stadium of the Year 2016: Name your nominees!
source: StadiumDB.com; author: michał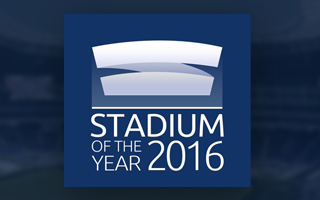 For 10 days you're welcome to share your favourite stadiums opened in 2016. We know of over 30 stadiums eligible for the competition, now let's see your candidates.
As every year, January is a special period here at StadiumDB. Tonight your time begins to nominate stadiums opened around the world. We begin later than usual and give you more time as the Stadium of the Year is extended to early March!
How and when to nominate?
We aim to keep Stadium of the Year as open as possible. So from today (Jan 16) onwards feel free to use any means of contact (facebook, twitter or email) to propose a stadium that you find worthy of being nominated.
A list of those accepted will be published beneath this articles and updated every day after midnight until (and including) January 26. If you see your favourite stadium on the list, you don't have to contact us. It's not the number of submissions that counts, one is enough if it meets the regulations. By our count there are no less than 30 eligible stadia, let's see how many you see fit!
Which stadiums can be nominated?
In order for a nomination to be accepted, a few simple conditions need to be met. These have been almost unchanged for the last 6 years and are as follows. Every stadium needs to be:
built from scratch or substantially reconstructed;
opened to the public after completed works between January 1 and December 31, 2016;
of 10,000 capacity or more and enabling the use for association football (soccer).
When do you vote?
The nomination process ends on midnight of Jan 26 (CET) and on January 27 we present the complete and verified list of nominees. The Public Vote, open to everyone, begins on January 30 and will last until midnight on March 3 (CET). Simultaneously the Jury Vote will take place with the same nominees. Results of each vote will be presented online here and through our social media channels on March 6 (Jury Vote) and March 7 (Public Vote).
Stadium of the Year 2016 Nominees so far:
Please be advised, there are several stadiums that are still pending verification and should be included at a later date. The final list will be published on Jan 27.