Şenol Güneş Spor Kompleksi
Capacity
40 782
196

(VIP seats)

2,954 (+122 skyboxes)

(Business seats)

Country
Turkey
City
Trabzon
Clubs
Trabzonspor
Floodlights
3,000 lux
Inauguration
18/12/2016
First game
29/01/2017 (Trabzonspor - Gaziantepspor)
Construction
24/11/2013 - 18/12/2016
Cost
TRY 230 million
Design
ASP Architekten, Faruk Kanca
Contractor
Sarıdağlar İnşaat, STY İnşaat, Yertaş İnşaat
Address
Trabzon Giresun Yolu, Akyazı/Trabzon, Turkey
Şenol Güneş Spor Kompleksi – stadium description
Already in 2007, long before the nationwide programme of stadium replacement was launched across Turkey, Trabzon had a plan of creating a major sports and leisure precinct in Akyazı, west of Trabzon proper. The city's largest stadium was to stand at the heart of land reclaimed from the Black Sea and its design was based on a proposal previously rejected in German Mainz.
Not built in Germany, this bold concept found approval in Turkey, of course following adjustments in terms of size and access. In 2011-2013 roughly 79.5 hectares of land were created in what used to be a bay, allowing construction to begin. Initially it was hoped the project would be ready within 2 years but in reality it took three to open its doors. Interestingly, both for groundbreaking and opening, the guest of honour was Recep Tayyip Erdogan, first as prime minister and then as president of Turkey.
Of the 795,000 m2 reclaimed from the sea, 418,000 m2 (eastern part) was earmarked for this project, leaving the rest for complimentary investment in the future. Of the used land 155,000 m2 are occupied by sports facilities, including 7 football fields (two full-sized and five 60x90m), four tennis courts, two basketball courts and more. The remainder is occupied by internal roads and public green areas.
Of course the single largest part is the main stadium. As a building itself it occupies 45,200 m2 and including pedestrian plazas around it 134,900 m2. With 438 indoor parking places (and over 1,000 outside), the stadium sits on a vast plinth, allowing access of the public from the north and south.
On top of the promenade is a sharp angular form created with triangular membrane sheets. Spreading across a lightweight steel frame, the membrane makes it a landmark instantly recognizable in the world of stadiums. Whiteness is somewhat broken by accents in "Bordo-mavi" club colours and bright red paintwork of the internal side of the stands.
The audience itself is divided into two tiers, offering 41,500 seats. Despite its capacity the Trabzonspor-coloured seating bowl is quite compact, putting fans 8.5m and 10m away from the field (along the sides and behind goals, respectively). The highest row is set at 5-floor height. Lowest in capacity, the west stand also houses bulk of the hospitality and banqueting facilities, including 122 boxes and almost 3,000 business seats.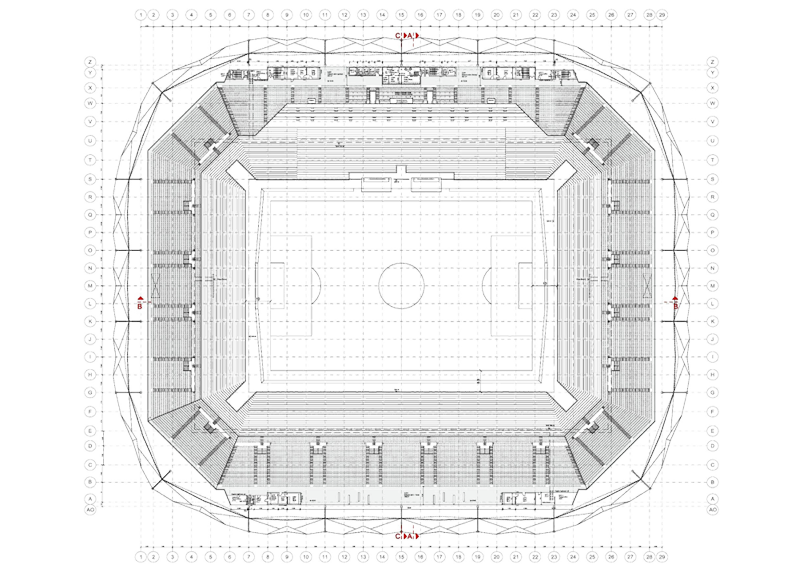 Related news
2023
2022
2020
2017