Yancheng Sports Center Stadium
| | |
| --- | --- |
| Capacity | 37 003 |
| Country | People's Republic of China |
| City | Yancheng |
| Clubs | - |
| Inauguration | 30/04/2016 |
| Construction | 2011-2016 |
| Cost | CNY 2.4 billion (entire complex) |
| Design | CCDI |
| Contractor | Zhongnan Construction |
Yancheng SC Stadium – stadium description
As late as 2010 this place was a rural suburb with farms, but by 2011 the new stadium's construction was in full swing, with most of the steel structure of future roof in place. This area of 41 hectares in southern Yancheng was 'cut out' by wide new avenues leading to new downtown district up north.
Though by 2016 only the stadium was delivered, the complex also has an indoor arena (8,000 seats), natatorium (1,500) and a tennis arena planned. Those three venues will be shaped to resemble salt lumps, rooted in the city's traditions (Yancheng literally means the Salt City).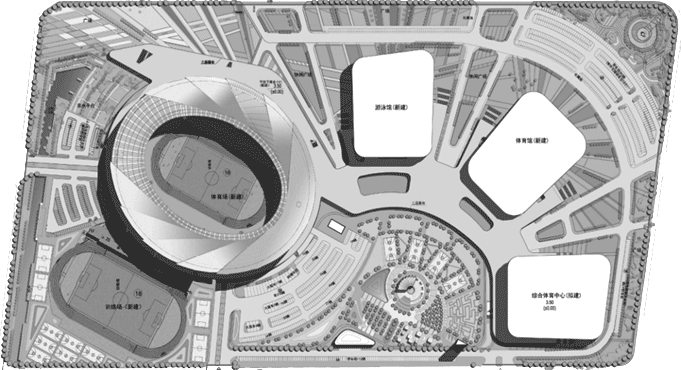 The main stadium may have different symbolism, but all major buildings were smoothened in shape to lessen their impact on the landscape. Such efforts seem warranted as the main stadium rises to 45.6m in height. It's designed to symbolize the red-crowned crane, a bird associated with longevity/immortality in Chinese culture.
With four shades of grey and intense red, the stadium is clad with 30,000 trapezoidal aluminum-composite panels, covering a total of 60,000 m2. All shaped to resemble large wings encompassing the stands. Beneath the surface are single-tiered stands for over 37,000 people and four floors of infrastructure, a total of 57,000 m2 in construction area.
The complex is aimed to become a very sustainable one. Rainwater collection will not only supply sprinkler systems or toilets, but also a car wash. Then 4,000 solar panels will heat water and cut energy bills.
Related news
2017
2016