Mosaic Stadium
Capacity
33 000
1,727 (+38 boxes)

(Business seats)

150

(Press seats)

157+114

(Disabled seats)

Country
Canada
City
Regina
Clubs
Saskatchewan Roughriders
Inauguration
01/10/2016 (U of R Rams - U of S Huskies)
Construction
16/06/2014 - 31/08/2016
Cost
$ 278.2 million
Design
B+H Architects, HKS Architects
Contractor
PCL Construction
Mosaic Stadium – stadium description
New football stadium for the Canadian city of Regina was first announced in 2012. It was even considered to have a retractable or permanent roof over the field but both options proved too expensive, leaving the city with more rational partial cover. The location just 430 meters west of old Mosaic Stadium was selected as part of a greater revitalization project.
Financial framework was based on public-private partnership with Saskatchewan Roughriders being the crucial private partner to sustain the stadium in the long run. Financing is largely public though, as is most common in Canada. The province of Saskatchewan granted $80 million, the city of Regina contributed further $73m and further $100 million is debt expected to be recovered from event ticket surcharge. This left only around 9% of the budget to be covered by Roughriders directly.
After initial study was conducted by Pattern Architects, eventual design was commissioned to renowned American practice HKS. This team created a robust seating bowl with almost 70% of spectators placed in the lower tier, largely sunken below ground level (10 meters). This puts majority of fans as close to the action as possible, especially considering inclusion of wider playing field for soccer use.

Starting capacity of the stadium was set at 33,000, with possibility of expansion to 40,000 for largest events. South side is largely open, which would have made the difference for natural playing field quality but since synthetic turf was installed there was no obstacle against installation of the giant screen dropping significant shade onto the Astroturf.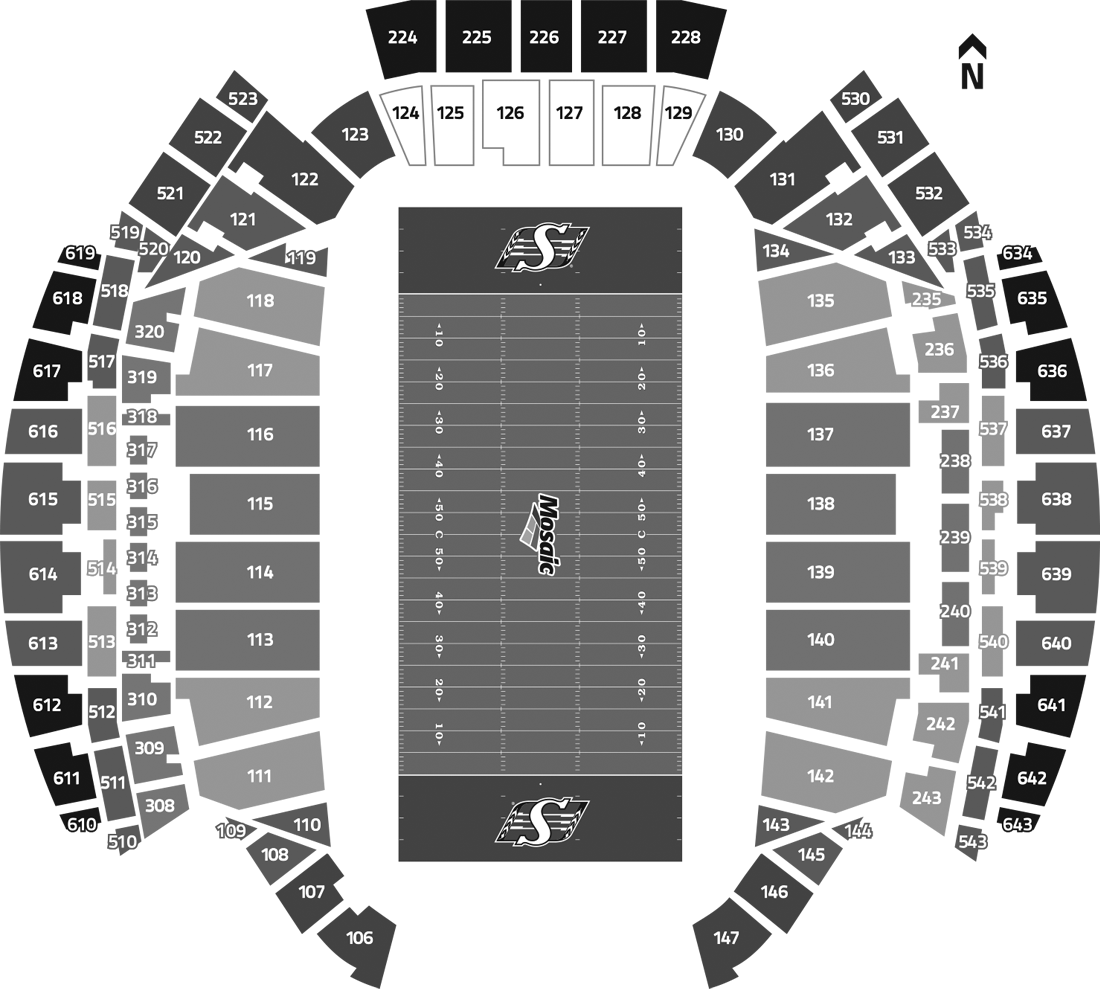 The stands are partially covered by a distinctively shaped roof, with membrane cover of 12,640 m2. This bent skin reaches peak height at 46 meters (or 56m above the sunken field level).
Formally construction was launched in June 2014, though the groundbreaking ceremony was preceded by ground works. Substantial completion of the building was announced after just over two years, in exactly 808 days. Despite further furnishing and installation works the building was opened for two test events in September and October, before Roughriders move for good in the summer of 2017.
Related news
2017