StadiumDB Newsletter: Issue 94 - Vote updates and more
source: StadiumDB.com; author: michał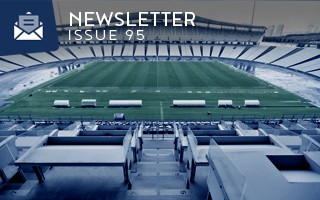 With votes flowing in by the hundreds each day, we've recently presented the Jury. In a couple of days we'll give you the 10 finalists of Stadium of the Year Jury Award. But first let's see what the headlines were in our weekly newsletter.
As we're well into the third week of Stadium of the Year, we're just days away from the announcement of the Jury Vote's finalists, having introduced you to the Jury just days ago. This decision should be announced on March 3. But remember, even when the Jury picks their top 10 you can still vote for any of the 21 candidates. Speaking of the Popular Vote, we've collected 18,000 valid votes at the time of sending this newsletter. Now that number is out of date. If you wish to learn of the most recent number, please subscribe to the newsletter using the blue box above and you will be the first to know!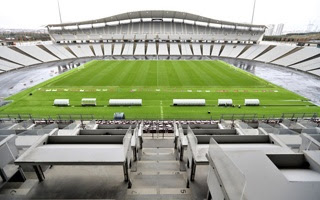 The most read articles of the past week considered Asian stadiums, one of which is just insanely huge. Sardar Patel Stadium in Ahmedabad will have 110,000 seats once all of them are installed. But so far some haven't been mounted because the unofficial opening ceremony with Donald Trump had to take place. Tremendous... though if you asked us, a much more tremendous effort is taking place in western Tokyo, Sagamihara to be precise. Four sports teams there joined forces to collect 100,000 signatures in support of their common stadium. Great story, hopefully to see a happy end!
In Turkey we gave you an update on this year's Champions League final venue, Atatürk Olimpiyat Stadyumu. While it won't be perfect as a former athletics stadium (yes, the running track is gone but the stands are still painfully far from the field), it's modernised and equiped with new hybrid field before – eventually – being torn down and replaced by a real football stadium. And while we're in Turkey, there's one more delay of new Alsancak, one of Turkey's most cherished stadium...
In Liverpool we've seen Everton team up with Laing O'Rourke to deliver the new Bramley-Moore Dock Stadium. While it's not a proper construction deal yet, having a contractor ready is crucial once planning permission is granted. Meanwhile in Peterborough there's no preferred contractor yet, not even a stadium design. And yet Peterborough United are aiming at 2022-23 relocation date. Their new 17,500-seater would sit just across the river Nene, closer to the city centre.
Back to Central Europe, Union Berlin is looking forward to begin expansion of its legendary stadium later this year. Once ready, the new Alte Försterei would hold nearly 37,000 people, of whom a whopping 78% would not have seats! News from Kaliningrad isn't as optimistic – their new World Cup stadium is able to return a profit only because 90% of its revenue is state-subsidised. And finally, Budapest's new national athletics stadium is now tendered, should be ready in just over 4 years.