Stadium of the Year: Meet the Jury!
source: StadiumDB.com; author: michał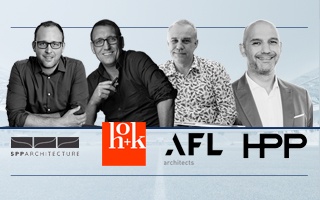 Each year we send out several invitations to leading architectural practices worldwide, based on our evaluation of their stadium work. We're happy to present the gour Jurors who responded to our invitation to grade stadia opened in 2019.
For the last six year's it's been a tradition that early into every year we send out about 10 invitations to architects from around the world known for their stadium projects. All of the companies we consider must have at least one recently delivered stadium of distinctive quality in the past few years. Also, we invite new members every year, trying to avoid any potential conflict of interest (thus no invitation for Populous so far, they open a stadium every year and that might seem to cause conflict of interest).
But our criteria are one thing, it's a completely different thing that every year we manage to find experts willing to take part in the project. For us it's a true honour especially that over the years crème de la crème of stadium architecture joined us to analyse newly opened stadia. This year's no different, please meet the Jury members:
We begin with John because he's currently working on one of the world's most impressive stadiums, the final venue for the 2022 World Cup in Lusail. Which means he's the second Juror to have a WC final stadium in his portfolio already, after Sergey Tchoban. For AFL Architects it's not the first or last mega-tournament stadium, to name just the fresh concept of new Ataturk Stadium in Istanbul, 2010 World Cup venue Peter Mokaba Stadium or the Ashgabat Olympic Stadium.
But it's not all about the largest projects for AFL Architects and John himself. The company is famous for work delivered for top Premier League teams and beyond, starting from training complexes and ending with main stadia, to name just Brentford Community Stadium (to be opened in several weeks) and the recently announced Millwall FC stadium expansion.
From training and conference venues, through major indoor arenas and stadiums, to grand schemes like horse racing and F1 tracks – it's not easy to find a sports+leisure building that John hasn't curated. First at Populous, then as member of another global practice, HOK.
Currently John is working on FC Barcelona's basketball arena, as well as a similarly grand indoor venue in Valencia. His stadium portfolio is also impressive, though, from purely conceptual works (like the recent perfect rugby stadium) to those delivered. After all, HOK is the company responsible for two last Super Bowl venues, Mercedes-Benz Stadium and Hard Rock Stadium.
For nearly 10 years he's been working for the global HPP, which has so far worked on over 4,000 projects in 27 countries. Originating in Germany, the company was in the past awarded for Veltins Arena in Gelsenkirchen, also being responsible for the successful redevelopment of Bayarena in Leverkusen.
Today Antonino is finalising his work on SC Freiburg's new stadium, the largest new stadium to be delivered in Germany in years. Once finished later this year, it's expected to hold nearly 35,000 people. That's also the capacity of SIPG FC's Pudong Stadium, expected to become one of China's best football stadia once delivered. Also designed by HPP, of course.
Bence is the youngest member of our Jury but already has a decade of experience in architecture. SPP is his own practice established less than 3 years ago along with partner Lóránt Perényi. So far it's been focused on smaller projects and hasn't got a stadium in its portfolio, but that doesn't mean Bence hasn't got one... or two. He began by working on MTK Budapest's new stadium concept and then went on to co-deliver the DVTK Stadion in Miskolc, which last year won the Jury Award in our competition. As is tradition, creator of last year's winner was invited to help us select the next one!
The Jury Vote is entirely separate from the Popular Vote and results in a separate Stadium of the Year Award. The Jury votes in two phases, first selecting 10 finalists from the list of 21 candidates. Then the finalists are evaluated under three criteria: architectural value, functionality and innovation. The shortlist of 10 finalists should be announced on March 2. The winner should be known on March 18.