StadiumDB Newsletter: Issue 80 - Madrid, Liege and much more
source: StadiumDB.com; author: michał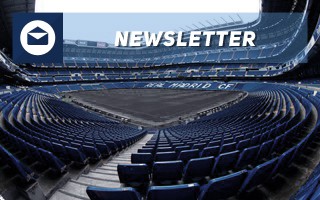 While summer football tournaments have reached their conclusion as we speak, work is beginning for those winning promotion to improve their facilities ahead of the new season. We've been to the European Football Fans Congress in Lisbon and we'll soon give you more on that in the following days!
The week before it was all about San Siro: will it be demolished or not? Now another iconic stadium is being debated, this time it's Santiago Bernabeu. The long-delayed redevelopment has officially begun in June and is... late already? Initially it was expected that no football fixtures would be affected and yet it turns out that 3 games of 2019/20 La Liga would be played away before Real can return home. Alos, the summer Trofeo Bernabeu will not be held this year, only for the second time in history.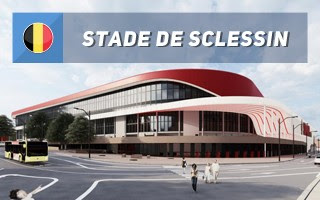 Making use of the post-season, Belgian powerhouse Standard de Liege have submitted their planning application for a truly ambitious makeover! Stade de Sclessin will not only get its long-awaited fourth large stand, it's also expected to become a leisure hub within a revitalised district. Should the project see green light as planned, reconstruction could begin next year, delivering a 35,000-seater with greatly improved commercial capabilities. But will it? It's Belgium, you know...
Celebrating promotion back to Bundesliga, SC Paderborn are also making moves to expand their stadium. Not as impressive, very pragmatic but also necessary changes to Benteler-Arena are expected to increase capacity to 17,700. Not a long shot, rather a requirement from the DFL and Bundesliga in order to meet the 8,000-seat criterion (currently 5,800) by 2021. And we have the only rendering released so far...
Also promoted after 2018/19, Aston Villa might actually be in some trouble. The football club has revealed its stadium sale. While not stated openly, the secretive transaction from May is reportedly a way to avoid penalties for failing to meet Financial Fair Play guidelines. Were it not for the sale, Aston Villa would face possible point deduction. And before we move away from Birmingham, the detailed design for Alexander Stadium was released recently, presenting how the stadium will look during Commonwealth Games 2022 and in legacy mode.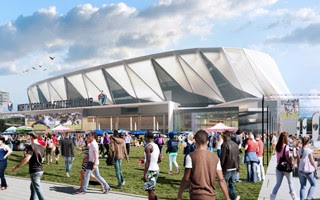 Fresh renderings also came from Raleigh, North Carolina. The city's second attempt at an MLS stadium is promising and extremely comprehensive, combined with a vast office, commercial and residential area worth up to $1.9 billion. The design by Gensler is surely worth your glance, too! Meanwhile, a potential MLS venue in Las Vegas has its operator selected despite still being under construction. And finally in North America, the Mexican league is moving veeery close to the US border. Liga MX's northernmost stadium is just 150 meters west of the Rio Grande!