Germany: Expansion to begin in Paderborn
source: StadiumDB.com; author: michał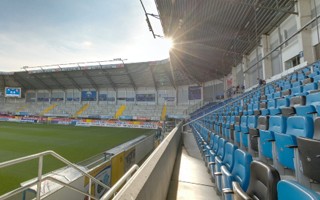 Returning to Bundesliga after 4 seasons, SC Paderborn not only want to, but they also have to increase capacity. By early 2021 their home ground will reach 17,700 and might still be the very smallest throughout the league.
It's still very much a celebration in Paderborn. Though the city lies in the world's most football-crazy region, German NRW, the club is actually an obscure one. So the return after painful relegation of 2014/15 must be a morale booster for the community.
But the return has its downsides, too. SC Paderborn supporters have to spend much more than other Bundesliga-goers on average. Lowest season ticket price for a standing place is €225. Sure, still cheaper than in Premier League but in Germany it's the single most expensive starting price for season tickets. Meanwhile Bayern supporters can get a season at Allianz Arena for €145.
The difference is huge and can be explained very easily. It's not just the smallest stadium of the league, Benteler-Arena is also the single ground not to reach 20,000 in overall capacity. Put simply, the stadium fails to meet domestic top flight requirements in terms of capacity.
As of today the DFL (German FA) requires no fewer than 8,000 seats, which runs along the UEFA Category 4 capacity criterion. While Benteler-Arena has 15,000 capacity overall, it only offers 5,800 seats, other fans are standing. They may enjoy it, but it's just not enough.
For the 2019/20 season DFL has granted SC Paderborn a waiver but if they are to remain a Bundesliga team in 2020/21, they have to expand their stadium. And so they're planning to do. Actually, the plan was first announced in 2015, just before the team's painful relegation to 2. Bundesliga.
Now that 2015 plan is on again, understandably. The goal is to raise capacity by just over 2,700 seats. The scheme is to be carried out in two phases, total value expected to reach €5.5 million. Or a fifth of the entire stadium's initial cost.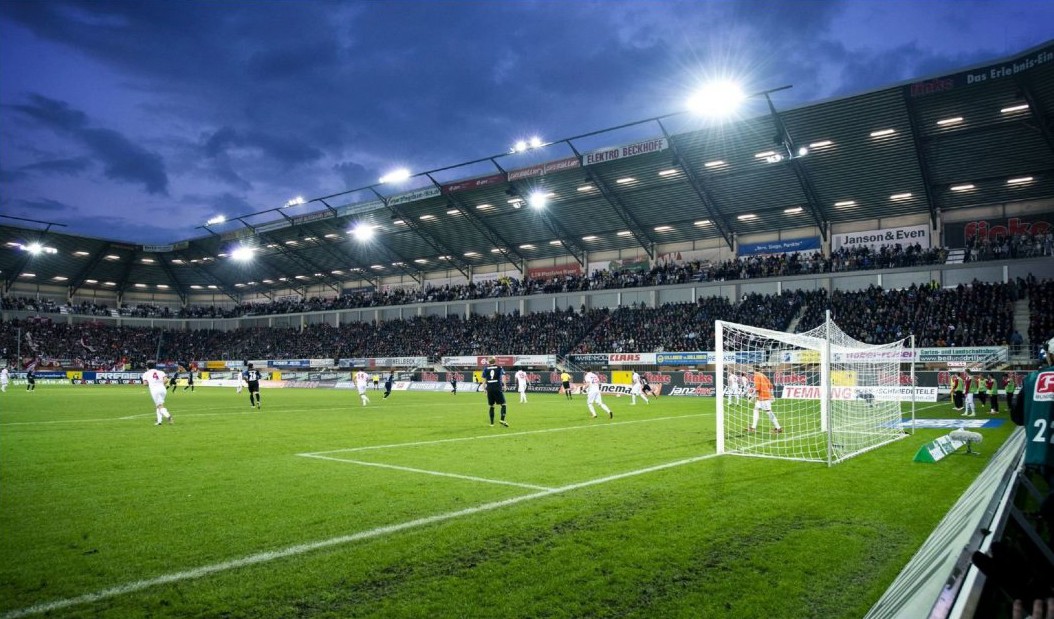 The rendering shows an upper tier hovering above existing stands, under current roof. The stadium was always designed in order to allow such move.
Here's the plan: in September a planning application is to be filed and, subject to green light, work is expected to begin in December of this year. First phase will see a 4th floor added on top of the current west stand building, able to hold 235 VIP guests. With these 235 people the VIP capacity of SC Paderborn will reach 1,000, from current 765.
Then, in May of 2020, construction of a second tier will begin within the existing stadium. Created entirely from overhanging prefabs, the continuous ring will have just 4 rows, enough to add the 2,700+ to overall capacity. By January 2021 the stadium should exceed 17,700, including some 8,500 seats.
Before the second tier is added, work will last throughout 2019/20 to add external staircases and new toilet/catering facilities for new spectators. The work is expected to go on smoothly regardless of the Bundesliga calendar.
As estimated by SC Paderborn, expansion will significantly increase annual lease cost (the stadium is owned by a municipal subsidiary, Paderborner Stadion Gesellschaft). At the same time, it will generate up to €2 million per annum to SC Paderborn, provided all matches sell out. This is nearly obvious in Bundesliga, though it might become a challenge if the club are to slip once more.