New design: Standard's new standard
source: StadiumDB.com; author: michał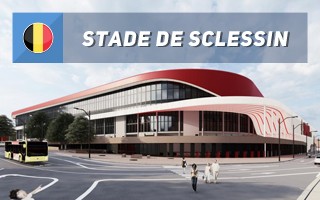 For the first time since Euro 2000 the stadium in Liege will see a major change. If the club get their way, its famous three-tiered stands will finally be enclosed, while all visitors should receive a new standard of services.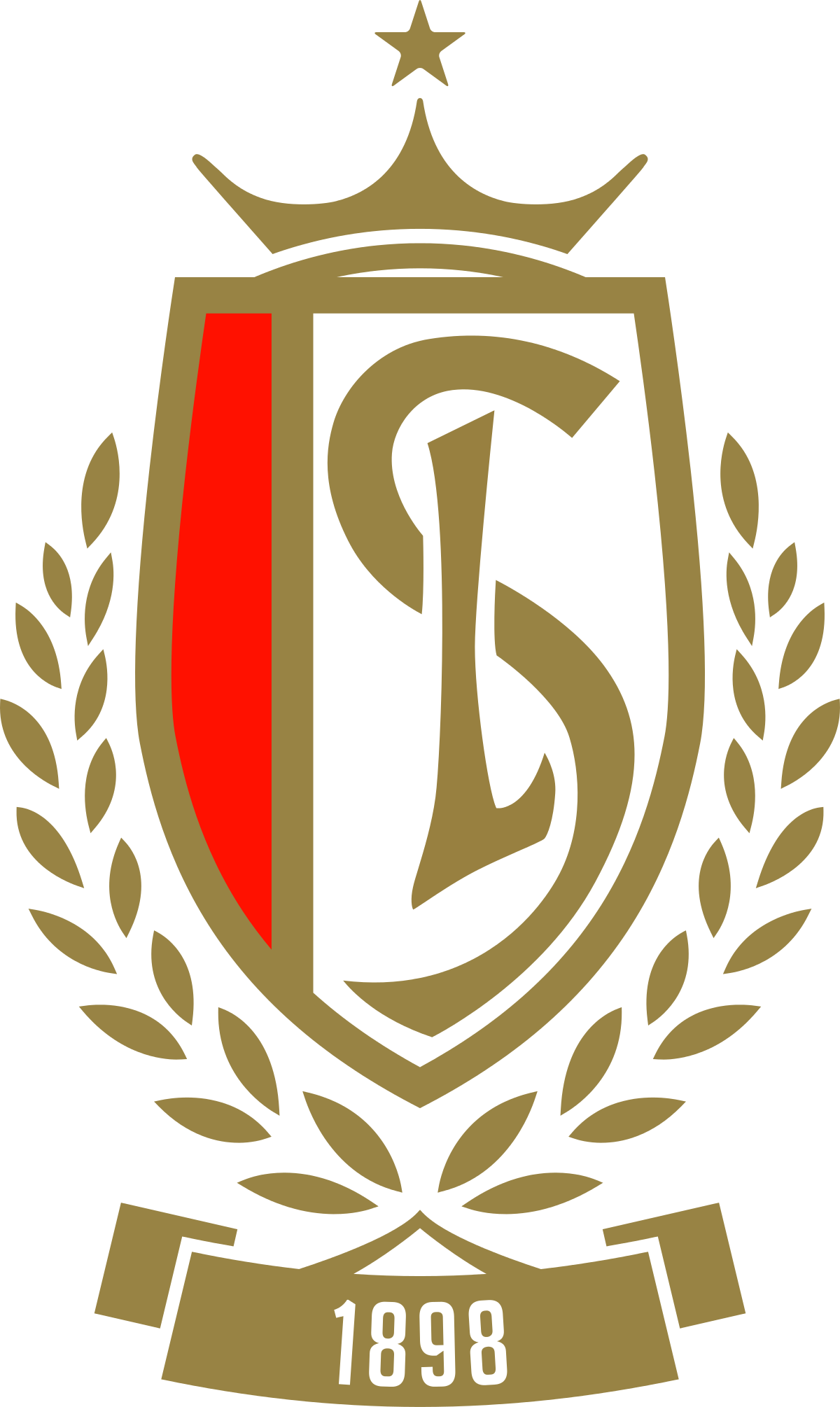 On Friday representatives of Standard de Liège visited the city hall to file their planning application. They'd been working on it for over two years with Assar Architects, ever since they revealed the initial concept. Should proceedings go as planned, in a year construction might begin.
Compared to early renders, reconstruction of Stade de Sclessin will be somewhat reduced in its final form. From the envisaged capacity of 40,000 seats the goal was scaled down to 35,000 (in international mode), as were anciliary facilities around the stadium. Net increase of some 4,000 seats would be owed to the new main stand in the east.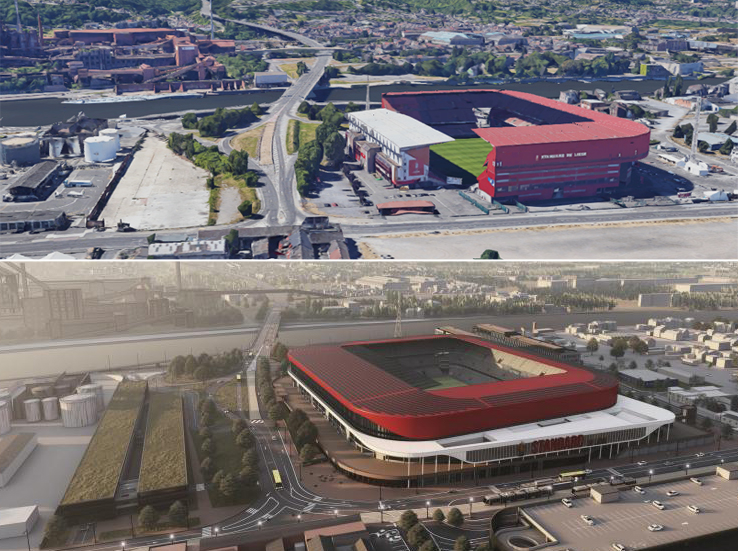 Though its rake and size would differ from the iconic 'red crescent' around, overall silhouette of the new structure should seamlessly match the others and enclose the stadium for the first time. Six floors of infrastructure would house club offices, players facilities, hospitality and amenities for some 110 fans with disabilities.
Interestingly, construction of a brand new east stand is only possible thanks to an agreement with the Wallonian authorities. Standard may demolish one lane of nearby road on condition that it is replaced at the club's expense.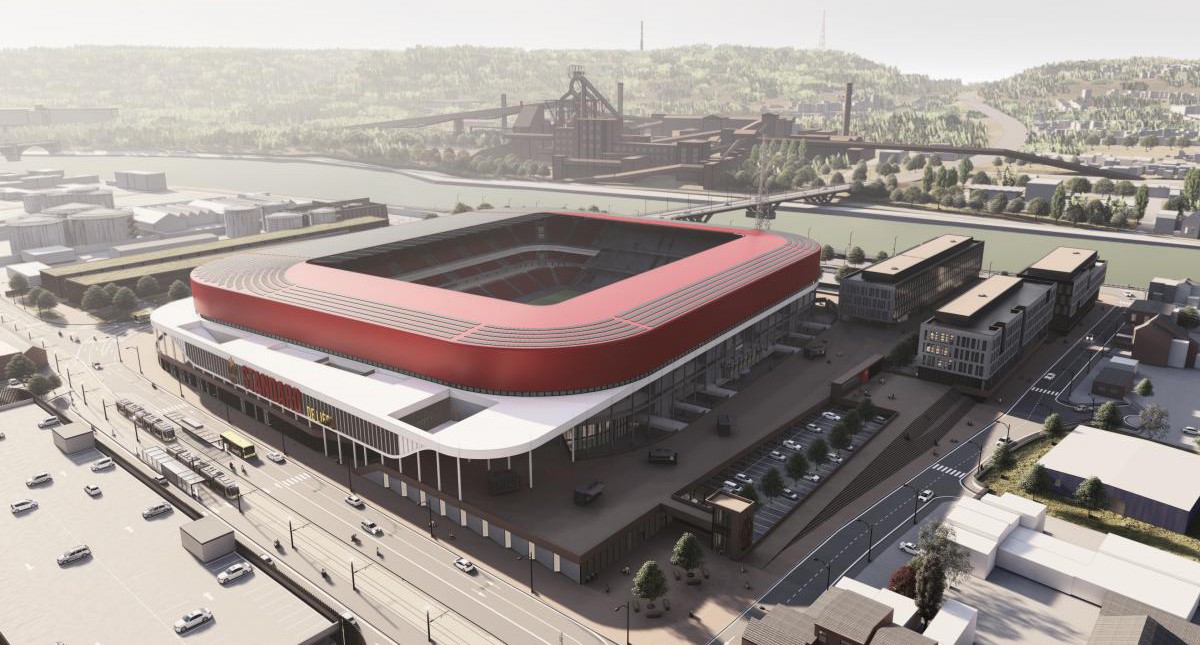 © Standard de Liège, Assar Architects
Reconstruction will also benefit other stands. In the north a semi-hovering area will be created, new use will also be found for empty spaces under current structures. Once the stadium is enclosed into a ring, it will be surrounded by a partly covered esplanade above street level, ensuring safe crowd circulation on matchdays.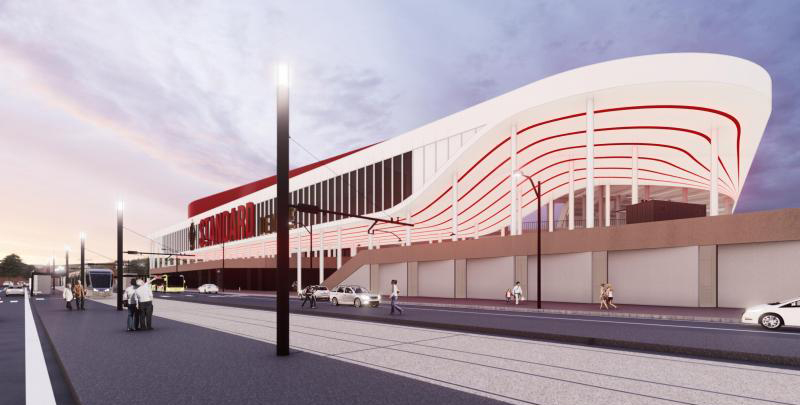 © Standard de Liège, Assar Architects
The western foreground is to comprise numerous non-sporting uses in two independent buildings. These should house 6,000 m2 of rental office space, 2,000 m2 for laser tag complex, 1,000 m2 of HoReCa commercial uses, 600 m2 for a playground, 500 m2 for wellness, 400 m2 for nursery. New Standard museum and fanshop are also planned.
© Standard de Liège, Assar Architects
Located in post-industrial surroundings, the stadium should benefit from brand new tram line and terminal, shuttle bus system and vastly increased parking areas. Some 272 spaces are to be accommodated under the new east stand, while 600 and over 500 will be placed on multi-level parkings behind the east and north stands, respectively. In total, over 1,500 parking places are planned.