StadiumDB Newsletter: Issue 59 - Tottenham, new designs and more
source: StadiumDB.com; author: michał
What's new in the stadium world? We've selected the regular weekly digest for you, consisting of most important news about ongoing projects. Two flashy new designs, bad news from London and more! If you wish to find weekly roundup in your inbox, just subscribe below:
Let's get that bad news out of the way first. Tottenham's brand new stadium is not getting ready as planned. Analysis by general contractor Mace showed it cannot be opened, even unfinished, on September 15, as previously planned. Europe's largest private project has to wait until – most likely – November to safely welcome fans. It turns out that even crazy 80-hour working weeks aren't enough to make it happen.
Our most important new addition of the past week is surely the new Venice stadium. Though it might change aesthetically, the 18,000-seat stadium is bound to happen, if Venezia FC ownership have it their way. Part of a massive €185-million project, the vision still needs to be approved and go through the complex bureaucracy, thus the mid-2023 delivery date.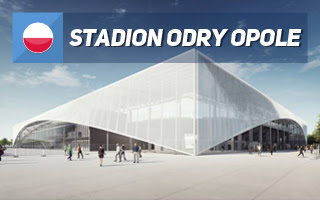 Second new design, this time with a more simple path to fruition, but poorer business case, is the new stadium in Opole, Poland. Future home to 2nd-league Odra, the 12,000-capacity venue is likely to go under construction around 2019-2020. Design by renowned domestic offices of 90 Architekci and GMT, this smooth and minimalist project has quickly won praise across Poland.
In Latin America there should soon be news of future Atletico Mineiro stadium, which will hopefully surface next week. For now we have not that great news of River Plate's uncertainty over the future of El Monumental. In Mexico, there's movement around León's new 35,000 stadium, while Estadio Banorte, home of Dorados, is already undergoing major changes.
Finally, we've spent some time in the post-USSR zone, too. First, president Alexander Lukashenka promises (once more) a second national stadium for Belarus, this time able to hold as many as 40,000 people. In Armenia the issue is quite the opposite: what should they do with an aging giant stadium that they have no use for. While in the Czechia's Ostrava at least a partial answer to the question is found: transformation into a training academy.