Mexico: By year end, Dorados will have flashy new stadium
source: MedioTiempo.com; author: michał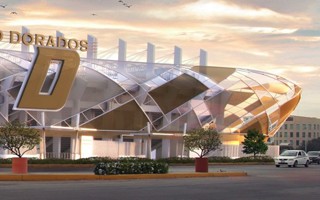 OK, not entirely new, rather significantly redeveloped and slightly bigger. In visual terms, however, the stadium should finally look complete, first time since opening in 2003.
This summer Estadio Banorte is undergoing major intervention, including a brand new pitch and irrigation, already in place. Works also cover brand new toilets and improved accessibility for regular fans.
Along the east side, beside the river Humaya, brand new corporate facilities are being created. But, perhaps most impressively, the development includes new facades, which will give a new appearance to the stadium. A unified and modern wrap is planned, as depicted in the official rendering below.

The work is expected to cost MXN 70 million ($3.7m) and reportedly is already delivered in 80%. According to Sinaloa governor Quirino Ordaz the stadium should be ready by year end. However club president of Dorados de Sinaloa (2nd league) José Antonio Núñez claimed last week all work should conclude in October.
Estadio Banorte is only the third youngest stadium throughout Mexican second league, or Liga de Ascenso, having been opened in 2003. However, at the time of opening the building wasn't finished and was left in such state for years.
Current works are worth almost 25% of its initial price and should not be expected as the last phase of its development. Smaller investment was made also in 2015.