Mexico: Six contenders for León stadium design
source: Club León; author: michał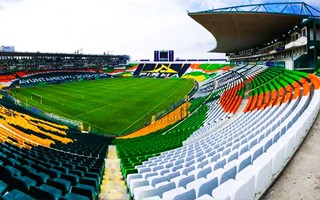 Major companies from Mexico, USA and Spain compete to design new 35,000-seat stadium in León. Winning concept should be revealed in September and groundbreaking follow by year end.
Representatives of Club León and Grupo Pachuca have met the governor of the Guanajuato state and mayor of León yesterday. The private investors presented to officials the six designs submitted for their new 35,000-seat stadium. All of them have been reviewed and are said to exceed expectations.
One might expect such high opinion, because the line-up is quite impressive. Some of the world's best architectural practices launched their bids. The list includes Gensler, HKS POPOULUS + Link (all from USA), IDOM (Spain), GVI and V-FO (both from Mexico).
While none of the renders were released so far, we should expect the outcome sooner than later. Winning concept should be known in September, while groundbreaking might come as soon as end of 2018.
The new stadium, expected to provide 300 private boxes, will be accompanied by a hotel, shopping center and numerous other leisure facilities. The contractor has already been selected, it's the renowned American company Manhattan Construction.