England: Supporters force parliament to debate safe standing!
source: StadiumDB.com; author: michał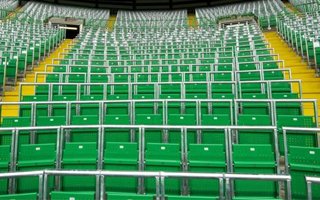 It took only several days of momentum to reach immense support of 100,000 British citizens and thus force the British government to officially debate safe standing in Premier League and Championship.
Standing in English stadiums is a subject we could write a book on, if not for the fact that it's been covered in more than one book already. The long and complex story told short would be: after Hillsborough all-seater stadiums were required for top two leagues across England, even though standing inside stadiums was not deemed inherently unsafe.
After over two decades of being forced to take a seat and sometimes brawls resulting from overzealous execution, football fans in England are overwhelmingly in favour of being allowed to stand during games. Many supporters don't wish to stand themselves, they just want others to be given the choice under safe conditions.
It's a long-standing public debate that gained strong momentum very recently, after the sports minister refused to approve a pilot scheme by West Bromwhich Albion. The decision was taken with little attention to actual safety experts, who acknowledge the 'safe standing' scheme as safe and worthy of consideration.
After all, it works in Germany, Russia and even in Scotland, providing safe conditions for fans wishing to stand throughout the game rather than sit. Following the minister's negative decision, deemed ignorant by campaigners, an online petition set up back in late 2017 gained momentum within a few days.
According to British law, official petitions to the government have to be given a response in 14 days after they reach 10,000 signatures from British citizens. That 14-day period has already been running, but within just several days the petition was boosted enough to reach 100,000 signatures. And at this level the subject of such petition has to be considered for official debate in parliament. While it might not end up in parliament or not become fruitful once debated, the petition forces authorities to go on record about safe standing.
The amazing progress of a small petition launched by individual fan Owen Riches was possible thanks to involvement of supporter groups and even football clubs across the country. By far the strongest support came from 'main football cities', if you pardon the phrase: Manchester, Liverpool, Newcastle, Sunderland, Wolverhampton, Derby, Norwich, Bristol, Lincoln and others. Not as popular in London, the campaign was most popular within Croydon, where Crystal Palace have officially endorsed it.