Stadium of the Year 2016: Public Vote begins on January 31
source: StadiumDB.com; author: michał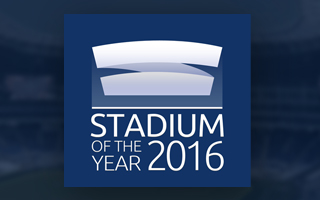 A total of 29 stadiums from 21 countries will be up for the Stadium of the Year title in the 7th edition of our awards. From Tuesday onwards you will be able to select the best stadium of 2016.
For the last 10 days you've flooded us with potential Stadium of the Year nominees. There were over 40 bids for us to verify. Of them 29 are on the final list, which means it's the second longest list in the competition's history.
Why were some proposals not included? Most common cause is the fact that some venues completed (or almost completed) in 2016 haven't been opened in time. Stadiums in Gaziantep, Oyem and Point Gentil were all inaugurated in January, while the Ashgabat Olympic Stadium, Ahmadabad's versatile The Arena and Hangzhou Stadium will open later into 2017. All these venues will qualify next year.
For two stadia in China we weren't able to verify information and decided not to include them due to lack of chances to properly present them to you and give a fighting chance. Finally, Arena Zabrze is not on the list. It met all our requirements but the stadium's operator decided to wait until the fourth stand is built and then launch their bid for Stadium of the Year.
You will find the complete list below. Some of the stadiums are yet to have their presentations updated or added to StadiumDB, but all these will be ready in time for the vote to begin. Speaking of the vote (two votes, actually), Public Vote begins on January 31 and will last until and including March 4. Jury Vote will run simultaneously from January 31 onwards, with renowned architects from 4 countries evaluating the proposed stadia.
Winners in both categories will be announced on March 6 (Jury Vote) and March 7 (Public Vote).
Stadium of the Year 2016 Nominees in alphabetical order: