England: Visiting 116 stadiums on a bike, scoot or on feet
source: StadiumDB.com; author: michał
He's neither an away-going supporter, nor a groundhopper. It's also not a sports discipline, what he's doing. Steven simply decided to visit 116 venues in England and Wales using his bike, scoot and feet. This is how Football Ground Tour was born.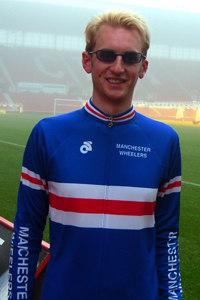 He started in November 2011 by doing a ride between 8 stadiums in and around Manchester on his bike. Then 18 more rides like this, 4 rides on a microscooter and 5 runs. At this point he's done 80% of 116 planned which means over 2,050km travelled with his muscles the only thing keeping him going. As if this wasn't enough, he plans visiting all national stadium of Great Britain and Ireland. Steven Rittey isn't doing this to break records, he simply loves sport and stadiums, not mentioning this challenge having an artistic approach to it.
StadiumDB.com: We have to start with a loud "WHY?!". Why did you decide to use just trainers/bike/scoot to accomplish your mission?
Steven Rittey: I am a keen runner and cyclist and the Football Ground Tour was a good way to combine my interests in football, architecture and sport. Each stage represents a different challenge and I like to put a twist on each ground visit. I do use public transport sometimes, but I always turn it into an endurance project and run from the station to the stadium or just run between grounds. These type of days may seem easy, but they almost become an urban orienteering project and can take over 10 hours to do.
One of my more eccentric tours was when I took my microscooter and scooted 37 miles between Liverpool and Manchester. I also ran the symbolic marathon distance between Southampton and Portsmouth on Boxing Day and then rode to Cardiff from Bath a day later.
I do like doing the long distance cycling stages as I get to see a lot of the country and spend hours riding around the English or Welsh countryside. I really like this aspect of the tour and the grounds are markers that I can use to ride between.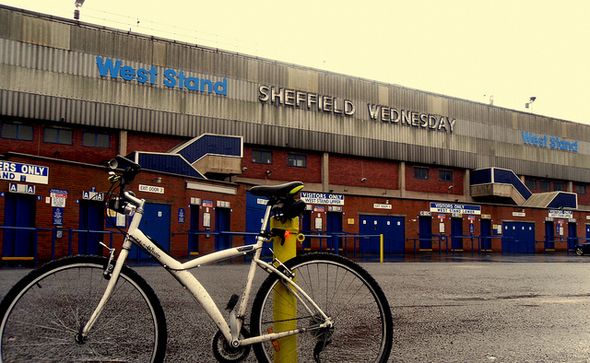 Photo: Steven Rittey
Most groundhoppers decide on visiting the 92 stadiums of top 4 tiers in English and Welsh football. You included one more league - why?
I intend to visit all of the 116 League and Non-League Conference National clubs in England and Wales based on the tables in the 2011/12 seasons. This will possibly include the national stadiums of England, Wales, Scotland, Northern Ireland and Ireland as a final project.
I felt it was important to go beyond the '92' as the Conference is an interesting league because they are some 'big clubs' in there such as Darlington and Wrexham. Clubs such as these have a lot of history and I wanted to explore the stadiums and background to the club.
Do you keep a list of all the grounds or distances during the challenge?
I keep all of my distances and routes on my flickr page. I felt it was important to record everything and I take pictures of my mode of transport to prove how I got to the stadium.
I do this because it means the tour is not just about me and it takes on an artistic side. I like to think there is a good contrast between a lone shoe or vacant looking bike in each shot and the noise and activity of a match day.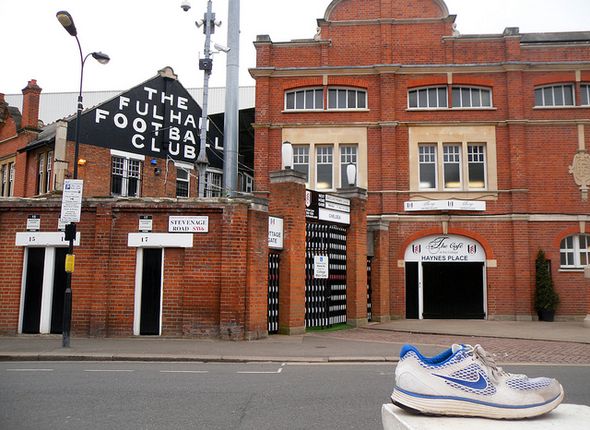 Photo: Steven Rittey
Have you ever encountered any difficulties while on 'the job'?
The biggest difficulty is cost. I try and book all of my train tickets in advance to reach the starting point as it is cheaper than buying them on the day. As I can ride up to 140 miles / 225km in a day on my bike, I can buy one-way tickets which keep the costs down and ride as close to home as possible. However, as I complete the grounds close to Manchester the tour is getting more expensive to do. I can also use coaches to do the running and scooting stages.
I try not to think about this side and just enjoy the tour for the unique things I am seeing and the different sides of the UK I am visiting.
I have loved doing the Football Ground Tour and have had thousands of views on Flickr and I am determined to see the project through to the end.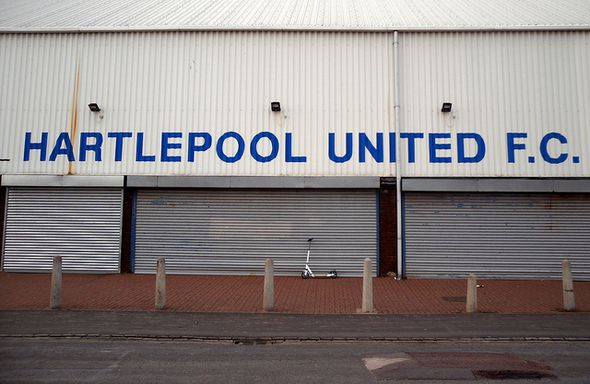 Photo: Steven Rittey
Are you a groundhopper apart from the current groundlist to visit?
Not really. I love football, the business of football, stadiums and the shirts, but I would not class myself as a groundhopper. In fact, I only learnt of the term recently. I am interested in stadiums, the architecture and design of the grounds more than anything else. I also like the sense of history, the atmosphere and the importance that people attach to a stadium in a town or city.
People ask me this a lot and whilst there was never a formal schedule before, I always have tried to visit the football stadiums in many of the places I travel to. For example, I went to Switzerland recently and had to go to the Stade de Suisse in Bern. I even woke up at 0600 on a Sunday morning to visit!
There are a few grounds that I have wanted to visit more than others such as the new AMEX Stadium in Brighton where I was given a guided tour. I have always wanted to visit the New Den in Millwall and StadiumMK in Milton Keynes too.