Gtech Community Stadium
Capacity
17 250
2,866

(Business seats)

Country
England
City
London
Clubs
Brentford FC
Other names
Brentford Community Stadium (2020–2022)
Inauguration
01/09/2020
Construction
25/03/2017 - 08/2020
Cost
£ 71 million
Design
AFL Architects
Contractor
Buckingham Group
Structural Engineer
Arup
Address
166 Lionel Rd N, London, Brentford TW8 9QT, United Kingdom
Gtech Community Stadium – stadium description
Although Griffin Park was a cherished stadium among both home and visiting fans, close proximity of surrounding houses made it impossible to grow further, impeding Brentford FC's further development. Plans for relocation have surfaced already in 2002 but became substantial after 2012, when the club bought 3.1 ha (7.7 acres) of land on Lionel Road South, just 1.6 km (a mile) east of the historical home.
Initially the plan was to deliver a football-specific stadium for 20,000 people, with expansion option to reach 25,000. Such version received planning permission in 2013 but its delivery was put on hold as the club opted to build stronger financial backing. A new formula was found that would see over 900 new homes built around the new stadium, across four nearby plots. Because purchasing that land took further time, construction could only begin in 2017.

Because the stadium plot is triangular, uniquely restricted from all sides by railway lines, incorporating a football ground into it became a challenge. AFL architects decided to position the field along the east-west axis rather than north-south. The stands' shape became irregular, nearly hexagonal, with the main stand in the south, where the biggest amount of space for additional facilities was available.
During design work, the vision was amended several times and the most recent changes, from 2017, saw capacity reduction from 20,000 to 17,250. Instead of double-tiered stands behind each goal, single-level auditorium was to be created, with a modest north side to allow an internal road run along the nearby railway tracks. Reduction in overall capacity didn't impact the projected revenue because premium seating was increased from 1,874 to 2,866, based on thorough market research.

But the most impressive changes to the design were of structural nature. The 2017 design saw a 50% reduction in reinforced concrete use and roughly 30% reduction of the structural steel consumed, to just 2,600 tons including grandstand prefabs. These changes caused a serious reduction of the stadium's carbon footprint. Combined with rainfall collection and solar power plant (400 m2, 30% of which is used directly for stadium needs) on top of the south stand, the efforts earned the stadium BREEAM certification for sustainability.
It also made the stadium futureproof, at least to some extent. In order to meet highest requirements in case of sporting success, the building was always planned with Premier League regulations in mind, including highest standard for disabled supporters. Also, the option of introducing safe standing at the stadium was included, should this become legal. Also, the building meets Premiership rugby requirements because already in 2016 it was decided that a groundshare with London Irish is the most viable option.
In order for colours of both teams not to clash, the stadium's identity isn't too packed with Brentford FC symbols, even if their signature red and hexagonal symbols are visible inside and out, referring both to the 'Bees' and the stadium's hexagonal form. But most of the building is grey, seats have a mosaic colour scheme, while public concourses are equipped with LEDs to change colours depending on the host.
Total footprint of the stadium is just 22,000 m2, which is impressive since roughly half is the field. The main stand has 4 floors of facilities inside, while other stands offer a single level of facilities. The building's irregular shape becomes an advantage aesthetically, making it unique and escaping the 'identikit stadium' stereotype. The angular form is covered with tin, polycarbonate and powder-coated aluminium panels imitating stone, a neutral and modern mixture.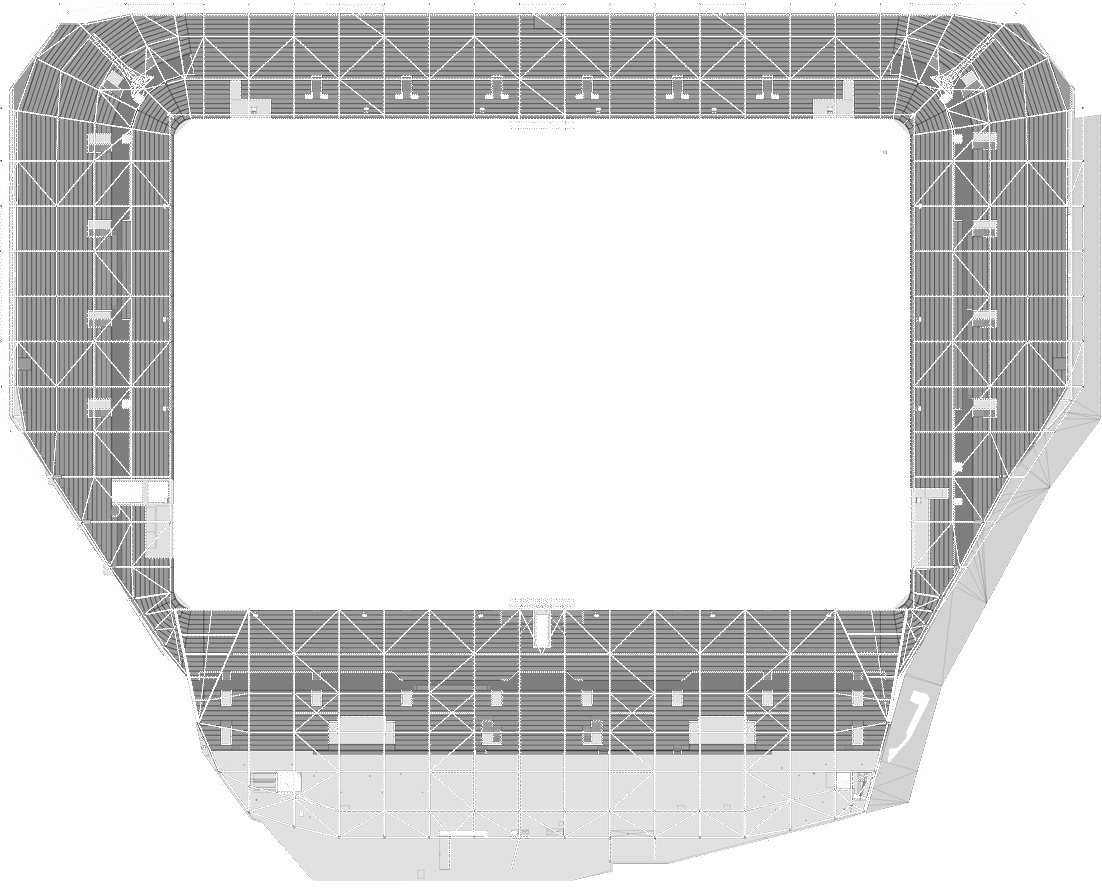 How Gtech Community Stadium compares to other Premier League venues?
Related news
2023
2022
2021