Stadium of the Year 2020: Time for You to nominate!
source: StadiumDB.com; author: michał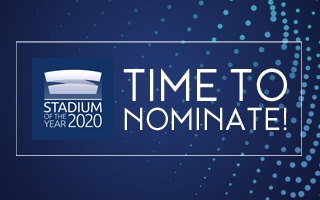 Late January is traditionally the time for us to ask you, which stadiums deserve recognition after the past 12 months. But, since 2020 was an exceptional year, this time we're changing one criterion. You probably already know which one...
Starting February 8, we'll be urging you to vote and select the best stadiums opened in 2020. As always, each User will be able to select 5 top arenas. After a month long vote the winning stadium will receive the Stadium of the Year Public Award. A separate vote will run at the same time among architects, who will choose their Jury Award winner.
Confirmed candidates
The nomination process is now closed, but the list is not. We are processing several more entries, to be added soon.


Stadium

Location

Al-Rayyan


Las Vegas


Batumi


Tel Aviv

London

Çorum

Doha

Iquique

Izmir

Fort Lauderdale

Utsunomiya

Louisville

Townsville

Kameoka

Los Angeles

Lausanne

Ebimpé

Arad

Iskandar Puteri

Xi'an
Nomination process
But before we all vote, we have to establish the list of candidates. Since Stadium of the Year has always been created for our online community, we're asking you to create the list of candidates. We're also keeping the criteria simple, in order to include stadiums that might not otherwise be recognised internationally.
Stadium of the Year nominees have to meet these conditions:
Capacity criterion

[only those able to hold 10,000+ people];

Chronological criterion

[full opening between 01/01/2020 – 31/12/2020];

Functional criterion

[only stadia enabling professional association football games];

Structural criterion

[only brand new or completely revamped stadiums].
Because of COVID-19 we had to modify one of these conditions. Previously, we only accepted stadiums that were entirely opened to the public over the past year. But because of varying safety measures worldwide, we limited this criterion to only an opening being held at all, be it a ceremony or a sports event. Opting for only stadiums opened entirely would effectively eliminate over a dozen venues from the list, if not more.
Like in recent years, we will take into account every form of nomination. You can be an official, supporter or any other Internet user, we'd still love to hear from you. All it takes is to name the stadium you wish to be added and we'll check if it meets the criteria. You can use the comment section on social media (Facebook, Twitter, Instagram) or message us there or via email.
Important note: One valid nomination is enough for us to include a stadium, once it's on the candidate list there's no need to submit it again. Save your enthusiasm for the final vote!