Xi'an Olympic Sports Center Stadium
| | |
| --- | --- |
| Capacity | 60 000 |
| Country | People's Republic of China |
| City | Xi'an |
| Clubs | - |
| Inauguration | 07/2020 |
| Construction | 09/10/2017 - 01/07/2020 |
| Cost | CNY 2.5 billion |
| Design | CITIC General Institute of Architectural Design and Research |
| Contractor | China Construction (S.E.A) Co. |
Xi'an OSC Stadium – stadium description
When Shaanxi's capital Xi'an worked on the strategy for expansion, decision was made to establish three new massive complexes for sports and leisure in new areas. One of them is the Olympic Sports Center, first major precinct on the east side of the river Bahe. The goal was to create a multi-use arena able to host events up to the FIFA World Cup and Summer Olympics.
The selected plot of 52.6 hectares sits nearly beside the river, 28 km (17 mi) from the city's international airport and 10 km (6 mi) from high-speed rail hub. Already during construction the area was serviced by line 3 of local metro, with line 14 expected to reach it before the first mega event: the 14th National Games of 2021. At the same time, proximity of the Bahe riverfront allowed the complex to connect with kilometres of cycling and walking paths, boulevards and pedestrian bridges, promoting car-free access.
The complex includes the main stadium for 60,000 people, one of China's largest indoor arenas for 18,000 people and an Olympic swimming pool with 4,000 seats. Altogether, the complex was contracted to cost CNY 7.9 billion, of which the stadium alone consumed 2.5 billion ($337.5 million upon groundbreaking in 2017).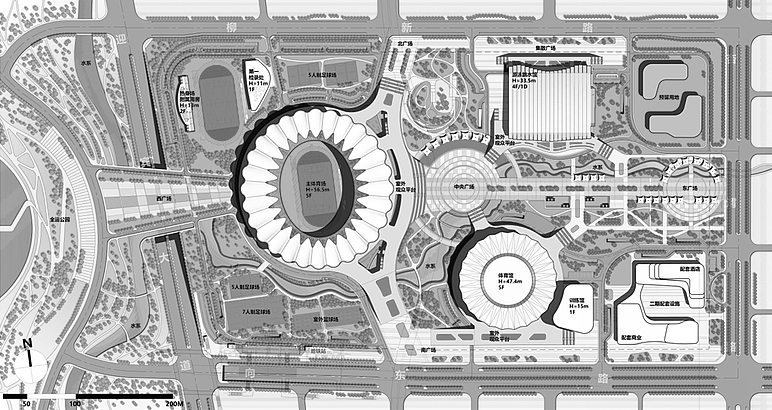 It's precisely the stadium sitting closest to the Bahe riverfront, soon to be connected with it and the opposite side of the river. This gives it proper exposition, which is should remain intact even with high-rise buildings planned around. After all, we're talking about a building 330 m long and 314 m wide. Its height exceeds 58 meters at peak.
The stadium's entire construction area is over 150,000 m2, including spacious elevated promenade around the stands and ramps leading to the stadium. There are 5 levels of facilities hidden inside, able to house athletes and media representatives regardless of the event planned (needless to say, the stadium's running track received first class certificate from World Athletics right after opening). On a daily basis they will serve for mass amateur sports as well.
The auditorium was divided conventionally, into three continuous tiers. There was enough room for 64 boxes to be placed between the second and third levels. But it's not the stands that make the stadium stand out. By far the most impressive is the roof structures, based on 28 V-shaped columns. Their height varies by as much as 10 m, giving the roof its undulating, wavy form. In total, 12,000 tons of structural steel were used and despite the stadium's symmetry, only 4 of the 28 segments are alike, all others are unique in terms of structure.
The canopy is very impressive indeed, covering over 50,000 m2, covered partly with polycarbonate (inner sections). The facade in turn is covered with 24,000 m2 of light aluminium mesh, divided into 21 ribbons enveloping the stadium. In metaphorical terms, the stadium represents two major inspirations. One is the pomegranate flower in full bloom, when seen from above, while from pedestrian perspective the main association is traditional Chinese ribbon dance.
While the stadium remains neutrally-coloured by day, it comes alive in unseen proportions by night. Instead of a simple external illumination, the building's canopy and facade are stuffed with 400,000 LEDs, becoming a massive screen of over 60,000 m2. Just like floodlights and all other lighting, the illumination is controlled by a single system, optimised and automated to reduce energy use. And while we're at systems, it's the first Chinese stadium to be fully 5G-compliant.
The construction process took exactly 996 days, which is a very good time for an investment of such scale (total length of inserted piles alone is 180 km) and taking into account weather challenges. For example, during foundation phase in late 2017 and early 2018 it was so called that furnaces were installed on site to allow further work. Meanwhile, in the summer there were excessive heat warnings for 30 consecutive days, which also forced some work reorganisation.
And still single phases of the process were done very fast. The monolithic main structure took just 4 months to complete, over 8,000 prefabricated concrete elements were installed in 1.5 months, while the roof sheets and facade were mounted in 90 and 75 days, respectively.
Related news
2021