StadiumDB Newsletter: Issue 86 - From Liverpool to Szczecin
source: StadiumDB.com; author: michał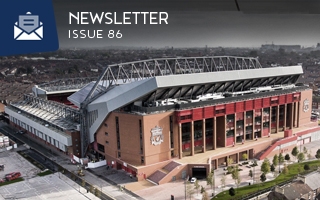 From Liverpool going cashless to preparations for Euro 2024 and World Cup 2030, there's a lot going on in the stadium world, as always! Here's what caught our attention last week: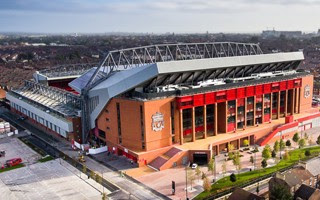 As one of the world's biggest football brands, Liverpool FC has to keep up with competition. In August some information surfaced on the proposed expansion beyond 60,000 seats, then in September spending of £16m on digital experience was confirmed. Now we're seeing Anfield go cashless, starting last Saturday. There are still tills for patrons paying with cash, but most are now reserved for card/mobile payment. And while we're at England, there's also the disappointing news of further delays in York, where the new community stadium just isn't coming along as planned.
In Qatar all eyes are now on Khalifa Stadium, mostly seeing how empty is was during most of the World Athletics Championships. However, another piece of news from Qatar came out last week: the opening of Education City Stadium is scheduled for December 18. Not insiginificantly, the aforementioned Liverpool FC will be the nominal host of what will be the third venue delivered for the 2022 World Cup.
And while we're at World Cups, here's how the Atanasio Girardot Stadium in Medellin (Colombia) might change as part of the 2030 World Cup bid. Colombia is considering joint bid with Ecuador and Peru, which would be the second from Latin America for 2030. In Medellin the seating bowl would likely be retained, however additional facilities are necessary, as is a complete cover of the auditorium. The project would preferably be delivered as a public-private partnership, but whether this comes true... remains to be seen.
In Germany, preparations for Euro 2024 are proving quite costly in Stuttgart, where remodelling is likely to cost more than the entire 2009-2011 reconstruction of Mercedes-Benz Arena. At €65 million, the revamp of its main stand and expansion of hospitality areas would be a problematic expense, hoped to be recouped by VfB Stuttgart returning to Bundesliga and paying increased lease fees.
In Switzerland direct democracy seems to have a downside in Zurich. A second referendum may be held on the future of Hardturm, where the new 18,500-capacity stadium for two local football clubs is planned. Group of opponents want to ask residents whether they would not prefer a more accessible public green and leisure area than a professional football stadium. Further developments are likely to come by the end of October.
Finally, last week we've added the first new construction in faaar too long. It's Poland's largest ongoing build, in Szczecin. In upcoming weeks there should be further presentations and gallery updates in the construction section, so look out for orange icons around StadiumDB as we're bringing the section back to a more vibrant life!