England: York Community Stadium to open in 2020
source: YorkPress.co.uk; author: michał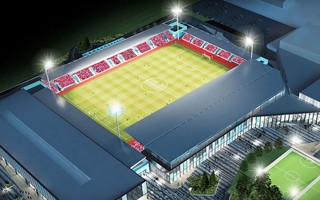 New football and rugby stadium in York is now expected to be delivered at the end of the year, though first game might not be possible until early months of 2020. Will York City FC move mid-season?
While it was supposed to open its doors in May of this year, the new York Community Stadium continues to be delayed. It's long been clear that the 16-week delay was extremely optimistic and now we can confirm that the new stadium would not open this year.
"We anticipate construction work to be complete by the end of this year." said Ian Floyd, deputy chief chief executive at York City Council. Completion doesn't mean opening, of course. The stadium would still require certification and green lights from safety authorities before any match can be played.
The ongoing delays must be irritating to football and rugby supporters, especially given that the cinema being built along their new stadium will open this December. Its operator has already began recruiting staff.
So far York City FC have not commented on whether they would consider relocation in the ongoing season or would rather wait until 2020/21 to open their long-overdue stadium.