Poland: Płock faces tough choice on new stadium
source: StadiumDB.com; author: michał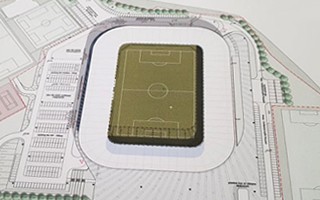 Wisła Płock is literally the last Ekstraklasa club not to have a new stadium built or in the works. This might change but municipal authorities are facing a very difficult challenge: how to meet financial expectations of the only company willing to deliver the desired stadium.
If you look at the 2019/20 Ekstraklasa, only three clubs don't have a modern stadium yet. But one of them, Pogoń Szczecin, has construction crews on site already, while Raków Częstochowa are seeing their home city work on delivery of a ready design. So only Wisła Płock are left with nothing but an official concept, drawn 3 years ago.
The city of Płock launched its 'design+build' tender last September and it's been an unending series of delays ever since. It ended yesterday. Just after noon the city was expecting bids from any of the four companies/consortia that had expressed interest.
Unfortunately, only one company decided to proceed with a bid. Mirbud, who recently signed a contract to finish another Ekstraklasa stadium, in Łódź, guarantee timely delivery of a 15,000-seater in Płock and offer 72 months of warranty, as long as possible within tender requirements.
So it's all great, right? No, because Mirbud's price is steep for Płock. The bid costs PLN 166.5 million (€39m), while the city estimated total cost at PLN 97.8 million (€23m). That's a 70% difference and already at 97.8 million it wasn't really clear where the city would take such funding from, with outside sources extremely limited.
The municipality did open some options in the tender itself by stipulating that some works might be dropped. So it seems possible that they can negotiate cost cots with Mirbud in order to meet both sides' expectations. Reduction in capacity has also been left as an option. But before any talks can commence, the bid has to be evaluated properly, which is likely to take weeks.
Because it's a design+build tender, Mirbud had to present its own concept of how the stadium might look. The city's request was for the vision to be loosely based on Bircza Studio's official municipal concept.
The proposed stadium is very simple, with a rounded rectangle footprint, rough concrete structure and single-tiered stands. Only the west would have a glazed facade over its 4 above-ground floors. The stadium's signature aesthetic feature would be the openwork cladding around. Light lamelas would be horizontal in the west, vertical in the east and would smoothly transition behind each goal.
Because the city and bidder are yet to officially release renderings of the proposed stadium, we base this article on photo by Michał Wiśniewski from PortalPlock.pl. By clicking the below photo you will be taken to his photo gallery of the proposal.