#MisjaStadion: Stadiums #61-70 and 175 new photos!
source: StadiumDB.com; author: michał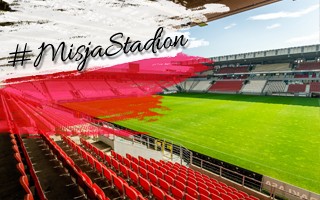 Four new presentations and six updated – here's what we added in recent days to reach ground no. 70 on our way to update 100 Polish stadia. 5 more will come this week, more in the one after. We'll take a break to also enjoy some non-Polish content...
We've kept you waiting for the restart of #MisjaStadion, but once it's back on, the pace is better than we've ever had. After just a couple days here are 10 more Polish presentations, 4 of which have their debut at StadiumDB.com and 6 are updated and upgraded after years (in one case massive 15 years!). There's a total of 175 new photos added and nearly 10 pages of descriptions along them.
Below you'll find the map showing our current progress and just 30 spots missing to complete the list. Under the map are descriptions of all 4 new stadiums. But before you scroll down, please take a moment to enjoy new photos from the 6 other stadiums. We particularly recommend seeing galleries of the municipal stadiums in Krakow (Cracovia) and Bielsko-Biała, where we've spent more time than at other grounds. That said, the text and photos in Zamość, Kozienice, Gorzów Wielkopolski and Toruń are also worth seeing...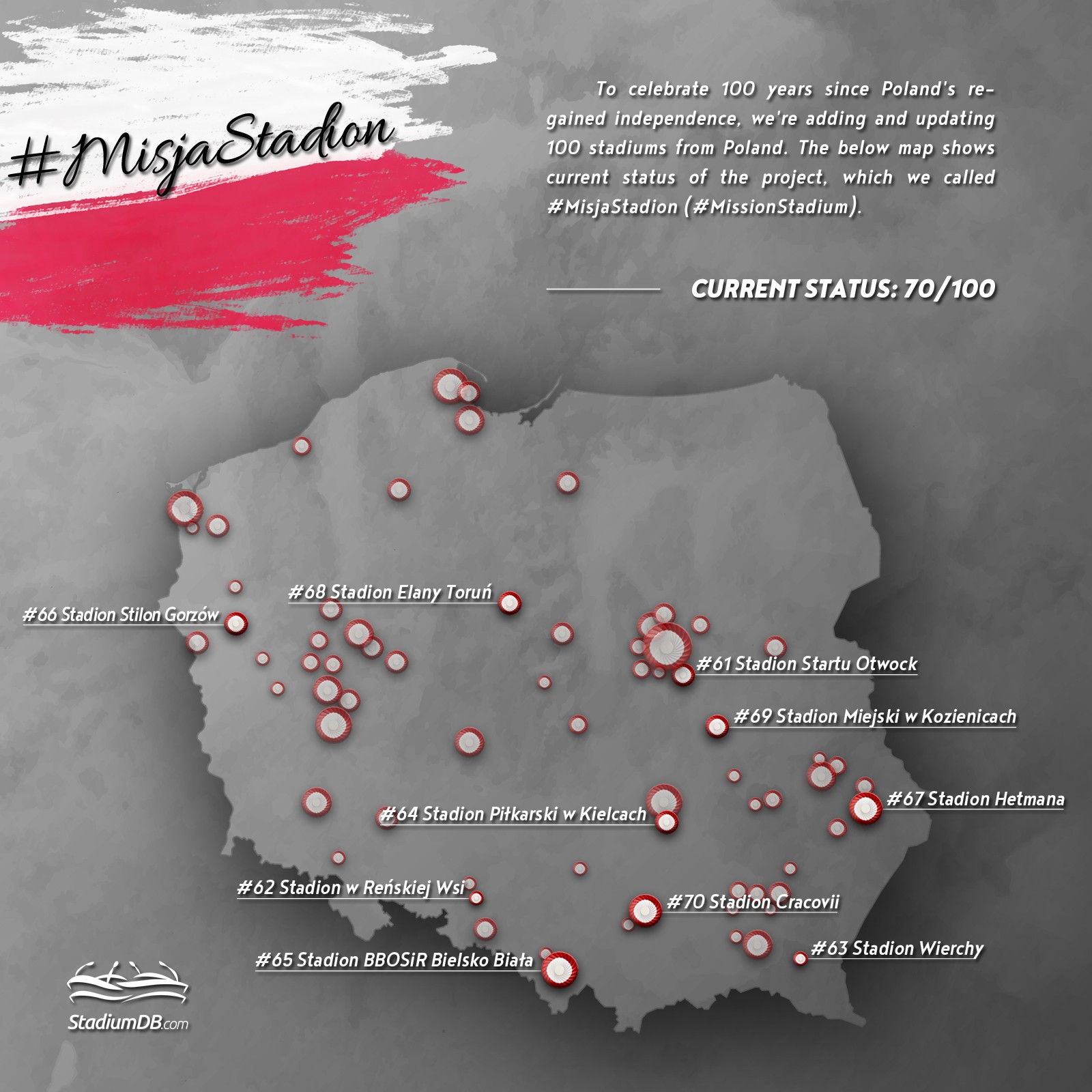 The municipal stadium in Otwock, just outside Warsaw, has been used by local club Start since its opening in 1936. The club itself dates back to 1924 but had to play elsewhere in its beginnings. Following inauguration, the stadium was named after Józef Piłsudski, however today its known under a different name, honouring tragically deceased gold medalist in pole vault Tadeusz Ślusarski.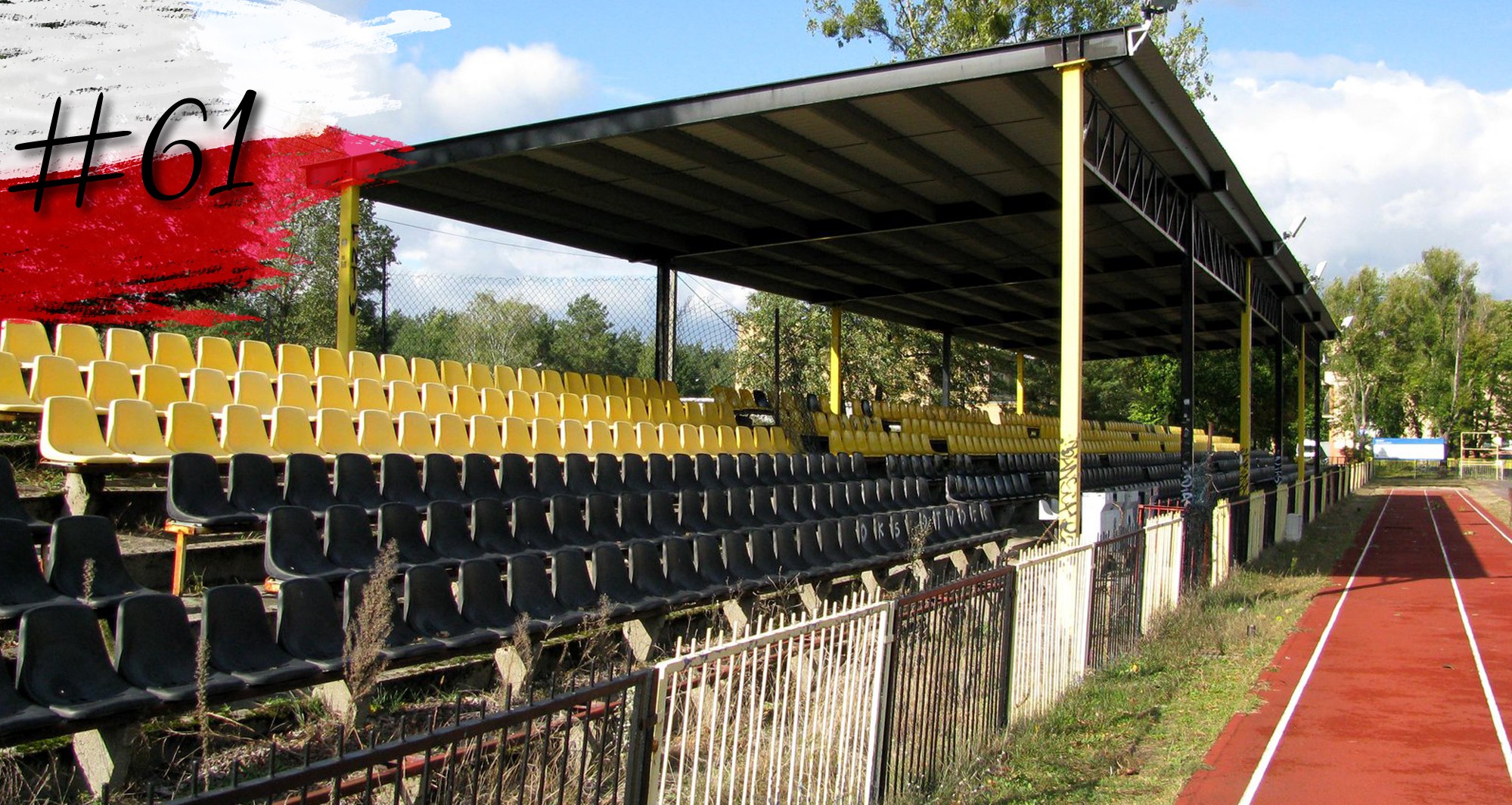 Located near the south exit from Otwock, the stadium shared the fate of its tenant club, falling into disrepair over decades, especially lagging behind in post-socialist reality. Ill-maintained, it had to wait until the 21st century for significant improvements.
Each time the changes were partial and only to meet basic demands. By 2010 the venue had seats installed on majority of its west stand, which was topped by a partial roof. Additional seats received from a different stadium were added in 2016 on the east stand and a small numer in the south. Here the horseshoe-shaped stadium has its away section.
The stadium has players' facilities located in main administrative building in the north east and is neighboured by two training fields and a complex of 6 tennis courts, half of them domed.
Small stadium in a small village outside Kędzierzyn-Koźle may have been built within farmfields but it also houses the oldest existing club from the wider Opole region, dating back to 1911! Śląsk has been in existence for over a century and when population is considered, this stadium is indeed impressive. It offers an individual seat to a third of all inhabitants!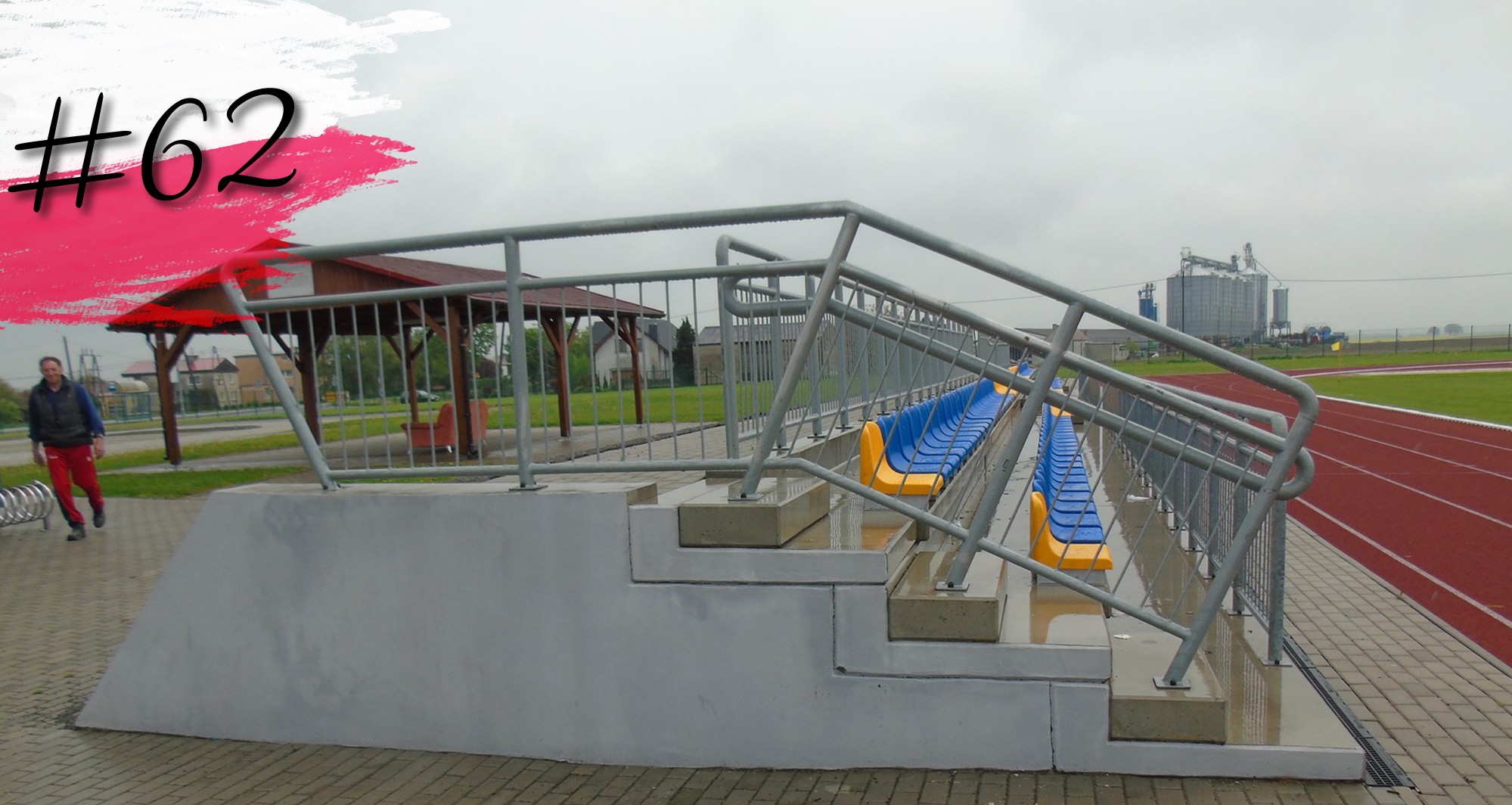 Aside from serving amateur football, the venue offers a wide array of facilities for the community thanks to upgrades from 2010 and 2015. First came a small synthetic football field and a basketball court, then a 4-lane running track with amenities for jumpers and throwers.
The municipal stadium Wierchy (Peaks) functions almost continuously since 1928 as the sports heart of Sanok. It also served as one of the main agoras for social, cultural, military and political events in the city's 20th-century history, including festivities of almost 20,000 participants or things as grim as public execution early after WWII.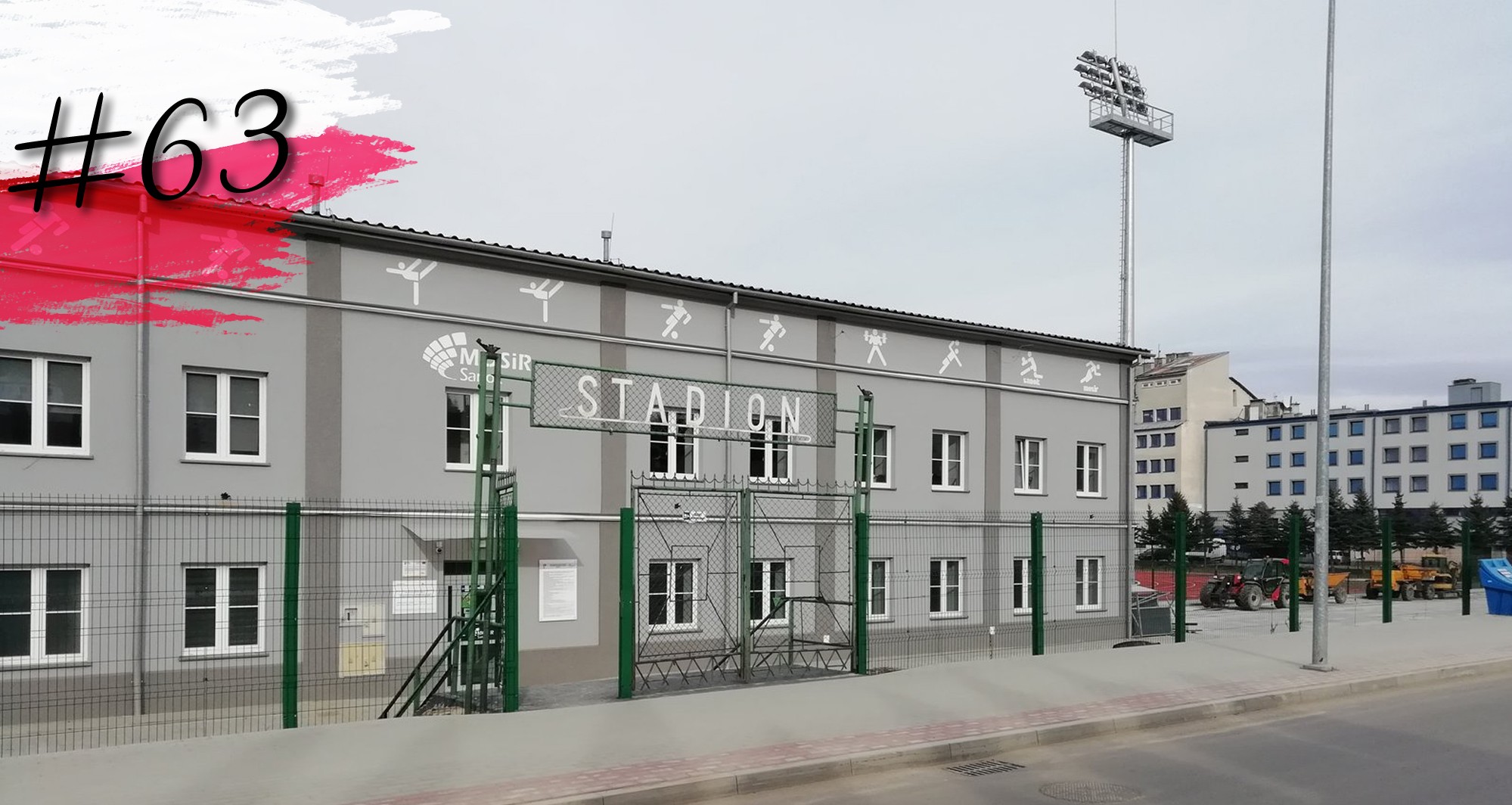 For a stadium with very rich history it may seem strange that the very first wooden grandstand was erected only in 1936. Constrained within just over 2 hectares and sitting beside route 28, the stadium gained its current layout in 1956, when the main grandstand was built along the south side. Rotation of the field and running track where never the option with scarce space in Sanok, even though several attempts to thoroughly revamp the stadium took place.
The most recent and extensive redevelopment came in two phases between 2016 and 2019, which saw almost everything replaced, aside from the main stand, which was just renovated. Brand new 6-lane running track, floodlight masts or miniature tubulat stands in the north (to almost reach the demanded 1,000 capacity) were all added in that period.
As for the main sports tenant, Wierchy had far few of those. Fittingly for a stadium initiated by local soldiers, the first team was Strzelec (Shooter) and its rival Sanoczanka in 1928. They were later replaced by teams of the socialist era: Unia, Górnik and Stal. None of those sides exists today but Stal's successor Ekoball Stal is the key tenant. Stal is also the team to celebrate biggest victories as the stadium, like the sensational defeat of Legia Warszawa in 2006 during Polish Cup round of 32 or a massive game of the same stage against Ruch Chorzów, watched by 6,000 people in 1973.
One of two municipal stadiums located in the southern district of Baranówek, the football ground in Kielce sits on the site of former military manouvers. It dates back to 1924 as a sports ground but earned its fame as the siritual home of Korona Kielce when the team moved here in 1975. Since then players and fans spent 30 years here, reaching their most desired goal – promotion to Ekstraklasa.
While the venue never met all top division criteria, Korona was conditionally allowed to host some of its 2005 games here, before eventually moving to Poland's first modern stadium, Arena Kielc. Thanks to the club's progress, local field received new irrigation and CCTV systems, as well as sets of new seats. While it never got a matchday floodlight system, it has lights to lengthen its current use as a training venue.
Structurally vast majority of fans are located in the western and eastern embankment stands. Both ends are curved, remnants of now removed running track. They offer exceptionally poor sightlines and were never in high demand. The main stand in the west holds 300 people under a roof.