New designs: Turkish stadium boom
source: StadiumDB.com; author: StadiumDB.com team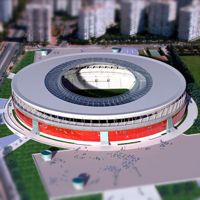 Two are ready, 18 further (!) are to be delivered within the next couple of years. In total Turkish government hopes to open over 20 new stadiums across the country. And some of them will recover entire spending right after opening.
With no new stadium being opened between 1980s and 2002, Turkey had a lot of catching up to do in terms of sports infrastructure. The Super Lig is growing and already is among the most attended league's in Europe and beyond. Now stadia are finally following.
Türk Telekom Arena in Istanbul and the new Mersin stadium are the first two to be opened of 20 large projects planned across the country by TOKI, the governmental agency for housing. TOKI is now running what may be the largest project of its kind worldwide.
"We're carrying out the most comprehensive investments in sports history in cooperation with the Sports Ministry," Ahmet Haluk Karabel of the Housing Development Administration (TOKİ) said in an interview with Anadolu Agency on Sunday.
Apart from the two venues already in operation, more is happening across the country. "In addition, tenders for 11 stadiums have been conducted and their construction has begun. Meanwhile, there are seven stadiums waiting at the tender and preparation process," Karabel said.
The overal plan is to establish modern sports infrastructure for each province. Not necessarily of top quality, but built efficiently and suiting the demand. This is why Turkey isn't following Poland or Russia in building too big stadiums for too much money – most are to hold between 25,000 and 40,000 and this seams to fit the need of most clubs in the long run.
However, what is perhaps most interesting is the policy of replacing old stadia with new ones and capitalising on it. While most outdated grounds are located at the heart of their respective cities and too confined for major revamps, almost all the new ones are being built in the outskirts, sometimes very remote ones.
This leaves TOKI with the high-valued land plots in city centres after new stadiums are opened and old ones can be demolished. In the most impressive case of Galatasaray's old Ali Sami Yen the price for the historical stadium's site reached $322 million (€250m), while the entire Türk Telekom Arena for Galatasaray cost barely half of that - €120 million ($156m), allowing TOKI to actually benefit from opening the new stadium.
And though most cities aren't even close in terms of market potential, large plots in the centre of smaller cities are still a great buy for private investors. Not even mentioning that stadia in some regions are to be two or even three times cheaper than that of 'Galata', making the fund retrieval easier. Below you may see eight designs we added yesterday, all of which are part of the large project. Some of the remaining grounds were already available for viewing at StadiumDB.com and may be found listed under the article..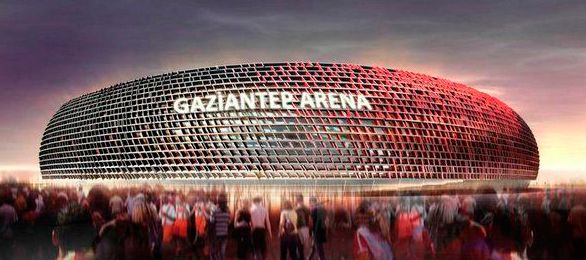 The need for a new stadium in Gaziantep was clear for years with renovation works for the existing central stadium falling short of modern requirements. Still, it wasn't until late 2012 that final concept was selected.
Final capacity should stand at 36,000 people, but the stadium should hold a reserve under the roof for further expansion to some 43,000, should demand increase.
Preparatory works on the site some 6km from the heart of Gaziantep begun in May 2013, while the entire stadium should be operable in 2015.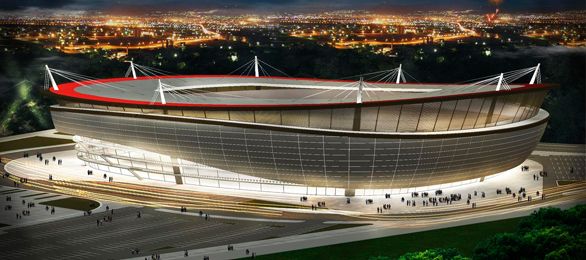 Anticipated for years and subject to several failed attempts, the new stadium in the football-mad Eskişehir is finally on track with ground works ongoing since April. In 1.5 year fans of 'Es Es' should be able to use almost 35,000 seats in what will be a simple, but very cost-effective stadium.
Priced at just TRL 107 million, the stadium still manages to offer some originality with 10 pylons supporting the roof sticking out and adding dynamism to the bowl.
Announced back in 2011, the stadium for northern city of Samsun took its current shape as a concept in 2012, while construction should start in 2013.
With two tiers it will hold over 34,000 people with numerous skyboxes, 474 VIP seats and 128 VVIP section.
It's expected to be built along one of the major routes running through the city and will be integrated with a medium-sized shopping centre. It should also have an indoor hall built next to it.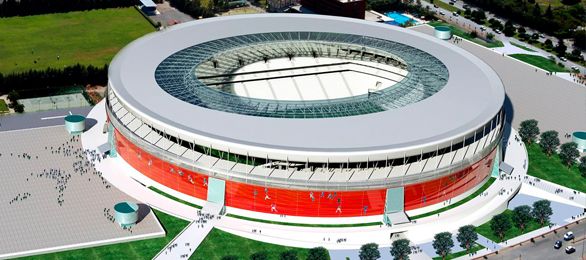 This oval concept of new 33,000-seater in Antalya was created at AZ Aksu office, authors of numerous sports designs across Turkey and abroad. According to the plan stands will have no less than three tiers (!) throughout the stadium, though the upper ones are to be particularily modest behind goals.
Construction works began in spring 2013 and are expected to be done in 2015.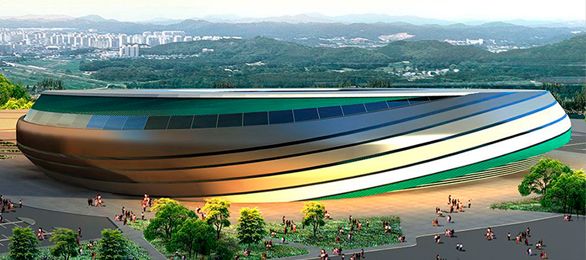 Designed in 2012, the vision of new stadium for Izmit (100km east of Istanbul) came from Alper Aksoy office, authors of various stadium projects across Turkey.
It is hoped to be the central ground for Kocaeli province, though located outside Izmit, in the outskirts. Second construction tender was launched in July 2013 and should all go well, the stadium should be ready in 2015 at the latest.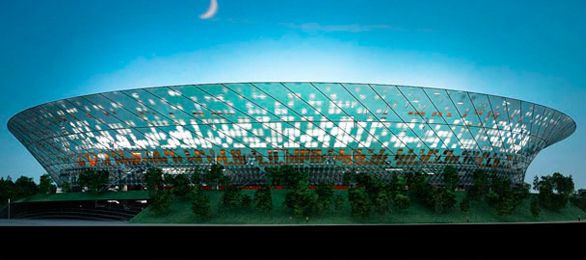 New 33,000-capacity stadium for southern city of Adana is to be built almost outside the city, 10km north from the centre. Currently this suburb is almost deserted and lacks proper transport links, but this issue is to be addressed.
Though football-specific, this ground will have roof of circular shape, spanning outside significantly beyond the stands. To add further dynamism to the structure, external cladding is to resemble a mesh with numerous perforations.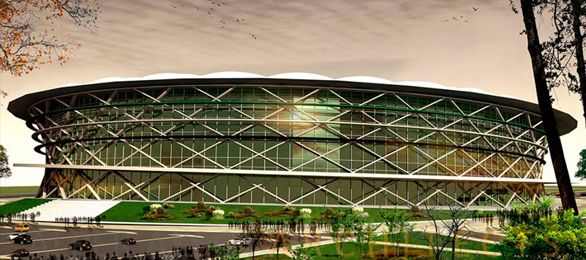 Initially planned to hold roughly 25,000 people, the new stadium for Sakarya should in the end be significantly larger, with almost 29,000 seats on two tiers, all under light membrane roof.
Construction started in Spring 2013 and should be ended in 2015.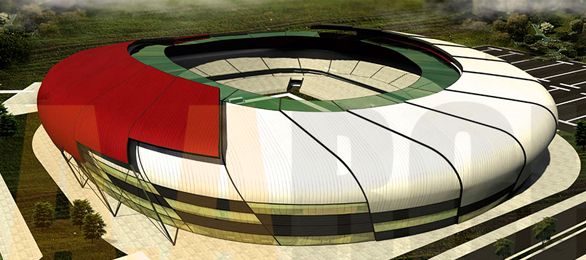 Southernmost province of Hatay is to receive its new stadium soon, works are expected to start in 2013. Due to the colour, this concept from Alper Aksoy Architects has been nicknamed the Bordo Beyazd Stadyum (Maroon-White Stadium).
The double-tiered stands are to hold roughly 25,000 people, while other sports facilities are planned around the stadium, including an indoor hall, swimming pools and smaller amenities.