2018 World Cup: Last seven stadiums to go under construction
source: Vedomosti.ru; author: michał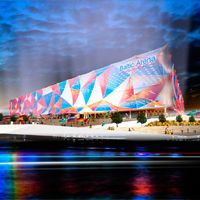 While works in Kazan are done and finishing in Sochi, most projects for the 2018 World Cup still only exist on paper. This is to change now, as contract to build all seven remaining has been granted to FGUP Sport-inzhiniring.
Vedomosti.ru reveals that the sports ministry granted the massive RUB 104 billion (€ 2.36 billion / $3.15 billion) contract for construction of seven stadia across Russia to FGUP Sport-inzhiniring.
The company, a subsidiary of the ministry, is to assure completion within the deadline set by FIFA. All stadiums should be ready 2 years before the 2018 World Cup, while the last and impassable date stands at 6 months before the tournament.
The projects include six stadiums that are yet to see their groundbreaking: Kaliningrad, Volgograd, Samara, Ekaterinburg, Rostov-on-Don and Nizhny Novgorod. All these venues will be over 40,000 and able to host only group games.
Seventh project included in the tender is the new stadium in Saransk. This one is already under construction, which was a successful attempt by local authorities to win a spot among 11 host cities, having the construction advantage over other cities. However, as Saransk secured the spot, works were halted and now the federal government will continue.
Remaining 5 venues of the 2018 event have a more complex financing structure. At least partly financed by local governments are the stadia in Moscow (Luzhniki), Saint Petersburg, Kazan and Sochi, while the last ground, new stadium of Spartak Moscow, is a completely private project.